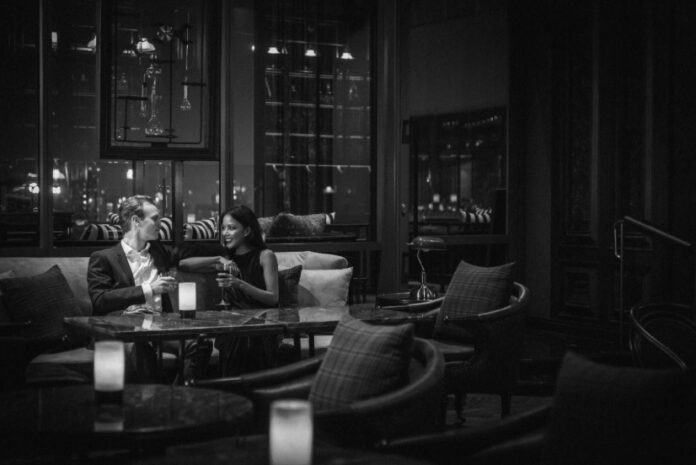 Bangkok, Thailand, 5 November 2019 – Jameson Black Barrel, rich and robust Irish whiskey, invites all Gentlemen to sip Jameson Black Barrel and get a complimentary wet shave, free! Special 6 drinks has been created at ABar, Bangkok Marriott Marquis Queen's Park, every Sunday between 19:00 – 22:00 hrs. from November 17 to December 8, 2019.
Jameson Black Barrel is a blend of small batch grain and traditional Irish pot still whiskey, matured in a combination of American oak, sherry casks and double charred bourbon barrels to achieve the bursting rich, complex flavors of fruit, caramel, toasted wood and warm spice. ABar, exclusive cocktail bar on the 37th floor of Bangkok Marriott Marquis Queen's Park, is offering six drink variations with Jameson Black Barrel for gentlemen to savor and enjoy. 
First option is Irish Coffee – a sensational concoction of coffee, sugar, cream and whiskey. Several places claim to have developed the recipe, but one version is attributed to a Joe Sheridan, head chef at the restaurant and coffee shop in the Foynes Airbase in Limerick who added whiskey to the coffee of some disembarking passengers. Another famous version includes Joseph Jackson, of Jackson's hotel Ballybofey county Donegal, who whilst fighting in World War II made the drink in an effort to keep his fellow comrades awake through the night under attack from the enemies. However it was created, Irish Coffee with Jameson Black Barrel is a robust drink that wins over gentlemen all over the world. 
The second option is Jameson Black Barrel Neat, to fully appreciate the bursting flavors it has to offer, while the third one is Jameson Black Barrel on the Rocks where small mixture of water opens up more delicate nuances of the whiskey. There is also the Old Fashioned with Jameson Black Barrel, bitter and sugar, and Espresso Martini with coffee liqueur. Last but not least is Whiskey Sour with Jameson Black Barrel with sugar, bitter, lemon and egg white. The drinks are all priced at THB 380++ and comes with a complimentary wet shave. 
Savor the true Irish taste of Jameson Black Barrel and receive complimentary wet shave for true gentleman's look at ABar, Bangkok Marriott Marquis Queen's Park on Sundays of November 17 and 24 and December 1 and 8 2019. The bar is open from 18:00 – 01:00 hrs., and the wet shave service is available from 19:00 – 22:00 hrs. For information and reservations, please call +66 (0) 2 059 5999 or email [email protected]  
Or connect with us via these channels:
Website:  www.bangkokmarriottmarquisqueenspark.com 
Facebook:  www.facebook.com/abarandabarrooftop/ 
Instagram:  www.instagram.com/abar_abarrooftop/  
Line official account:  @akirabackandabar