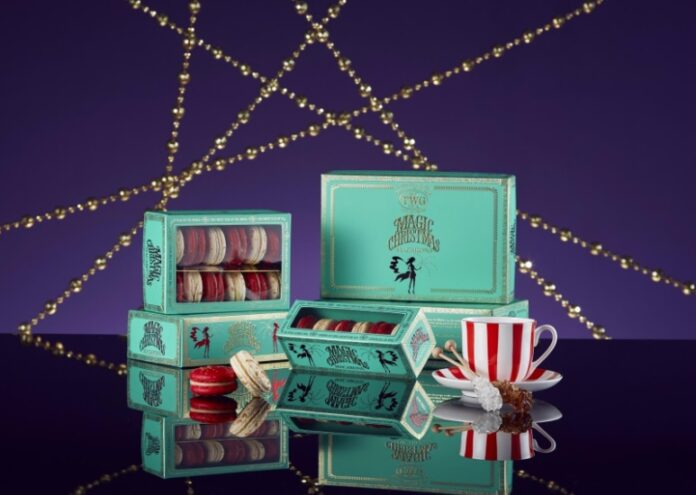 Usher in the festive season with TWG Tea's Christmas exclusive, Magic Christmas Tea 
Bangkok, 20 November 2019 – TWG Tea's highly anticipated Christmas tea of the year is the Magic Christmas Tea, a theine-free red tea that is a distillate of rare citrus fruits blended with hints of raw and dark chocolate, accompanied by a mélange of spices. The limited festive offerings also include Magic Christmas Tea infused Macarons and Festive Tea Time Set available at TWG Tea Salons from 1 December 2019 to 15 January 2020.
MAGIC CHRISTMAS TEA
Encased in a brilliant sea green gold-embossed gift box adorned with a mystical fairy, the loose leaf Magic Christmas Tea comes in a molten black hand-blown glass flask which prevents tea from being exposed to light, ensuring quality and consistency. The glass lid also doubles as a measuring cup for preparing tea. 
The naturally theine-free red tea, or rooibos, is produced from a bush known as the Aspalathus linerais found in South Africa. It contains a high level of antioxidants and is very rich in vitamin C, mineral salts and protein, making it ideal for both adults and children. 
Magic Christmas Tea is available at all TWG Tea Salons & Boutiques in Bangkok and is priced at 2,200 baht each.
MAGIC CHRISTMAS TEA GOURMET OFFERINGS
TWG Tea integrates a myriad of fine harvest teas and exclusive tea blends into our recipes as a most precious component, introducing a whole new world of sensations and flavours when dining or enjoying our gourmet offerings. Similarly, the seasonal theine-free Magic Christmas Tea releases a sweet flavour that subtly enhances the flavour of patisseries. 
Magic Christmas Tea Macarons 
In tantalising shades of Santa Claus's red and white, TWG Tea has transformed its signature tea-infused macarons into delicious jewels of bite-sized confection. The limited-edition Magic Christmas Tea infused macaron showcases a smooth and crisp almond shell delicately filled with a velvety smooth Magic Christmas Tea infused white chocolate ganache. The macarons are available in gift boxes of 6, 12 or 24 and are priced at 354, 708 and 1,416 baht respectively. 
Magic Christmas Tea Chocolate Bonbons 
A pure indulgence for the most discerning gourmands, the limited-edition milk chocolate bonbons are filled with Magic Christmas Tea infused ganache and finished with a festive motif. The Chocolate Bonbons are available in a box of  6, 12 and 24 and is priced at 354 baht, 708 baht and 1,416 baht.
Festive Tea Time Set
The magic never ends – soak up the joyous atmosphere at TWG Tea salons and indulge in the delectable Festive Tea Time Set paired with your choice of hot or iced Festive Night Tea.
Begin the magical celebration with a selection of tea-infused savoury and sweet creations, beautifully presented on a whimsical chocolate Christmas tree infused with Choco Mint Truffle Tea, pecans and dried strawberries.  
Tantalising savoury bites include Duck Confit Tartlet with dark chocolate mixed berries sauce infused with Christmas Jewel Tea, accompanied by parmesan mousse and fresh berries; and Tapenade Crostini infused with Red Christmas Tea.
Continue to entice your taste buds with divine patisseries of Dark Chocolate Mousse layered with milk chocolate feuilletine and Geisha Blossom Tea infused apricot jelly; Strawberry Tart with Almond Tea infused cream; a magical Red Christmas Tea infused White Chocolate; and buttery Pâte Feuilletée filled with Joy of Christmas Tea infused almond cream.
A delicately handcrafted Matcha Snow with layers of full-flavoured Matcha Nara creameux; Pavlova featuring a meringue and cream infused with 1837 Green Tea; sparkling silver Milk Chocolate Truffle with banana and chocolate ganache infused with Spice Route Tea; golden Dark Chocolate Truffle with strawberry puree, caramel and dark chocolate ganache infused with 1837 Black Tea; and jolly French Earl Grey Deer Shaped Cookie will certainly bring joy this festive holiday.
End the celebration with a limited-edition Magic Christmas Tea Macaron and Santa Mousse Cake, a vanilla mousseline cream layered with strawberry compote infused with Jade of Africa Tea. For a noteworthy tea pairing, complete this jubilant occasion with Festive Night Tea, a green tea temptingly blended with notes of cherry blossom that infuses into a dazzling cup with a sweet aroma of red fruits and the intense warmth of rose petals.
Available from 1 December 2019 to 15 January 2020 at TWG Tea Salons & Boutiques in Siam Paragon and The Emporium, the Festive Tea Time Set is priced at 750 baht.