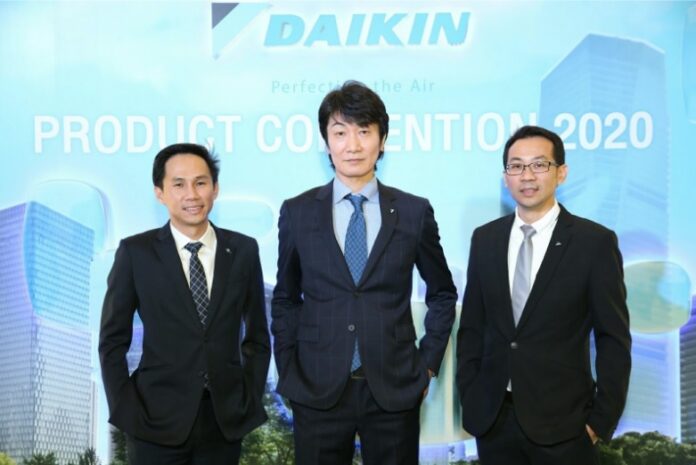 Marking 95 years in business, Daikin reaffirms its leadership in intelligent and innovative air conditioning with the launch of Magnetic Bearing Chiller which uses the same innovation as Thailand's first bullet train. The newly-introduced product demonstrates the company's ambition to penetrate the country's commercial segment. After Siam Daikin Sales Co.'s total revenue has exceeded the targets for three consecutive years, the company expects to see more than 16 billion baht in 2020 thanks largely to quality products and expertise covering all market segments and good and reliable after-sale services.
Mr. Akihisa Yokoyama, President of Siam Daikin Sales Co. ,Ltd.  leader in intelligent and innovative air-conditioning market, said that Daikin which is an expert in air-conditioning system from Japan has been in the business for 95 years.  Established in 1924, the company has manufacturing plants in over 150 countries around the world. It currently employs over 76,484 staff in 292 headquarters and subsidiaries around the world. Daikin recorded 1.20 million yen or approximately 335.19 billion baht turnover in 2009, and we foresee the sales growing to 2.2 billion yen or around 615.94 billion baht in 2019.
With continuous efforts to search for the latest cooling innovations, the company produced more than 6.6 million air-conditioners in 2017. It has a capacity to produce as many as 13 air-conditioners per minute. During the past 10 years, the company has invested as much as 401 billion yen (approximately 115 billion) in R& D; making it obtain over 20,000 patents. Of all patens, 180 are the air-conditions that use R-32 refrigerant. Meanwhile, more than 83 percent of Daikin's building around the globe are green building that can reduce greenhouse gas by more than 54 million tons – equivalent to growing over 6.1 billion trees and reducing greenhouse gas from the fuel consumption of up to 44 million vehicles.
"On our 95th anniversary, Daikin is still determined to be the leader in intelligent and innovating cooling system who cares about environment. We provide consumers with alternatives – energy-saving air-conditioners with low maintenance cost.  With its advanced technology, Daikin has earned trust from the consumers around the world, and the company is very proud of that. The company will never stop developing innovative products to respond to the consumer needs. We expect that this 2019 fiscal year, ending next March, will see our turnover grow by 15 per cent of last year's sale worth 14.2 billion.
The launch of Magnetic Bearing Chillers will enable Daikin to create new experience for commercial customers. Together with Inverter technology that makes 
Daikin the leader in residential air-conditioning market, the company will remain its dominance in Thailand's overall air-conditioning market worth 60 billion baht with a market share of around 28 percent," said Yokoyama.
On Daikin's strategy, Mr. Yokoyama added that:  "Our management is young-blood generation and they have emphasized sales and services. Next year will see Daikin focus on commercial segment with the VRV – MAX air-conditioners as the spearhead that provides intelligent technology to respond to the needs of customers looking for energy-saving quality. It'll be unprecedented for this type of air-cons. The VRV – MAX will be the system that helps extend the lifespan with lightweight zinc aluminum magnesium alloy material that is coated with high technology. It offers users maximum efficiency, durability and prevents corrosion even in use in harsh climates  as well as saving electricity consumption by up to 25 percent. It comes with the 5-year "warranty called "Worry Free program".
As for large-scale air-conditioners, Daikin has just launched Magnetic Bearing Chillers which is the most effective cooling system to date whose mechanism shares with the like of Japanese bullet train based on the principle of magnetic field. The axis of rotation is floating in the air so it reduces the friction during rotation, making it save energy consumption. It provides a quiet operation, and with oil-free design there is no need for oil management systems to effectively improve compressor.  Daikin is the first air conditioner in Thailand to develop Magnetic Bearing Chillers system for use with large air conditioners with sizes of 1.2 to 14.4 million BTU or 1,200 tons of cooling, which is considered a very large size in the air conditioner market. The main target groups include big buildings, shopping malls, 5-star hotels and large hospital chains.
"Daikin customers are both residential and commercial. Since 2017, the large-sized buildings in the commercial segment has grown three folds each year, and in 2018 the sales record reached 12 billion baht, making Daikin see an opportunity to develop technology to cope with the rising market demand.  Daikin has offered air conditioners that are worthwhile, save energy and reduce maintenance costs. The customers can regain its investment in the air-conditioners within 3-5 years, "said Mr. Akihisa.
For residential or "Room Air" market , Daykin is going to introduce "Room Air" (Big Wall) next year. The new product will be unprecedented as it will be the first on the market – Room Air inverter with up to 36,000 BTU. The company has been widely accepted for its intelligent and high-efficiency cooling system with energy-saving benefit. The units can also connect to Smart Home Kit and Home Automatic with Wifi adaptor which is accessory that comes with all Daikin Room Air units.
The latest development saw Daikin partner with the Department of Environmental Engineering King Mongkut's University of Technology Thonburi to develop high-efficiency particulate air filter. The institute then tested Daikin with the filter designed to deal with PM2.5 in the 26-cubic-meter room.  The result was satisfactory: Daikin with newly developed air filter could reduce the PM2.5 from the very dangerous to safe level 
within 190 minutes. This makes Daikin the first air-conditioning company to test such a product with the high recognition institute. Daikin plans to include PM2.5 air filter in every model that is launched in the year 2020. Daikin is also the first to use inverter which meets new energy-saving label 5 of the Electricity Generating Authority and responds to consumers' needs.
The trend of air-conditioning still emphasizes good health, good design and durability. It is also required promotional campaigns once in a while such as adding anti-moldy odor prevention systems, an extended life of a circuit board or surge protection system. All, are to cover all variable requirements. Daikin has also developed an air purifier with high technology Active Plasma Ion and streamer that can inhibit both external and internal germs. Supplemented by electrostatic dust filters, it can capture up to 99 percent of small dust 0.1 to 2.5 microns and grinds the carbon filter to eliminate odors with PM 2.5 dust sensor and large dust to provide to those who want to take care of their health as well.
"As for Daikin's after-sale services, it has added an application so that it can step up the services which matches the lifestyle of new generation. Customers can rest assure that they would have convenient access to the services. More than well-trained 500 engineers and technicians are in the after-sale team to provide customers with their expertise in air-conditioning. This, is in accordance with so-called Daikin Way that enables Daikin to grow and succeed throughout 95 years in the business. We take this as our pride and pass on the DNA of Daikin Service Pride in every  technician in the team. We strongly believe that once we are proud of our product, we can certainly deliver quality services to customers. With smart and innovative technology, Daikin can provide high quality products and expertise to serve the demands of all segments of customers. That is the reason that Daikin still dominates the market with about 28 percent of the total air-conditioning market worth 60 billion baht.