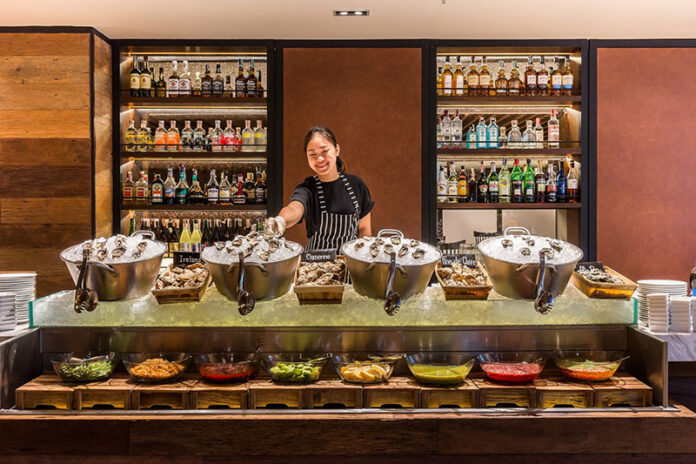 Bangkok, Thailand, 29 November 2019 – Goji Kitchen + Bar, all day dining restaurant at Bangkok Marriott Marquis Queen's Park Hotel, has been ranked in the 'Top 52 Best Restaurants & Bars' in Asia Pacific, outstands 2,600 competing restaurants and bars from 700 Marriott International properties across Asia Pacific. To celebrate the wining of such a prestigious award, Goji Kitchen + Bar is holding a promotional event from 2 to 8 December, 2019 for both dinner and Sunday brunch.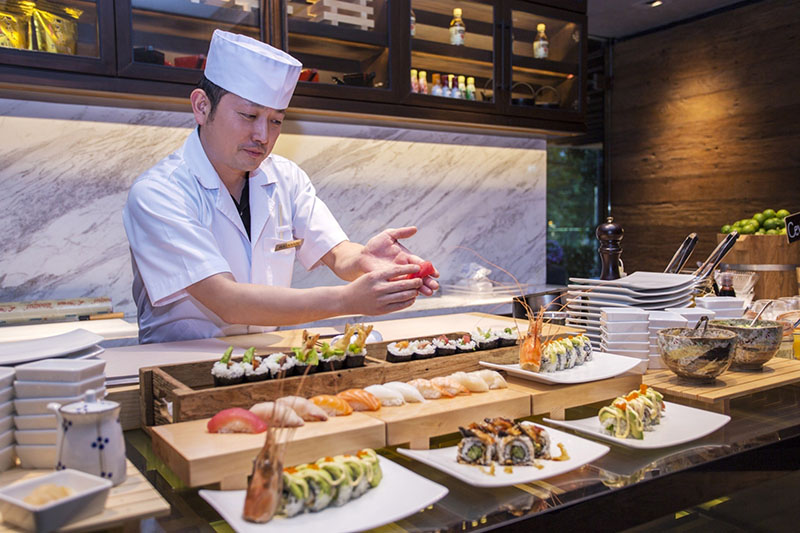 "Marriott Bonvoy", Marriott Internationals' loyalty program for members, recently held the 'Asia Pacific Top 52 Best Restaurants & Bars' by selecting outstanding bars and restaurants serving outstanding food and beverages. The winners are those offering impressive dining experience at unique locations, or having chefs and bartenders whose recipes are unique and secretive. By following the curated list of "Top 52 Restaurants and Bars by Marriott Bonvoy', food lovers could easily discover one-of-a-kind dining experience, delicious dishes and cocktails or very hard to find authentic menu. For more information and see all the 52 winners at https://marriottbonvoyasia.com/top52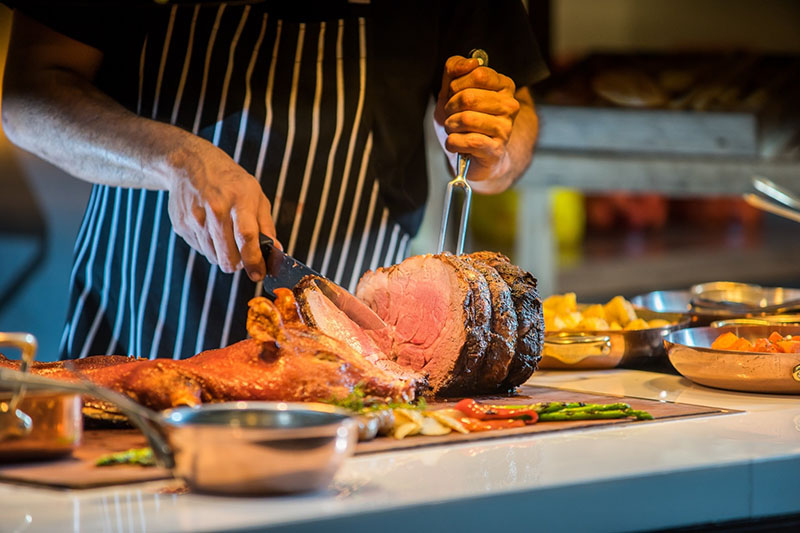 Goji Kitchen + Bar serves an extensive array of culinary choices including a series of specialist dishes from Asian famous cuisine – Thai, Chinese, Indian and Western menu. In addition, expert chefs are on hand at every live cooking station to guarantee guest's satisfaction with the freshest dishes that are cooked to perfection in an open kitchen. One of is unique points is that the restaurant also brings Thailand's famous street food to cook live at its cooking stations.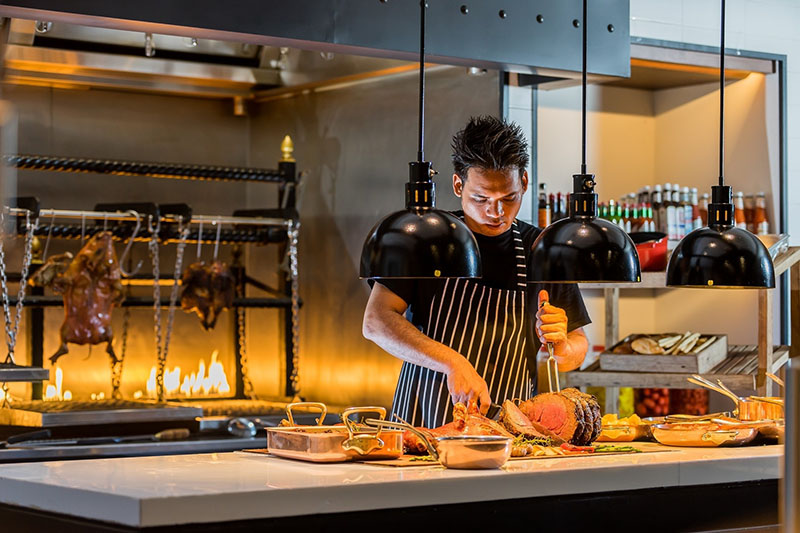 The hard-to-find favorite appetizer begins with "Kuichai Miss Muay", a famous  Chinese Dumpling from Charoenrat 10 area. The signature Chinese dumplings have several fillings including chive, tarot, cabbage and mushroom. Next is "Sawang Pork Satay" from the famous shop in the area of Saphan Lueng that has been selling for over 60 years. The satay has very nice aroma as it is grilled on mangrove wood. It is served with very delicious peanut sauce. For street food main dish, Goji Kitchen + Bar offers famous Chinese braised pork knuckle from the most famous "Khao Kah Moo Trok Sung" in Bangrak area. The soft knuckle served on top of rise has been the locals' favorite for over 60 years. For those into chicken rice, try the juicy chicken served with soft fragrant rice and tasty dipping sauce from "Fu Wong Chicken Rice". The shop has been selling the famous dish for decades and is currently located on Rama II Road. Another menu worth trying is hot soup from famous "Sia Duck Noodles" shop on Rama IV Road. On the dessert corner, "Sweet Time" from Thailand's famous street food Yaowaraj (China town) serves varieties of desserts, Goji Kitchen + Bar brings you Gingko in Longan syrup and Thai-style crepe or Kanom Beuang – the crispy crepe with topping of coconut and Foi Thong (golden thread). This is so special when the culinary world of hard-to-find delicious street food and the high standard buffet of the restaurant are offer in one place.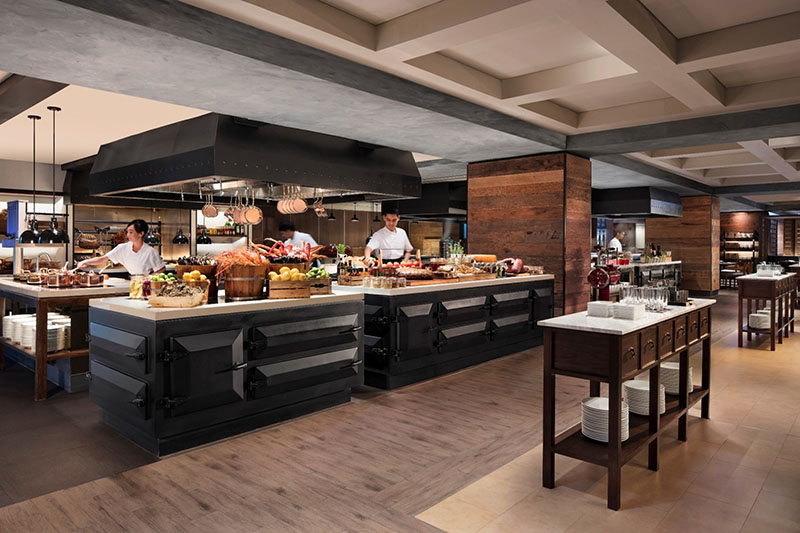 Discover diversity of food and sweets at one of "Asia Pacific Top 52 Best Restaurants & Bars", Goji Kitchen + Bar, from 2 to 8 December 2019, opens for dinner (18:00 hrs – 22:00 hrs) and Sunday Brunch (11:45 hrs – 14:30 hrs).
Sunday – Thursday dinner, THB 1,498++ per person
Friday – Saturday dinner and Sunday Brunch, THB 2,128++ per person
For information and reservations, please call +66 (0) 2 059 5999 or email [email protected]
Or connect with us via these channels:
Website:  www.bangkokmarriottmarquisqueenspark.com
Facebook:  www.facebook.com/GojiKitchenAndBar/
Line official account:  @gojikitchenbar
About Bangkok Marriott Marquis Queens Park Hotel
The largest and the first Marriott Marquis hotel in the Asia Pacific, Bangkok Marriott Marquis Queens Park Hotel becomes the new landmark in the heart of Bangkok. It offers full facilities, and the 1,388 rooms and suites, over 5,000 square meters of functional space, 37 banquet and meeting rooms, and three large ballrooms. Its outdoor space is unique with two swimming pools. Quan Spa, various dining rooms and bars are ready to entertain all guests. With its prime location on Sukhumvit Road, the hotel is surrounded by business and entertainment centers. Bangkok Marriott Marquis Queens Park Hotel, therefore, is an ideal choice for travelers in this lively and colorful city.