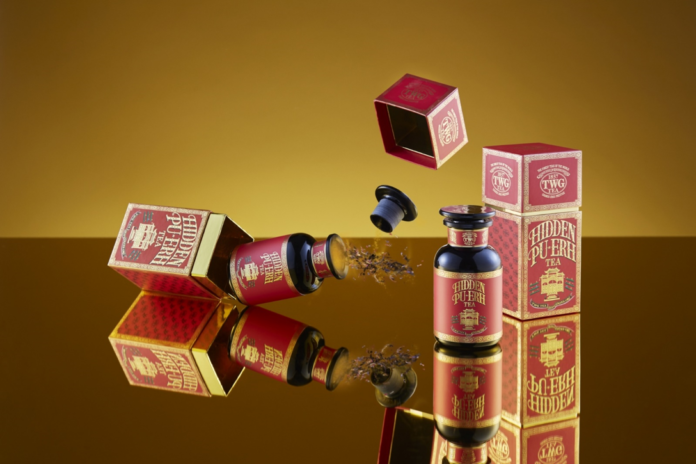 Daring to break the tradition, the Hidden Pu-Erh Tea is TWG Tea's festive, limited edition creation this Lunar New Year, this earthy, matured black tea has been refashioned with wild forest berries and flowers, yielding a surprisingly indescribable aroma.
Luxuriously wrapped in a velvet pouch, the Hidden Pu-Erh Tea is presented in a festive red and gold-embossed gift box. The molten black, hand-blown glass flask protects the tea from being exposed to light, ensuring its quality and consistency, while the glass lid doubles as a measuring cup in the preparation of the tea.
The fermentation process that Pu-Erh goes through gives it an earthy taste which sets it apart from other teas. Like fine wine, well-processed Pu-Erh matures with time, with some being aged for as many as 15 years. Most commonly grown in China's Yunnan province, Pu-Erh is known to be effective in lowering cholesterol levels. It is also noted for its stimulating properties that improve digestion and mental alertness, perfect for late-night festivities.
With its bold earthy primary notes and floral, fruity overtones, the Hidden Pu-Erh Tea is the perfect accompaniment to the hearty, indulgent dishes of the Lunar New Year's reunion meals. Its multifaceted flavours allow it to pair perfectly with both the festive pencai and sweet treats alike – an exceptional tea for fond family celebrations.
The Hidden Pu-Erh Tea is available at all TWG Tea Salons & Boutiques containing 90g of tea, retails at 2,200 THB. For more information, contact 0-2259-9510.