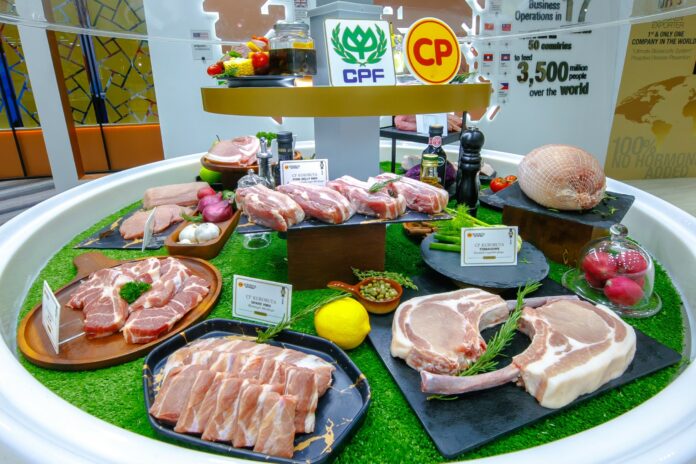 Charoen Pokphand Foods PCL (CPF) posted Bt140,794 million in sale revenue in the fourth quarter of 2019, a 2% decrease from the same period a year earlier. The revenue however would have increased by 9% year on year, but for the Thai baht appreciation and the enforcement of new accounting standards. Of total, sale revenue generated by overseas businesses accounted for 67% and the balance was generated by business units in Thailand.
Mr. Prasit Boondoungprasert, Chief Executive Officer of CPF, said that in the quarter, the Company's net profit jumped 139% to Bt4,010 million from the corresponding period a year earlier, thanks mainly to the impressive performance of overseas businesses particularly that in Vietnam.
He noted that CPF witnessed a number of challenges in 2019 chiefly the fluctuation in foreign exchange rates and the African Swine Flu which led to a drop in pork supply. However, the annualized net profit increased by 19% on year to Bt18,456 million, thanks to the improvement in overseas operations in several countries particularly Vietnam which showed extraordinary performance in the fourth quarter.
Mr. Prasit said CPF expected the performance to remain rosy in 2020 due to pork shortages particularly in China and Vietnam, which would raise prices above the 2019 level. CPF maintains its strategy to expand business in potential markets, so as to raise the revenue contribution by overseas businesses to 80% of total in the next 5 years. CPF adopts 3 approaches to drive the strategy: raising the supply chain's value through innovations; adaptation to digital transformation; and creating added value to all stakeholders with best practices in sustainable development.
The Board of Directors at the meeting on 20 February 2020 resolved to pay the dividend of Bt0.70 per share for the 2019 performance. As the interim dividend of Bt0.30 was paid to shareholders on 12 September 2019, the remaining Bt0.40 will come from after-tax earnings as dividend recipients are subjected to withholding tax under the criteria and conditions specified in the Revenue Code. Individual dividend recipients are not entitled to tax credit under the Revenue Code's Section 47 (2). The Board of Directors accordingly set the XD date on 28 April 2020 and the dividend will be payable on 19 May 2020.