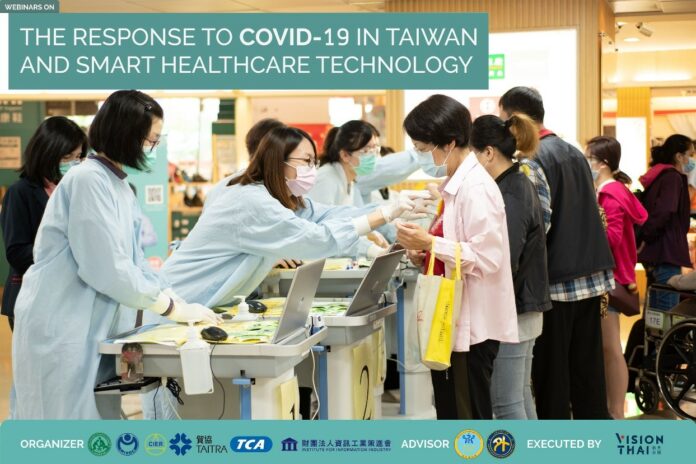 As a role model for the COVID-19 pandemic management worldwide, how have Taiwan Smart Hospital, Smart Healthcare Companies, and Healthcare System built a strong, coordinated, inclusive, and coherent teamwork in response to COVID-19 crisis with IT technologies? How is COVID-19 pandemic impacting the global and Southeast Asia economic growth?
This series webinars are co-hosted by Changhua Christian Hospital (CCH), Chung-Hua Institution for Economic Research (CIER), Taiwan External Trade Development Council (TAITRA), Taipei Computer Association (TCA), Metal Industries Research and Development Centre (MIRDC), and Taiwan Institute for Information Industry (III), and executed by VISION THAI to deepen the relationships and cooperation among Taiwan, Thailand and other Asian countries on smart healthcare development. From April 24, 2020 (Fri), there will be a webinar on different topics every 2-3weeks.
The webinars will invite medical professionals, scholars, researchers, and directors from the public health bureau of government, smart hospitals, Institution for Economic Research and College of Public Health, National Taiwan University (NTUCPH) to share the secrets of "Team Taiwan" combating the COVID-19 epidemic. Besides, we also invite smart healthcare companies to illustrate how their products play an essential role in fighting the COVID-19.
Topic for the first session on April 24, 2020 (Fri) is "Response to COVID-19 in Changhua Christian Hospital" presented by Dr. Liu Chun-Eng, the attending physician in the Department of Infectious Diseases, CCH. He will reveal how CCH responded to COVID-19, including the policies to handle potential nosocomial and community infection, and also the cooperation with Central Epidemic Command Center (CECC) as well as local public health bureau. All webinars meeting rooms will be set up on Cisco WebEx. Welcome to join us, and look forward to seeing you online!