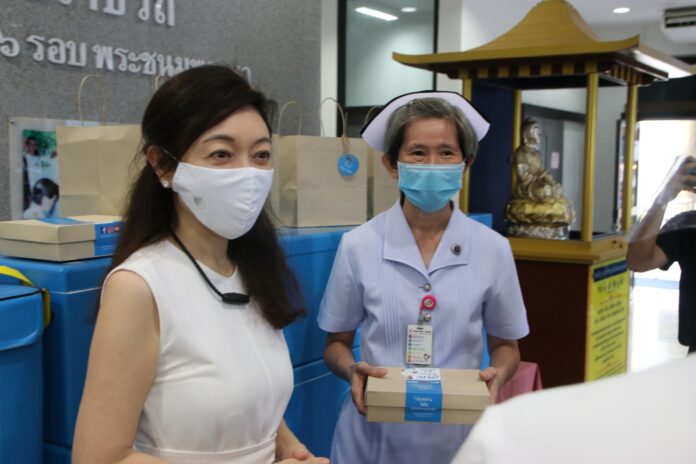 Chef Cares is a collaborated charity project, which brought together more than 25 top chefs from Bangkok and Phuket to support the medical staffs who are putting themselves in the frontlines, saving lives and battling the coronavirus pandemic.
"Food is another love language, a language spoken through acts of care, and it is through food that we hope to reciprocate these heroes' efforts, helping them recharge their souls and their bodies and enjoy a delicious moment of peace" Marisa Chearavanont, co-founder of Chef Cares, described when sharing her inspiration for this project.
Some of the chefs participating in Chef Cares include Chef Thaninthorn Chantarawan from Chim by Siam Wisdom, Chef Vichit Mukura from KAO restaurant, Chef Fai from Je Fai, Chef Dan Bark from Upstairs at Mikkeller, author of Andaman Chef Wuttisak Wuttiamporm, Chef Supajitra Sukarawan Dinakara from M.L Puang Tinnakorn Culinary School, President of Chef Association Chef Thongliam Pookthong, President of Thailand Chef Association Chef Somsak Rarongkum, Mr. Kulawachara Bhurichayawarodom from Chounan Restaurant and Mr. Tossaporn Wanichaworapong from WOK Station.
Chef Wuttisak Wuttiamporm, one of the founders of Chef Cares in Phuket explained that the menus he is creating for these frontline workers are delicious but also nutritional and healthy. "We want to share wholesome meals to those who work tirelessly. The medical staff are taking care of the patients battling Coronavirus, but we must take care of the medical staff too."
The team of 25 leading Thai chefs from around the country create 300 meals a day that are "crafted-with-care" and delivered to nine public hospitals such as
Rajavithi Hospital, King Chulalongkorn Memorial Hospital, Police Hospital and Vachira Phuket Hospital.
Chef Cares is sponsored by CPF, Chia Tai Farm, Royal Umbrella Rice, Araksa Tea Garden and CULINEUR School of Culinary Arts.