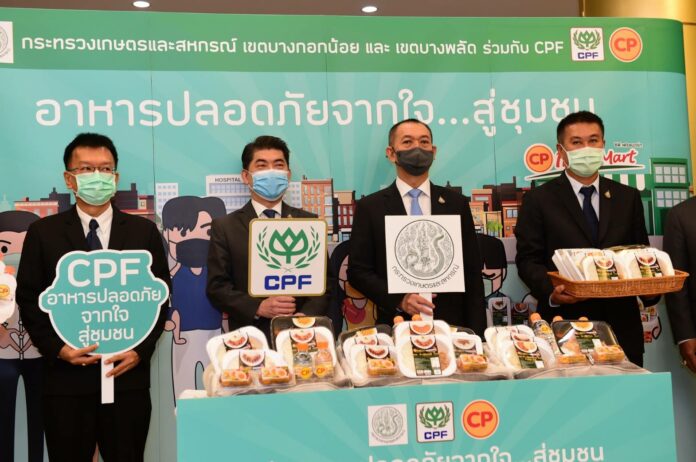 Ministry of Agriculture and Cooperatives in collaboration with Charoen Pokphand Foods PCL (CPF) launch a food truck service to provide free foods for low-income communities in Bangkok, Phichit and Trang.
Agriculture and Cooperatives Minister Chalermchai Sri-on said COVID-19 is affecting many Thais, especially people in low-income communities. The Ministry, which is responsible for the safety of food, has jointly initiated COVID-19 relief project called "Safe Food from heart to community" to help underprivileged people who are suffering from the virus outbreak, starting from Bang Phlat and Bangkok Noi, Bangkok. The project will also extend its support to communities in Phichit in the Northern region and Trang in the Southern part.
"The project aims to mitigate the hardships faced by low-income people during this crisis with Thai food products, which are made with high food safety standards," the Minister said.
Mr. Prasit Boondoungprasert, Chief Executive Officer of CPF, added that the company is using its expertise and resources in food production to step in and help people in need.
Under the project, CP Freshmart will provide food truck service to cook ready-to-eat meals to people in Bang Phlat district and Bangkok Noi district, ensuring they have enough food supplies during this crisis. The food service will last 10 days for each district.
"As a good corporate citizen, CPF has initiated a series of measures to support Thailand and its people during the outbreak," CEO Prasit noted, and adding that the company and the First Army Region jointly delivered free foods to 8,499 households in Khlong Toei district.
It also collaborates with Ministry of Public Health to offer free products for 20,000 people returned from oversees to self-quarantine, 301 public hospitals nationwide and over 30,000 families of frontline nurses and doctors in an effort to reduce their workloads.