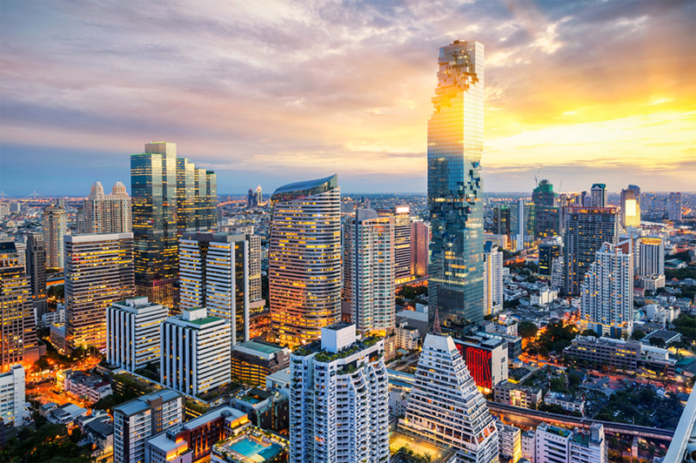 Being close to public transportation is a must when you visit Bangkok, whether for work or pleasure, especially if it's your first visit to this bustling city. In booking a hotel on Silom Road, you'll have your choice of four major public transportation systems in Bangkok that will get you where you want to go quickly and efficiently. 
These four public transportation systems are the BTS Skytrain, the MRT, the Airport Rail Link and the Chao Phraya River water taxis. Between them, you can reach the main areas of the city for both tourism and business.
BTS Skytrain
You can use the BTS Skytrain, to connect with both the MRT and the water taxis on the river. This system is the most popular public transit system in the city. It runs on elevated tracks along major thoroughfares that also provide you with a birds-eye view of the different neighbourhoods through which it passes.
There are two lines to the BTS, the Silom Line and the Sukhumvit Line. From your hotel on Silom Road, take the Silom Line train north to connect with the system's Sukhumvit Line at Siam Station, or south to connect with the water taxis at Saphan Taksin station.
Although there is an MRT station as well at the north end of Silom Road, the BTS also is interconnected with both the MRT and Airport Rail Link at various points along the system.
MRT System
The MRT is an underground transit system that currently serves mostly areas in the north of Bangkok. Both the MRT and the BTS are the quickest way to reach Bangkok's popular Chatuchak Park and Weekend Market. The MRT also provides access to the shopping areas along Ratchadapisek Road and Sukhumvit Road.
Water Taxis of the Chao Phraya River
The river's water taxis are some of the popular ways for tourists to explore the many sights along the river. They also serve the commuters of Bangkok. From your hotel on Silom Road, just take the BTS to Saphan Taksin station and walk down to Sathorn Pier.
The water taxis offer a one-day ticket for tourists that allows them to hop on and off the water taxis at any stop along the river. Tourist destinations include the Grand Palace, Wat Pho, the Temple of the Dawn and Asiatique, a vibrant shopping complex right on the river that offers entertainment and dining experiences along with shopping.
Airport Rail Link
The Airport Rail Link allows you to fly into Suvarnabhumi Airport and reach your hotel without ever having to venture out in Bangkok's notorious traffic.
Transfer at the end of the Airport Rail Link's line to the BTS, and you'll be at your hotel on Silom Road within minutes.
A hotel on Silom Road offers many benefits to both business and pleasure travellers. Still, its proximity to many forms of public transportation in Bangkok has to be among the most favorite and convenient benefit of all.