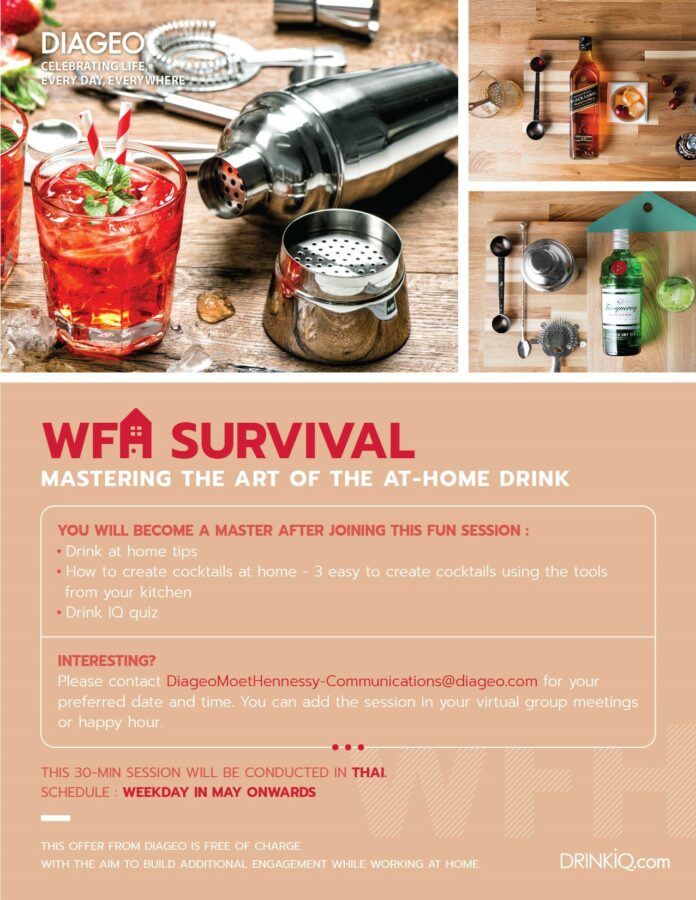 Diageo Moët Hennessy (Thailand) Ltd. (DMHT) is delivering special experiences to office workers in Thailand during the work from home measure to minimize the spread of COVID-19 under the national agenda "Stay Home, Stop COVID-19" and bringing liveliness and joy to the social distancing period.
DMHT is sending teams of brand ambassadors to offices in Thailand to create various styles of cocktails and give away cocktail making skills for free for participants to make three cocktails recipes from simple ingredients in the kitchen. Heading the campaign are skilled professional bartenders from DIAGEO Reserve World Class competition.
The campaign, slated to commence in May, is to give away cocktail making knowledge as well as joy to office workers that are working from home. Companies and organizations can receive this free training as part of their "online meeting" agenda or happy hour for their staff. Besides cocktail making knowledge, the campaign also aims to create awareness of responsible drinking, as per details from www.DRINKiQ.com.
Interested companies can receive this 30-minute training for free by contacting [email protected] to arrange date and time. However, this training requires attendees to be at least 20 years old.