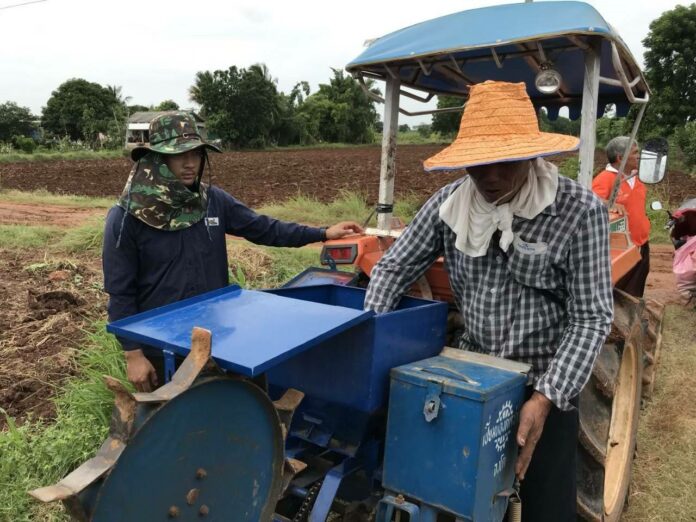 Charoen Pokphand Foods PCL (CP Foods) has applied new technologies to ensure that 100% of its animal feed corn is sourced from legal crop plantations with title deed, no forest encroachment and post-harvest burning.
CP Foods encourages its corn collectors to apply digital tracking system and continuously shared new agricultural techniques with maize growers to boost their competitiveness, ensuring that their agriculture practices are compliance with regulations and internationally-recognized standards.
This traceability system will deliver confidence that corn used by CP Foods is sourced from responsible plantation, can be traced with transparency and can be processed as quality and eco-friendly feed products.
Mr. Paisarn Kruawongvanich, Deputy Chief Executive Officer of Bangkok Produce Merchandising PLC. (BKP), a Feed Ingredient Trading Business Unit of CP Foods, said that corn used in its animal feed production in Thailand has been strictly sourced by the Corn Traceability System which the company developed in 2016.
He explained that all farmers must be registered in the system with their legal deed title, ID card and farmer registry book in order to sell the raw materials to CP Foods.
In this year, the company has decided to impose a more strict sourcing policy by requesting corn collectors to install GPS tracking system on every delivery truck that transport corn to CP Foods' feed mills.
Since 1st of July, 100% of delivery trucks have a tracking device that enable the company to monitor the trucks in real-time as well as reassured that products are picked up from a sustainable place.
Previously, CP Foods has developed the "CPF Logistics" application to connect smallholder farmers with farm tractor and delivery truck services. It functions as a platform for users to access local farm tractors and delivery trucks when needed. At the same time, the system ensures farm tractor and delivery truck owners that they will have customers, allowing these owners to plan their services with more efficiency. Additionally, the application allows CP Foods to trace the crop plantations with a GPS tracking system installed in the vehicles.
For overseas operations, CP Foods also uses the same sourcing policy in Myanmar since 1st April 2020 in an effort to save forest areas across Southeast Asia from illegal encroachments.
Besides the uncompromising sourcing policy, CP Foods has been continuously shared modern farming practices, for example soil analysis, proper fertilizer use, and correct use of chemicals, with farmers through the "Self-Sufficient Farmers, Sustainable Corn Project" since 2015. This has resulted in higher yields, lower capital costs per unit, and higher quality product that meet the market demand.
In this year, the company targets to share sustainable agriculture techniques to 1,000 farmers in Nakhon Ratchasima province, one of the largest farming areas for corn in Thailand, covering farming area of 4,800 hectares.
Also, CP Foods encourages local corn collectors to apply for Thai Labour Standard, which will improve the well-being of workers in the supply chain and ensure that they have received a fair treatment.