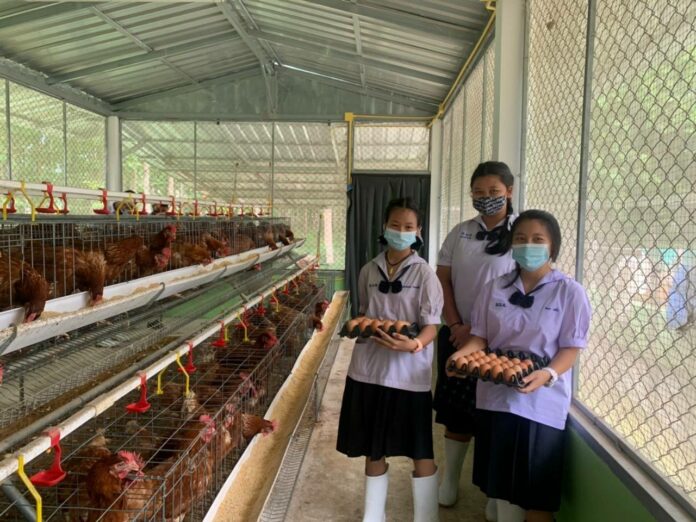 Charoen Pokphand Foods PCL (CPF) has pledged its support to youth and children from rural schools in three agendas, which are ensuring their food access, eradicating hunger and malnutrition, and promoting sustainable wellbeing, through "Raising Layers for Students' Lunch Project" and "CPF Growing Happiness, Growing Futures Project."
"Good nutrition is a fundamental of good health," Mr. Wuthichai Sithipreedanant, senior vice president for corporate social responsibility and sustainable development at CPF, said, adding that the company has set a sustainability goal that 1.3 million children, youth, and consumers will be able to access to food, food-related knowledge or skills, nutrition-related knowledge, and sustainable consumption by 2020.
Since 1989, CPF has been working in partnership with the Rural Lives' Development Foundation under the support from C.P. Group together with CPF employees and partners on the "Raising Layers for Students' Lunch Project" to help improve continuous access to protein sources among the youth in remote areas. So far, the project covers 150,000 students from 824 schools.
Moreover, the company has collaborated with the Officer of the Basic Education Commission, Ministry of Education, to implement the "CPF Growing Happiness, Growing Futures Project", which helped improve nutrition of students in 80 schools around the company's plants and farms. Last year, it reduces the number of malnourished students in the projects from 15 percent to 11 percent.
Mr. Wuthichai explained that both projects emphasizes on creating sustainable food supplies for schools and communities as well as promoting learning through extracurricular activities such as layer chickens farming, culturing fish, vegetable gardening and Etc. With experience and skills from this project, it will be beneficial for their futures.
Moreover, many schools that participated in the two projects have sold the eggs at an affordable price to alleviate financial burden of people in the surrounding communities during COVID-19 outbreak,
CPF has integrated Sustainable Development Goals (SDGs) into its sustainability practices based on the three pillars of our sustainability strategy – "Food Security, Self-Sufficient Society and Balance of Nature".  The company directly supports 11 out of 17 SDGs, including Zero Hunger (No.2).