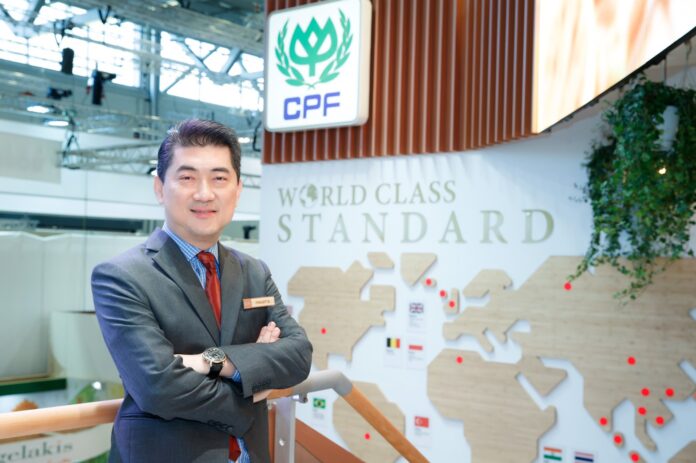 Charoen Pokphand Foods PLC (CPF) reported Baht12,139 million in net profits in the first half of 2020, a jump by 45% from the corresponding period a year earlier, chiefly due to the African Swine Fever (ASF) in Asia and a significant improvement in Thailand's aquaculture business following operational restructuring.
CPF, a leading agro-industrial and food conglomerate that operates in 17 countries and exports products to more than 30 countries under the "Kitchen of the World" vision, reported first-half sale revenue worth Baht281,940 million, a 9% increase from the same period last year. While the sale revenue of overseas businesses in 16 countries expanded by 12%, the revenue contributed by the operations in Thailand increased by 2%. The overseas businesses' contribution to the company's sale revenue thus hit 69%, while the operations in Thailand generated the remaining 39% from domestic distribution as well as exports.
Mr. Prasit Boondoungprasert, chief executive officer of CPF, attributed the improved earnings mainly to overseas businesses that CPF has grown in the past 10 years. He specifically mentioned pork shortages in Asia, Vietnam in particular, following the ASF outbreak. He expected the shortages to continue as the vaccine has not yet been developed while farm operating cost will rise due to stricter bio-safety and disease control measures.
Regarding the COVID-19 pandemic, Mr. Prasit admitted that it has dented the purchasing power and overall economy. Though, CPF has witnessed mild impacts as its products are essential for everyday life. Meanwhile, CPF has emphasized on the application of more technology and adjustments in operational/sale formats in accordance with the changing circumstances.
Mr. Prasit added that the aquaculture business in Thailand showed an impressive improvement following operational restructuring. The greater efficiency led to strong growth in profitability.
Looking forward, he expected CPF to show impressive financial results throughout 2020. CPF is likely to report record annualized net profits in 2020 thanks mainly to regional pork shortages that will keep pork prices above last year's levels as well as continued growth in profits from Thailand's aquaculture business. Aside, CPF is set to cash in on added values and investment returns while consumption is expected to recover.
CPF's Board of Directors, convening on 13 August 2020, resolved to pay an interim dividend of Baht0.40 per share for the 6-month operations. The book closing date for the right to receive the dividend will be on 31 August 2020 (XD on 28 August) and the dividend payment will be made on 11 September 2020.