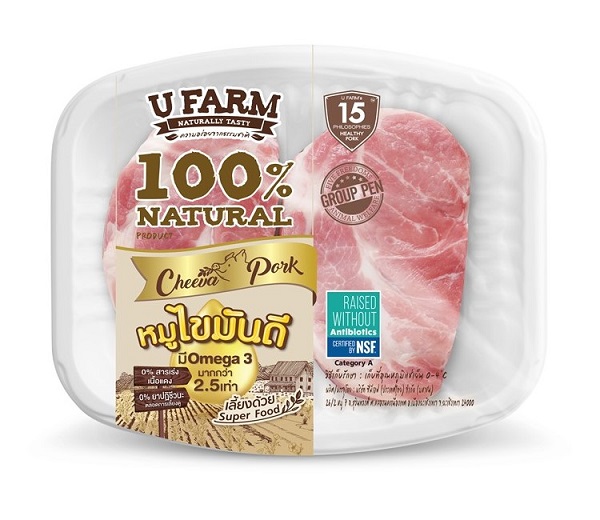 Charoen Pokphand Foods PCL (CP Foods) is expanding its product portfolio to healthy food and beverage as consumer demand for functional foods is soaring in Thailand's post-Covid-19 era.
CP Foods CEO Prasit Boondoungprasert said that COVID-19 outbreak has accelerated healthy food trend in Thailand. This resulted to more demand on functional products that are nutritious, tasty, hygienic and yet easy to cook.
"Without COVID-19, it would take 3 – 5 years to raise an awareness on healthy food trend. Now, people start to care about their health," Mr. Prasitsaid at Thaifex-Anuga World of Food Asia 2020.
To meet this rising trend, the company has introduced three new food innovations which are Cheeva pork, Chicken Rib and Innoweness, the company's first functional beverage brand.
CP Foods' "Cheeva Pork" has won THAIFEX taste Innovation Show Winner. This pork product is made from special breed of pig fed with flex feed, seaweed and deep-sea fish, resulting higher Omega 3, a good fatty acid which help reducing inflammation, than other meat. Particularly, the premium meat is 100% natural, chemical-free and raised without antibiotics certified by NSF.
CP Foods also introduced Chicken Rib, a special cut chicken meat from most tender part at the back of the chicken. The chicken bred from high quality farming practices with international standard animal welfare and biosecurity to ensure highest food safety. It is now available in raw, ready-to-eat, and ready-to-cook packets nationwide.
This is also the first time that the company is entering a healthy drink market under INNOWENESS brand. The products include beta-gluten IMU made from high quality mushroom, adding an extra immune system boost, DEEP, L-theanine beverage for deep and longer sleep, and FRESH, a pomegranate-green tea drink that give brain's freshness.
According to the food trend, the company predicts consumers have demand not only healthy food but also ready-to-eat and ready-to-cook meals as Covid-19 prompted the work-from-home culture.