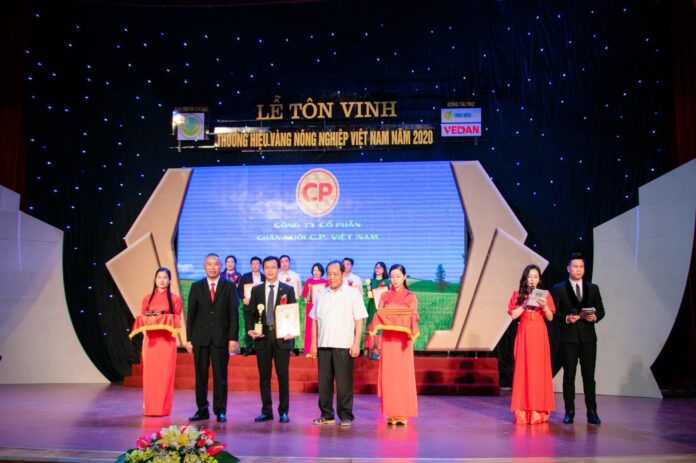 C.P. Vietnam Corporation (CP Vietnam) has topped the list for Vietnam Top 10 Food Reputation Award 2020 and received "Gold Brand" award Vietnam's Agriculture Award 2020, two prestigious awards, from its outstanding product's safety and quality that win the trust of Vietnamese consumers.
The company ranked first in Vietnam Report's Top 10 Food Reputation Award 2020 in food and beverage category. The ranking are based on 3 key criteria including, financial competencies shown on the latest financial reports, the company's presence on influential media channels and survey research from related parties such as consumers and experts.
Meanwhile, Vietnam's Agriculture Award has been held annually by the General Council of Agriculture and Rural Development Vietnam to promote quality of agricultural products that is a fundamental of rural development. In this year, CP Vietnam's sausages, pork and feed products have won the Gold Brand awards.
"Through CP Foods' vision to be Kitchen of the World, CP Vietnam is committed to producing high quality products with the highest food safety. This results trust and confidence among the farmers and consumers." Mr. Vu Anh Tuan, Senior Vice President at CP Vietnam said.
He also added that agriculture sectors in Vietnam has faced a very challenging year due to the outbreak of African Swine Fever and COVID-19. However, CP Vietnam along with other agricultural companies are doing their best to drive the sector as well as the country to overcome this hard time.
Since 1993, CP Vietnam has operated integrated businesses, comprised feed, farm and food, to promote sustainable economy in the country through its "3-Benefit" philosophy, including the Country, People, and the Company to ensure sustainability.