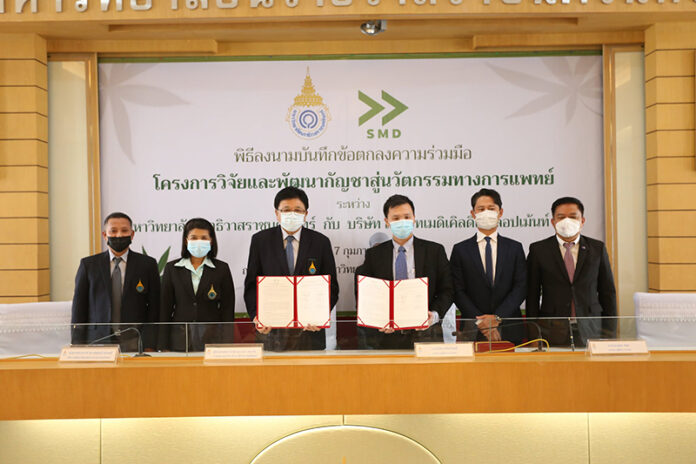 The ceremony MOU signing of research and development project of cannabis for medical innovation between Princess of Naradhiwas University (PNU) and Smart Medical Development Co., Ltd. (SMD) was held at the council meeting room, office of the president building, Princess of Naradhiwas University, located in Kok Kian, Muang Narathiwat, Narathiwat province.
Asst.Prof. Dr. Jongrak Plasai, Chairman of PNU Council, said "this MOU signing (on 17 February 2021) aims to research cannabis as the medical herb and further develop it to be economic crops in order to increase the commercial value. The participation of SMD and Phramongkutklao College of Medicine as the network can build confidence as well. I believe that the research process will generate knowledge and integrate more work because SMD is active in academia, technology and innovation. This takes an important role in benefiting and upgrading PNU to have an opportunity to do research with international organizations."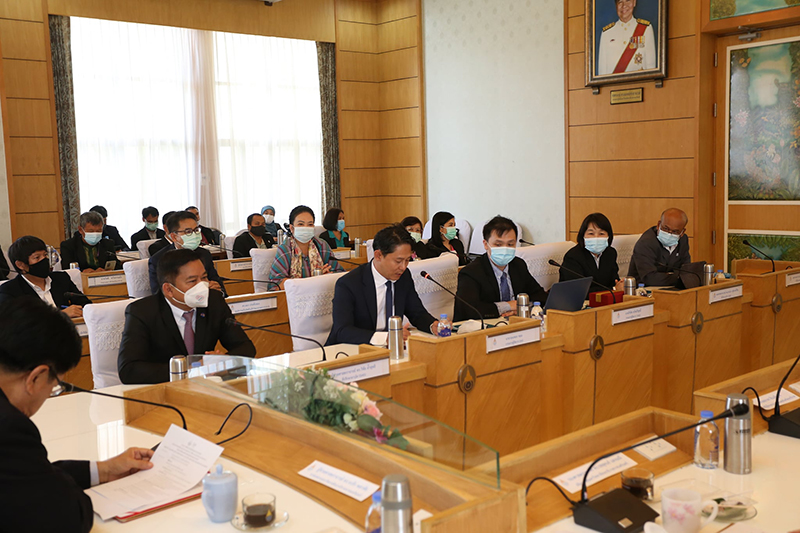 Assoc.Prof. Dr. Rossukon Sangmanee, President of PNU, said "regarding the government policy on cannabis for medical and scientific use in 2019, PNU and SMD have cooperatively created a project on the basis of accuracy and law. This MOU signing will cover planting, developing and exchanging the knowledge of medical cannabis to keep up with the global situation and society, including the commercial development."
Dr. Korathon Yaowarat, researcher of Phramongkutklao College of Medicine, said "PNU is ready for this project and has the network to drive this project. Phramongkutklao College of Medicine, Thailand Center of Excellence for Life Sciences (TCELS) and Thailand Institute of Scientific and Technological Research (TISTR), also SMD have the network in ASEAN and European Union. In the future, we will be able to develop the herbal product with the innovation, which will help enhance entrepreneurs in Narathiwat province, Start-Ups and SMEs, and support students to become new entrepreneurs to launch into commercial."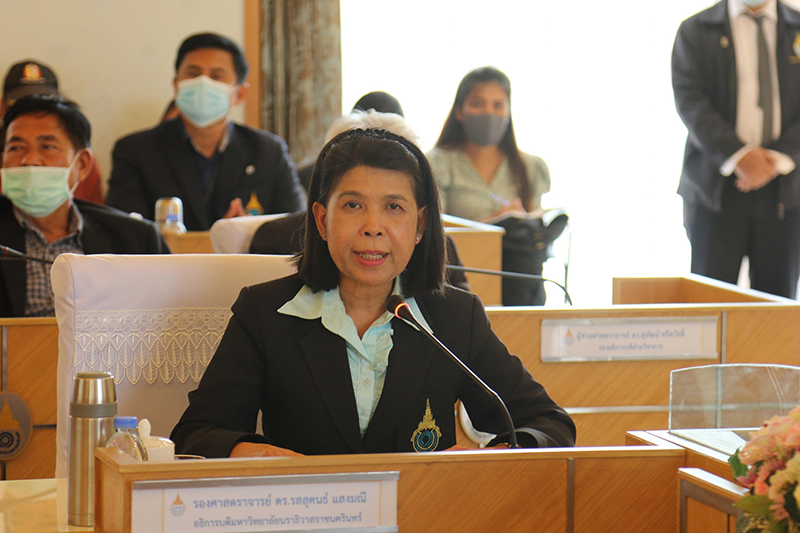 Mr. Keerakit Sapvisut, Managing Director of SMD, said "SMD has jointed venture with a Japanese company to start a business selling health products in Japan, and has networks in Korea and many other countries. In Thailand, SMD and our affiliates also sell soil and organic fertilizers for growing cannabis. SMD also serves as a consultant for other cannabis growers. Regarding this MOU signing with PNU, SMD sees the opportunity to plant and develop the products made of cannabis, hemp and kratom from upstream, midstream and downstream. SMD is ready to provide the support about the technology on planting, extracting, developing the products for the medical and commercial benefit, including transferring and exchanging the knowledge to university personnel and students, and promoting career creation and income generation for the localities of Narathiwat province."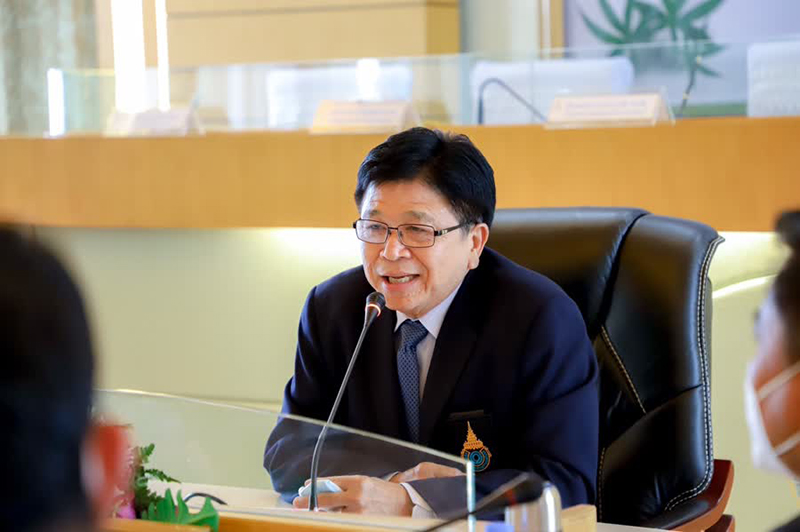 Mr. Weon Sek Choi, Managing Director of SMD, Operational and Soil Expert, said "the aim of SMD is to use the rich history Thailand has with traditional medicine while aiming for absolute quality of what we wish to produce. With our partnerships in Japan and Korea, we are not just looking at this venture as a plan for importing and exporting but also as a viable way to bring medical tourism to Thailand in the immediate future. We are striving as well to not just cultivate cannabis and hemp but also just as important, to achieve responsible genetics with the help of the community. With the correct genetics that are suitable for the climate and region, we will be able to provide a future for growers within Thailand by providing educational opportunities to learn sustainable and organic farming practices."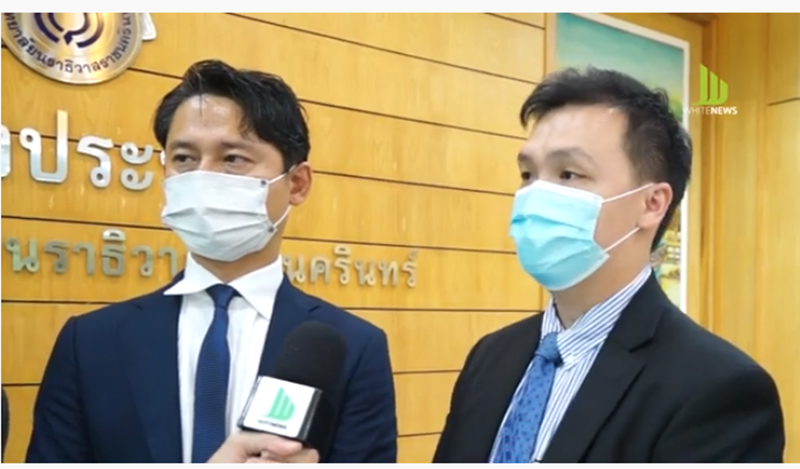 Asst.Prof. Dr. Vichai Lamsutthi, Senior Advisor of SMD, said "we see the opportunity to drive the medical cannabis and commercial cannabis products to the global market by using the principle of 'Marketing Leads Production'. Importantly, we will plan and produce the cannabis which has high CBD (Cannabidiol) but low THC (Tetrahydrocannabinol) so that Thailand will have our own cannabis seeds, which helps reduce imports from abroad. Then, we can develop the cannabis products to cure disease for people in Narathiwat province and other provinces at the low cost. The health cannabis products will be more accessible; and the economic value will increase."
In this regard, Doctor Sathaporn Sincharoenkit, Deputy Doctor of Narathiwat Provincial Public Health, Police Major General Narin Busaman, Narathiwat Provincial Police Commander, Narathiwat Provincial Industrial Office, Chairman of Narathiwat Chamber of Commerce, executives of Princess of Naradhiwas University, Chief Executive of Kok Kian Subdistrict Administrative Organization, Kok Kian Subdistrict Headman, the business advisor team of SMD. and other involved people attended this ceremony.