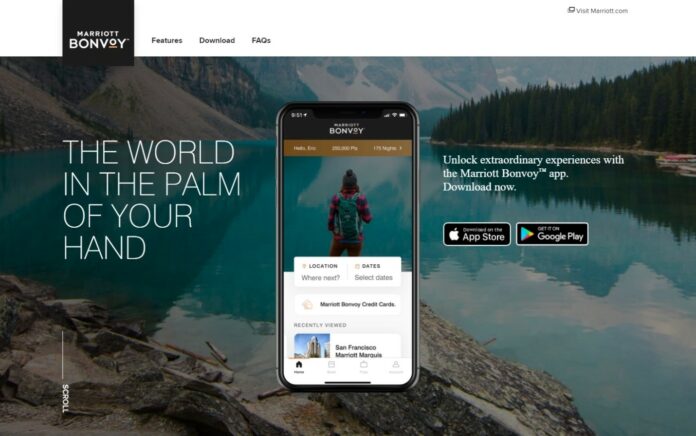 Marriott Bonvoy, the highly awarded travel program from Marriott International, has released a redesigned, more intuitive version of its mobile app in anticipation of increased desire and demand for travel this year.
Featuring new travel shopping options based on inspiring destinations and access to more experiences to book, such as premium vacation rentals from Homes & Villas by Marriott International as well as destination tours and activities, the app will offer members even more personalized recommendations and offers to maximize their points earned when traveling and even when they are not.
As the centerpiece of the company's mobile-first mindset, the Marriott Bonvoy app ensures guests receive the best available rate; enjoy program benefits such as exclusive member rates and accruing points for stays; and enables members to customize their experience. The app will make it easier for guests to choose a contactless option for check-in and check-out, easy access to mobile keys, and the ability to request services and amenities via chat and mobile requests.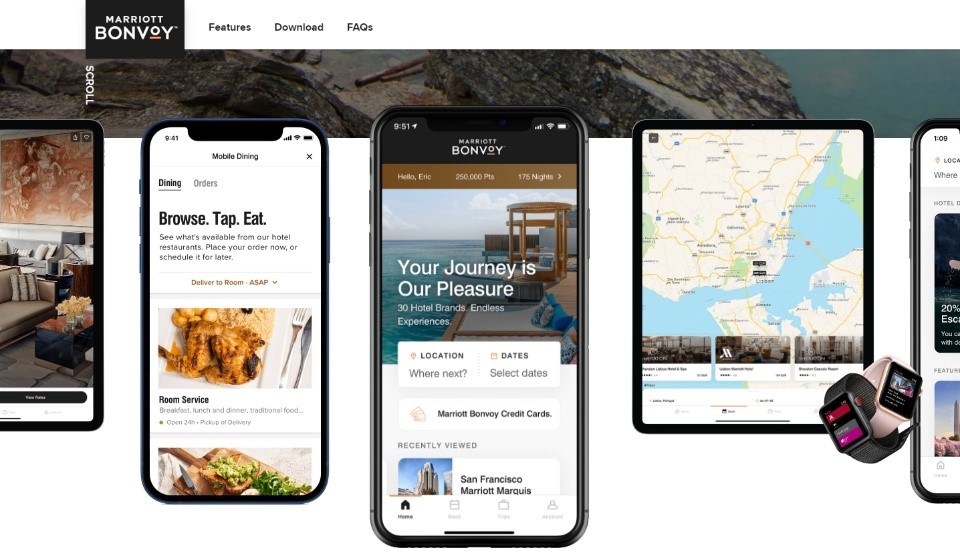 "The enhanced Marriott Bonvoy Mobile app is a must-have travel companion. It simplifies the travel planning process, allows for the most frictionless experience before and during your stay and gets smarter the more you interact with it," said Leigh Zarelli, Senior Vice President Digital, Marriott International.
"Only the Marriott Bonvoy Mobile app offers travelers so much whether it is the breadth of global accommodations — from 7,500 hotels among our 30 brands to home rentals — destination experiences and relevant and customizable content for travel inspiration. Through tailored, displayed offers, members can learn how to earn hundreds of thousands of points just by booking stays, or going about their daily lives' grocery shopping, ordering takeout or buying items for their home."
What's new on the Marriott Bonvoy mobile app:
New Shopping and Booking Options

: Homes & Villas by Marriott International home rentals, Work Anywhere with Marriott Bonvoy day, stay and play passes and Marriott Bonvoy Tours & Activities are all now available through in-app browsing. By booking via the app, guests are guaranteed the lowest rate available and is one of the ways members can earn points and receive on-property benefits during stays.

More Customization During the Stay:

Improvements and additions to mobile requests and mobile key enable members to get more from their experience and choose to minimize contact and better maintain social distance.

Mobile Key, available at over 4000 properties, is now accessible on the home screen once checked in. Making it easy to skip the desk and minimize social interactions.
Mobile Requests now contains more one-touch-buttons so users can order a crib, shoeshine, and dry cleaning, along with bath towels, pillows, bath products and more, as well as the ability to chat directly with hotel staff.

Making it Easier for Members to Earn Points:  Members can capitalize on points promotions relevant to them on the home screen and their account page. This provides members with easy to access, tailored Marriott Bonvoy American Express and Chase limited time offers, as well as access to points promotions with Eat Around Town and Hertz.
Increased Functionality for Non-Members: While nearly a million people used the app to become members in 2020, those not ready to join for free can still search and book stays easier than before.
Updated Searching & Booking with New, Dynamic Map: Users can search and book accommodations by hotel brand, destination, price or points needed for a free night's stay.
And More Improvements for the Frequent App Users:

Updated Marriott Bonvoy account profile page highlighting personalized promotions, on-property benefits to take advantage of during stays and full account activity.
Member numbers can be copied and pasted onto other web-based forms.
FaceID and TouchID automatically engages after the first login.
Room numbers will now appear on the home screen.
***For APAC and MEA: Members now can access a QR code in the app that can be scanned at select on-property restaurants to earn and redeem points for food and beverage purchases.
An ever-expanding travel program, Marriott Bonvoy connects 30 extraordinary hotel brands with 7,500 properties located in 132 countries & territories, 20,000 premium and luxury vacation home rentals, and tens of thousands of tours & activities enabling members countless ways to earn and redeem points for a perfect and personalized travel experience.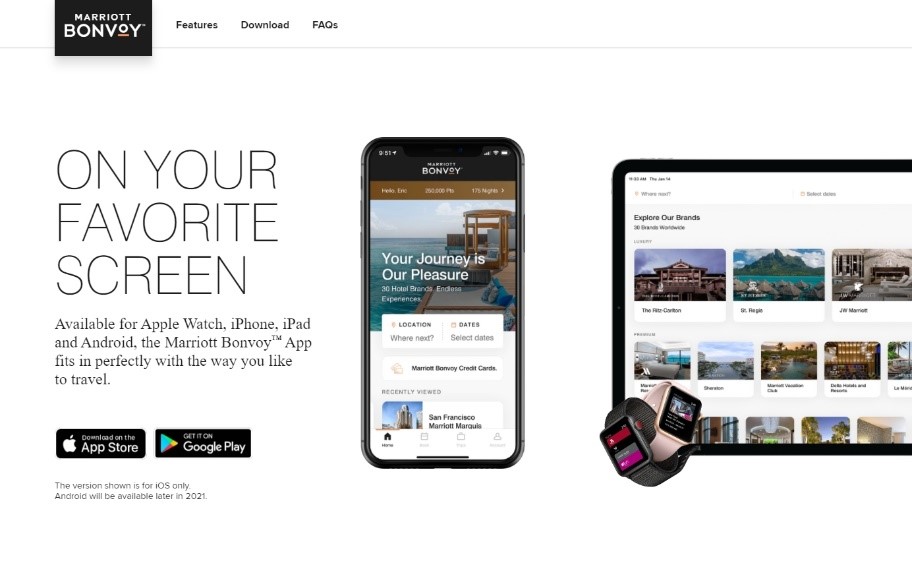 The refreshed Marriott Bonvoy mobile app provides front and center, easy access to points earning opportunities, as well as the ability to sign-up for and earn points with the Marriott Bonvoy co-brand credit cards, providing additional ways beyond the stay for members to earn points.
The app is available in seven languages – English, Spanish, French, German, Japanese, Korean, Chinese. Four additional languages will be added later this year including Italian (April), Russian (May), Portuguese (June) and Arabic (August). The improved app experience launches first on Apple's iOS operating system which accounts for most Marriott Bonvoy app users followed the Android operating system later this year.