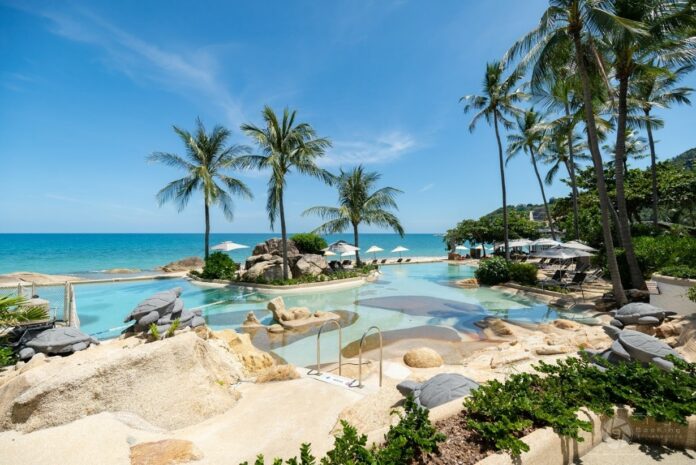 Tropical islands and their resorts have long provided the perfect escape to paradise, taking you away from the intensity and stresses of busy urban living.
Recent times have shown more than ever the value in retreating somewhere where the air could not be cleaner and the water is always the perfect shade of blue. Given the glorious natural surroundings, the majority of your trip will be spent outside, leaving you to truly relax.
So whether you manage to travel domestically now – or book ahead to brilliant destinations for later in the year – the physical and mental benefits of an island break will reward you and your loved ones in countless ways.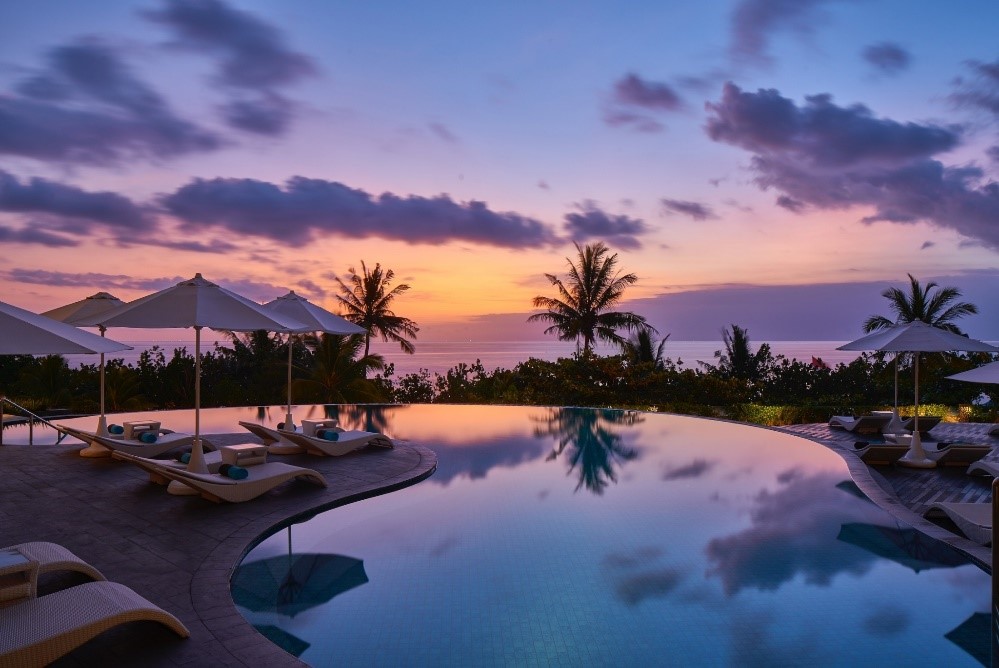 SANYA, CHINA
China's smallest and southernmost province, Hainan is known as the 'Hawaii of China', and offers an enticing tropical climate, chic beach resorts and fascinating cultural history. Taken together, it makes the perfect cocktail for those seeking an easily accessible island escape.
Nestled in beautiful Haitang Bay, The Sanya EDITION is a distinctive destination for luxury travellers seeking ultimate island escapes. A spectacular "private ocean" is the centrepiece of the property – from internationally acclaimed hotelier Ian Schrager – that is surrounded by secluded cabanas where guests can dine while overlooking the South China Sea. Four restaurants and two bars offer a wide array of culinary choices and variety throughout the day and throughout the property, intimate gathering places that are perfectly in tune with our times.
The Ritz-Carlton Sanya, Yalong Bay offers sophisticated travellers complete immersion in a luxurious resort. With architecture inspired by The Summer Palace, it captures the essence of Sanya coastal retreat. From freshly picked tropical fruits served upon arrival to a seashell placed on the guest's pillow as a good night wish – and to let the sound of the waves lull them into sleep – no detail is too small to capture the essence of island living. 447 guest rooms and 33 private pool villas provide the ultimate in privacy, luxury, and comfort for those seeking to escape.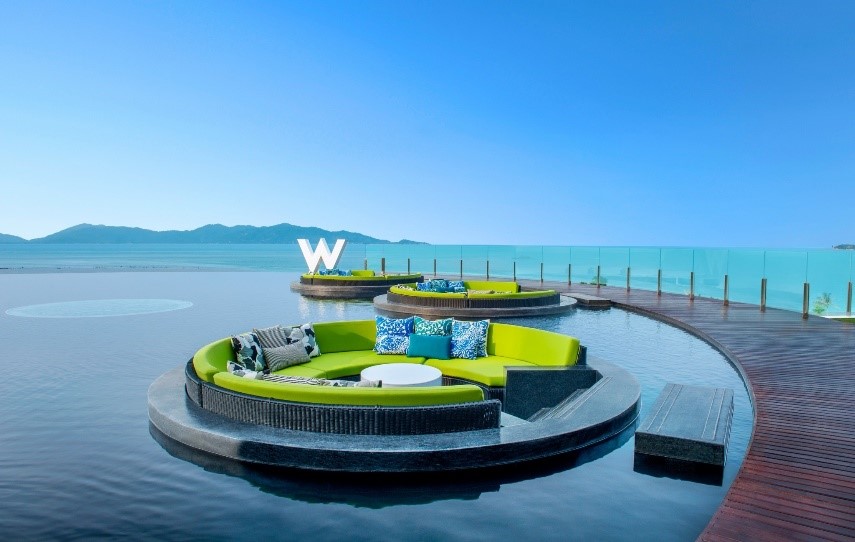 The St. Regis Sanya Yalong Bay Resort lets you gaze upon glistening blue waters, lush green palms and gentle mountainsides, a true little corner of paradise. This magnificent estate sits next to a marina and a protected mangrove forest to immerse you in natural beauty, while you can connect with water through a dip in our pools or lounge on our tranquil beach. Culinary experiences await in three restaurants and the Drawing Room where authentic, local flavours highlight tropical tastes. Iridium Spa offers distinctive and elegant customised wellness experiences, while our famed and engaging St. Regis Butlers provide flawless, personalised attention during your stay – one point of contact to answer all of your questions and meet all of your needs.
Sheraton Sanya Resort overlooking the gorgeous Yalong Bay is the perfect serene island getaway for the whole family and this 5-star resort offers everything for a fulfilling and refreshing island visit. On the dining front, there are exquisite family-friendly dining from authentic local and Cantonese fare to dynamic international and pan-Asian cuisines. With five swimming pools, resort spa and prime beachfront location, it makes for the perfect family vacation spot.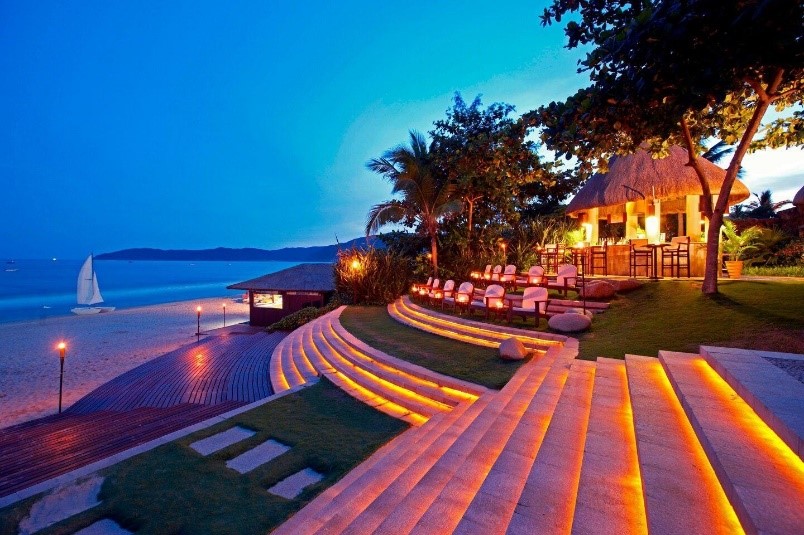 Sleeping in a Heavenly® Bed and enjoying 180-degree sea views over the South China Sea is already a recipe for the perfect island break, but at The Westin Blue Bay Resort & Spa there's much more. Guests are just steps away from beachside activities, watersports, the world-class 18-hole championship Jian Lake Blue Bay Golf Course, as well as a few minutes' drive from the famous Nanwan Monkey Island. The hotel is also home to China's largest Heavenly Spa by Westin™ featuring Eastern and Western therapies for peaceful healing and relaxation, enabling guests to enjoy all the Westin brand's signature wellness programs and amenities.
KOH SAMUI, THAILAND
Koh Samui is one of south east Asia's most idyllic islands, nestling in the always-warm blue waters of the Gulf of Thailand. Palm-fringed beaches, coconut groves and mountainous rainforest combine to magical effect, so whether it's a long weekend break or a two-week retreat, kick back with your toes in the sand and a glass of something fruity and exotic in your hand.
W Koh Samui, located in Maenam beach, offers the perfect luxe hideaway with the serenity of tropical island vibes. For those seeking to escape to island living, the only challenge comes in choosing what to do next. Do you head to AWAY Spa to soothe away all your worries with famed wellness treatments? Or retox instead of detox by hitting the iconic WOOBAR as you start to electrify the night? Maybe you'll just choose to kick back in your pool villa, enjoy the breath-taking views and conjure up your next envy-inducing Instagram post?!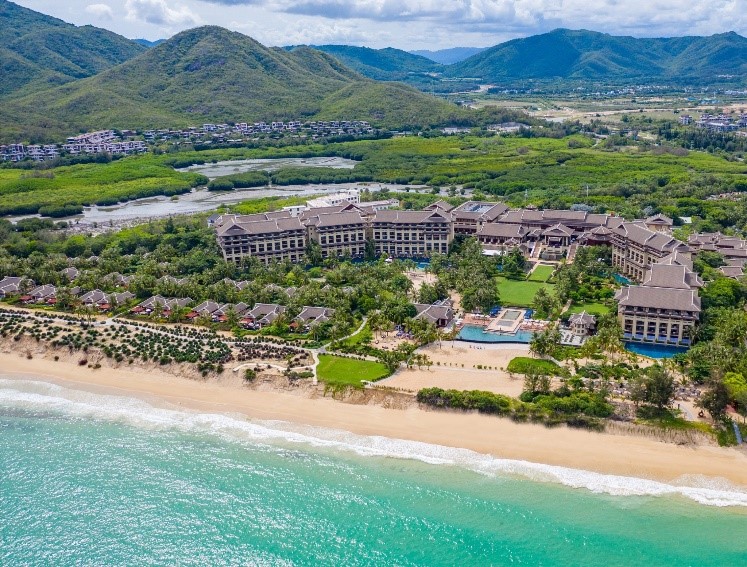 An all-inclusive package is on offer for a minimum stay of 3 nights at Sheraton Samui Resort where you are absolutely spoilt for choice: 24/7 Sheraton Fitness, spa treatments, taking cooking classes or tennis lessons, enjoying wine tastings, Kids Club activities, watersports – and much more are all on offer. Throughout the stay, guests will receive all meals inclusive within the package, while beverages are included with options to upgrade to unlimited alcohol and even unlimited spa. The greatest joy at this dream destination? A complete island experience where anything is possible and everything is included.
BALI, INDONESIA
Finally, to another magical destination where the living is always laid-back. The iconic and stunning Indonesian island of Bali is home to towering volcanoes and picturesque rice paddies, breath-taking sunsets and untouched coral reefs. With its reputation for wellness and spirituality, Bali is not just a stunning destination but also a way of life.
Inland by the lush jungles of Ubud, Mandapa offers individually tailored spiritual, wellness, health and detox programs, complemented by the fulltime personalised attention of a dedicated butler. This intimate island retreat is the ultimate sanctuary in which relaxing one's mind, body and soul comes naturally. With only 35 luxurious and spacious suites, and 25 private pool villas, guests can select from an exquisite collection of accommodations that have been meticulously designed to magnify and embrace the surrounding tropical landscape. An organic garden, farm, and educational Mandapa Camp and unobstructed access to nature let the great outdoors weave its magic for guests, even before the famed Spa at Mandapa lets them discover true peace of mind and body through holistic wellness and lifestyle programs.
Renaissance Bali Uluwatu Resort and Spa is in a locale like no other, where Bali's legendary sunset experiences and dramatic cliffs inspire. All rooms feature balconies overlooking either the ocean and Balinese coastline or the lush lands of the Bukit (hill).  Guests love the main infinity pool with views over the ocean, the lower pool and a separate pool for the little ones.
And for foodies it doesn't get better than Double Ikat's delicious and authentic Indonesian cuisine or a visit to Clay Craft Restaurant, slated to be the ultimate breakfast experience overlooking the ocean.
Bali Sunset Escape is another irresistible all-inclusive deal offering guests the opportunity to stay longer and benefit throughout their stay. Guests are invited to enjoy a complimentary sunset drink every day at Sundowners Rooftop – the resort's best spot to watch the exceptional view of Kuta's legendary sunset. They then embark on a culinary journey at the resort's all-day dining Feast Restaurant where a sumptuous dinner buffet features an array of international delicacies. Completing the total relaxation experience is a complimentary 60-minute signature Shine Massage at the resort's Shine Spa by Sheraton.