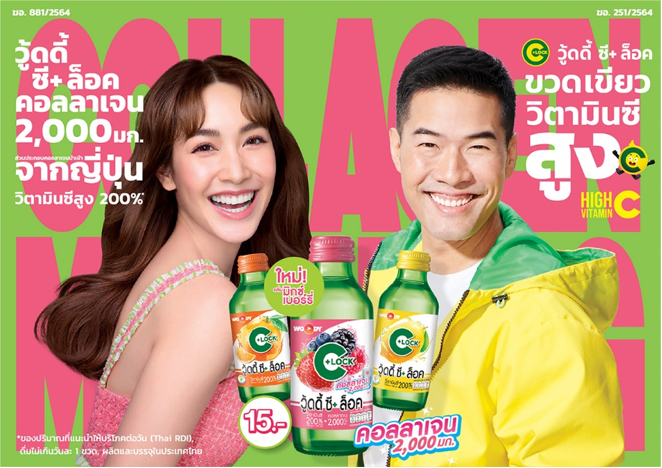 A Woody Drink, a subsidiary under Carabao Group Public Company Limited, are launching their latest vitamin C drink, Woody C+ Lock Collagen Mixed Berry, the first drink in Thailand with 2,000 milligrams of collagen along with 200% vitamin C content. Powered by a 100-million-baht investment, the new product is being offensively launched in every distribution channel and is also endorsed by presenter Peechaya "Min" Wattanamontree to attract consumers in the beauty market and increase the market share. Only 10 months after the launch, Wood C+ Lock has become the number 2 best seller in the vitamin C market with the aspiration to become the number 1 in 3 years.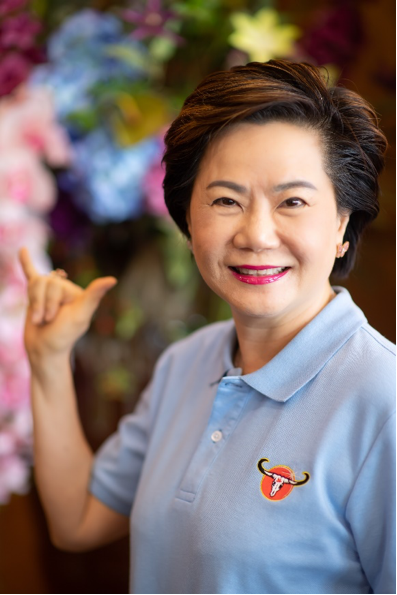 Ms. Nutchamai Thanombooncharoen, Managing Director of Carabao Group PCL, revealed that the company has successfully tapped into the vitamin C market after the launch of Woody C+ Lock Lemon earlier in March 2020, followed by orange flavor in June. Woody C+ Lock has since ranked number 2 in the health shots market, worth 6,700 million baht, within just 10 months.
Following this success, the increasing market share and the continuing expansion of its consumer base, the company launching Woody C+ Lock Collagen Mixed Berry. The drink will be the first of its kind in Thailand to have as much as 2,000 milligrams of collagen and as high as 200% vitamin C (based on the report by the Foundation for Consumers, released in December 2020). Marketed with the tagline "Radiant skin from collagen and vitamin C in a single bottle'', Woody C + Lock Collagen Mixed Berry features collagen taken from fish imported from Japan. The new product retails at 15 baht per bottle, the same price as the previous two products and is considered the market's most competitive price considering the amount of vitamin C and collagen with the newly designed packaging to distinguish each three flavors and create maximum visibility on shelves and chillers nationwide.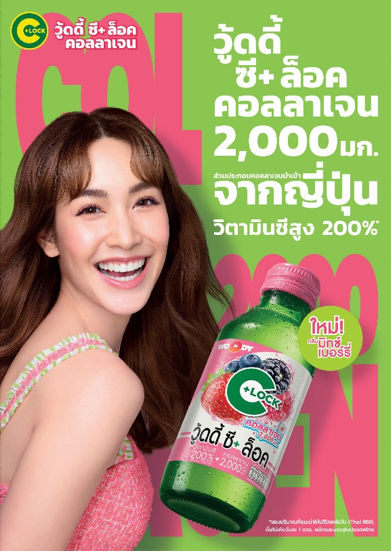 The launch also aims to create a new brand image for Woody C+ Lock to expand its customer base in the vitamin C drinks market and, tap into the beauty market and attract skincare loving women, students, office workers and factory workers after successfully creating brand awareness among health-conscious consumers. Woody C+ Lock Collagen Mixed Berry is backed by a 100-million-baht investment, and is heavily promoted through both online and offline channels, marketing activations, modern and traditional trade as well as convenience stores, which are the main distribution channels for vitamin C drinks.
The product is endorsed by presenter, Peechaya "Min" Wattanamontree, an actress with attractive fair, radiant skin. And as a representation of modern women, lively and healthy, Min takes great care of herself, both internally and externally, and is revered as the actress with a "forever baby face". The first two Woody C+ Lock flavors were endorsed by Vuthithorn" Woody" Milintachinda as brand ambassador.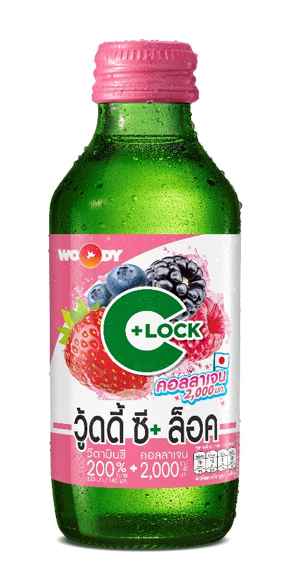 Ms. Nutchamai also adds that the key success that has driven Woody C + Lock to number 2 in the market within such a short time is its vitamin C content that is currently the highest in the market, the C+ Lock innovation, nitrogen filling and double-lock cap that preserve and prolongs the effectiveness of the vitamin C. The famous brand ambassador, Woody, also effectively communicates the brand's health benefits to the right target. Combined with suitable marketing plans, Woody C+ Lock has become successful as planned in a very short period of time.
Presently, the functional drinks market is seeing constant growth, due to the new consumer trend for health-boosting products. In 2020, the market was valued at 9,100 million baht, considered a 9% growth. The healthy shot market is worth 6,700 million baht and is considered a 14% growth. However, the highest growing market is the vitamin C shot market, which is worth 4,000 million baht and is considered a 45% growth from last year. One success factor is also Carabao Group's strategic marketing plans that shake up the market, shifting from passive to offensive marketing. New entrants to the market also have much room to grow and thrive.
The vitamin C drinks market is, so far, the most competitive segment, especially with the strategy of presenters communicating directly to target groups. However, with the company's distinguished innovation, Carabao Group's high production standard and high potential distribution network that covers 180,000 retail shops all over Thailand, Woody C+ Lock Collagen Mixed Berry can quicky and successfully penetrate the market and become the top-of-mind product.
Woody C+ Lock Collagen Mixed Berry will be available in convenience stores such as CJ More, 7-Eleven and TooKDee Shops as well as leading stores all over Thailand. The first batch will be shipped out mid-April 2021 and will reach consumers nationwide by the end of April 2021. A Woody Drink, under Carabao Group, expects a 20% market share from Woody C+ Lock products before year end, and to become the number one in the healthy shot market within 3 years.