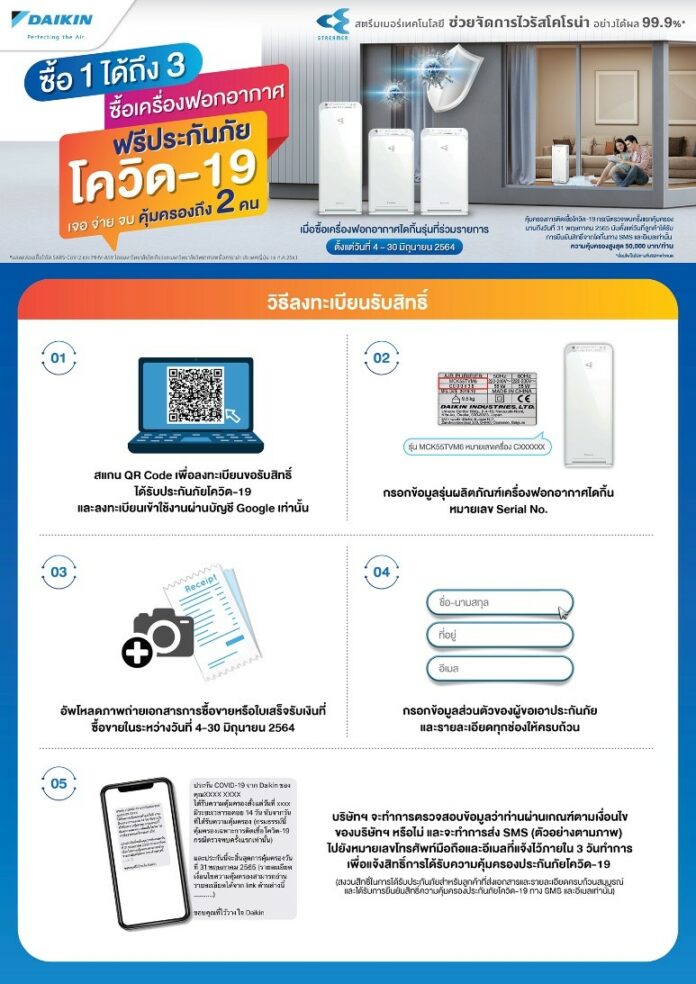 Mr. Sarawut Tempattarasak, Corporate Planning Assistant General Manager, Siam Daikin Sales Co., Ltd., said that the firm is fully aware of the gravity of the current COVID-19 situation in Thailand that causes devastating effects and worries in the daily life of Thai consumers. Therefore, Daikin is offering "Buy 1 Get 3" promotion that offers COVID-19 insurance for 2 persons with purchase of Daikin air purifier to extend their concern and care to the consumers for them to brave through the crisis safely.
Buyers of Daikin air purifier MCK55TVM6, MC55UVM6 and MC40UVM6 at normal prices (exclusive of project prices and purchase of display units) between 4-30 June 2021 receive COVID-19 insurance from Southeast Insurance. Assured sum for first positive test result of COVID-19 is 50,000 baht. One purchase of Daikin air purifier is eligible for one comprehensive COVID-19 insurance policy that ensures 2 persons.
Daikin air purifiers are equipped with Streamer technology, Daikins's patented technology that eliminates SARS-CoV-2 and brings fresh, clean air to everyone in the family, especially during Work From Home period where most consumers spend more time at home. Also, as they venture outside during the time of pandemic, Daikin also extend the care and support against COVID-19 with the comprehensive insurance that comes with the promotion.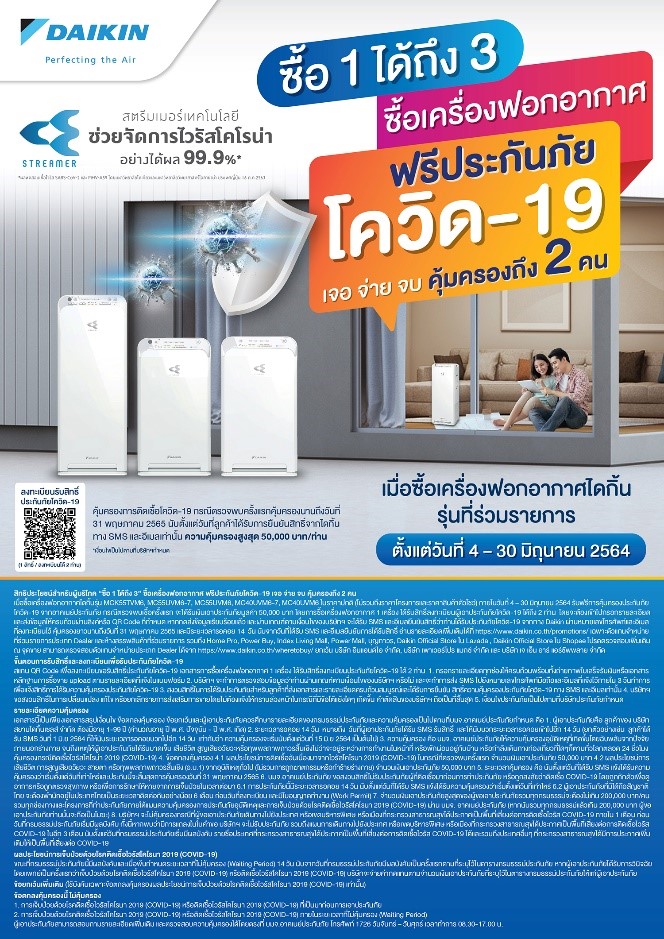 The promotion is available through participating dealers and department stores only. Consumers can register to receive COVID-19 insurance and submit required documents via this link or QR code. Once the credentials are verified, a confirmation will then be sent via SMS and email according to contact information provided in the registry. The insurance valid until 31 May 2022 after 14-day waiting period. For more information, please visit https://www.daikin.co.th/promotions/.
Mr. Sarawut also added that medical personnel also get 1,000-baht cash back from "You Take Care of Thai Citizens, We Take Care of You" promotion. Simply send required documents via LINE: Daikin Thailand to receive the cash back according to terms and conditions. For more information, please go to https://www.daikin.co.th/promotions/daikin-support-medical-personnel/.
For more information, contact Southeast Insurance at 1726 from Monday-Friday between  8.30-17.00. For more news and updates on Daikin promotions, go to Facebook Daikin Thailand https://www.facebook.com/DaikinTH.