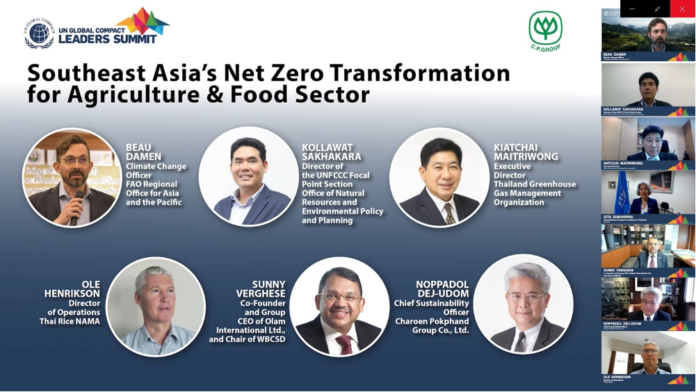 The UN Global Compact Leaders Summit 2021 was held on June 15-16, 2021 as a virtual conference, bringing together more than 25,000 leaders and sustainability professionals from business organizations, government agencies, the academia, and other organizations from around the world.
Thailand was well represented at this year's Summit, emphasizing its full commitment to work as part of the global community to tackle the global warming challenge.  One of the many leading voices from the Thai business community to participate in the event was Mr. Suphachai Chearavanont, Chief Executive Officer of Charoen Pokphand Group, who took part in the main plenary session to share his vision of the Thai private sector's role towards achieving the goal of net zero emissions.
Charoen Pokphand Group was also invited to host a session at the global forum titled "Southeast Asia's Net Zero Transformation for Agriculture & Food Sector" on June 16 to drive cooperation with the inclusion of all sectors at the international level in strategically reducing greenhouse gas emissions in the agricultural and food industry of the ASEAN region. The session was moderated by Ms. Gita Sabharwarl, United Nations Resident Coordinator in Thailand with panelists that consisted of Mr. Noppadol Dej-Udom, Chief Sustainability Officer of C.P. Group, who shared his vision along with Dr. Kollawat Sakhakara, Director of the UNFCCC Focal Point Section Office of Natural Resources and Environmental Policy and Planning (ONEP), Mr. Kiatchai Maitriwong, Executive Director of the Thailand Greenhouse Gas Management Organization (TGO), Mr. Beau Damen, Climate Change Officer of the Food and Agricultural Organization (FAO) Regional Office for Asia and the Pacific, Mr. Ole Henrikson, Director of Operations at Thai Rice NAMA, which implements initiatives on climate-friendly rice cultivation practice, and Mr. Sunny Verghese, Co-Founder and Group CEO of Olam International, which operates agriculture and food business globally.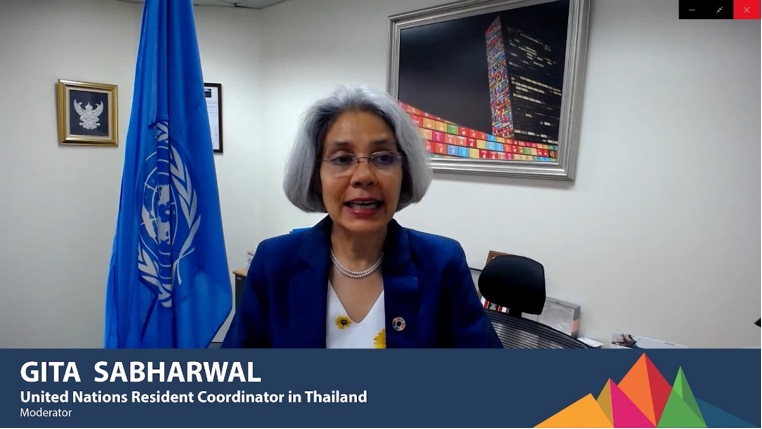 Ms. Gita Sabharwal from the UN started off by providing the context of Southeast Asia as a major food and agricultural producer. The sector employs over a third of the labor force in most of the countries.  Across the region, however, farm sizes remain relatively small, with the sector generating the slowest growth and lowest productivity per worker relative to other areas of the economy. With climate-related uncertainties and this sector being responsible for more than a third of greenhouse gas emissions, small-scale farmer livelihoods are at risk. Therefore, utilizing climate-smart farming practices and technologies are critical to increasing agricultural productivity and farmer incomes as well as achieving the SDGs in the region.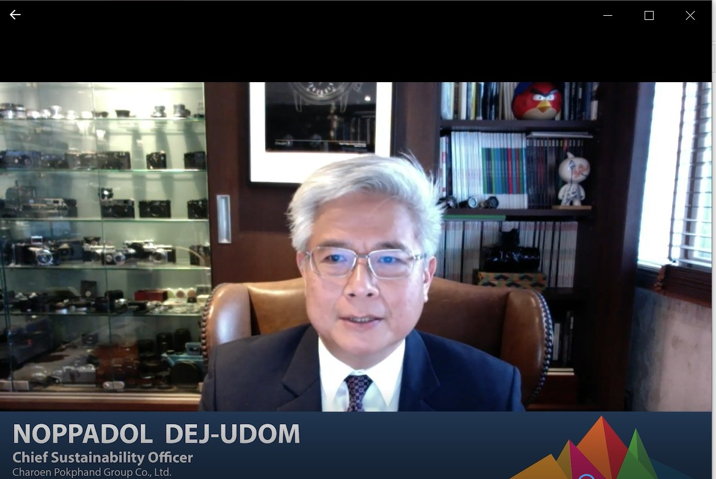 Mr. Noppadol Dej-Udom of C.P. Group shared that his company is a key player in the agricultural and food sector in the ASEAN region. The Group acknowledges and has witnessed first-hand the impact of climate change on the agro-food industry. Therefore, C.P. Group has set the goal of becoming carbon neutral throughout its supply chain. In addition, the company has worked closely with farmers and its trading partners in Thailand and the ASEAN region, such as Cambodia, Laos, Malaysia, the Philippines, and Vietnam with the goal of reducing emissions in its operations upstream. It has also implemented Climate Smart Agriculture practices in its business operations by utilizing technology to drive sustainable supply chains to reduce waste and increase efficiency. For example, the Group uses various forms of renewable energy in its corn, shrimp, pork, and chicken businesses. It has also reformulated animal feed products to reduce the nitrogen content in manure – leading to lower nitrous oxide emissions and implemented animal welfare practices to reduce animal fatality and illness. Furthermore, the company uses digital livestock monitoring, water quality management, agricultural drones and continues to develop improved plant and animal breeds, production and processes that leads to effective eco-management in its products.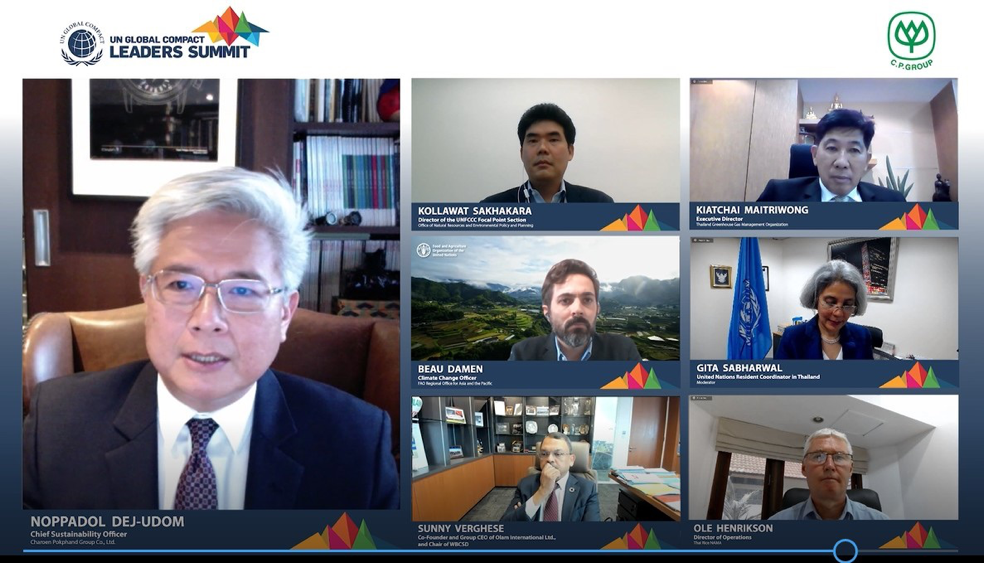 Mr. Noppadol added that C.P. Group has taken this approach in parallel with its carbon sequestration efforts by organizing forest conservation and reforestation projects to reduce net greenhouse gas emissions, starting with Thailand and China with future plans for expansion to other countries where the Group operates. The Group's 450,000 employees worldwide will come together to plant trees that will help reduce global warming and achieve the goal of becoming carbon neutral.
Dr. Kollawat Sakhakara from ONEP said that participating in this global sustainability leaders' summit reinforces Thailand's determination and readiness to join the global community in reducing the impact of climate change. Therefore, it's important to create international cooperation in formulating policies to reduce global warming. In the past, Thailand has fully supported the Paris Agreement and has worked with fellow ASEAN members through the ASEAN Working Group on Climate Change (AWGCC) network to find solutions to reduce the impact together. The agriculture and food industry can play a vital role in solving climate change problems and focus should be made towards developing Climate Smart Agriculture solutions via regional cooperation.
Director Kiatchai Maitriwong of TGO said that the organization has been working together with ONEP in supporting and promoting government and private actions on climate change. Thailand's food and agriculture industry itself has the potential to reduce emissions and conduct carbon sequestration while enhanced efficiency will be continued for various sectors working towards addressing climate change. In addition, TGO has established a Carbon Neutral Network to encourage companies and businesses to commit and announce action plans to change Thailand to become a low-carbon economy.
Mr. Beau Damen from the FAO said that in Southeast Asia, food and agriculture security is very high but at the same time, it affects the environment as well. Therefore, to join the action to reduce global warming in this region, it will require investment in farmers' groups and land use management. This includes introducing new innovations in processing to increase productivity and modernize agriculture, and it is essential to achieve net zero carbon emissions in the region.
Thai Rice NAMA's Ole Henrikson shared a case study of sustainable farming that has changed the way rice is grown, to reduce the amount of greenhouse gas emissions and help mitigate global warming. The availability of these low-carbon rice cultivation techniques has increased yields and has also helped reduce production costs in terms of water use and fertilizer use. The technology involved in low-carbon rice cultivation utilizes high-precision lasers to ensure level growing fields, straw management to prevent local burns, alternating wet and dry paddy fields, and precise management of soil nutrients in specific areas. These practices will lead to the development of national policies to further support case studies.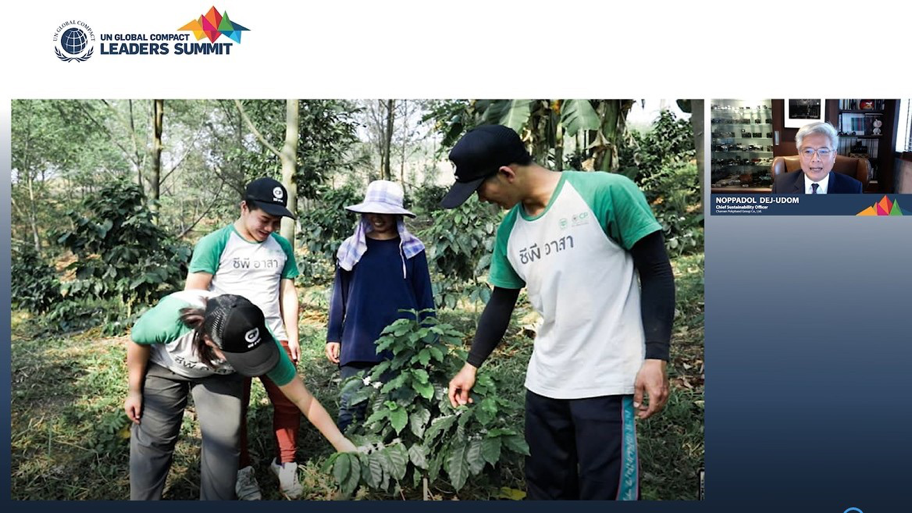 Sunny Verghese of Olam International stated that the food and agriculture industry accounts for one-third of the world's greenhouse gas emissions and 71% of the world's freshwater use. Agriculture will need to be digitized to have ensure sustainability performance throughout the value chain. Olam uses AtSource, a platform that tracks sustainability metrics in 10 key areas, by collecting and managing data at every step of the value chain. The company is preparing to expand its system through cooperation with food manufacturers, retailers, and NGOs to join its platform. In another project, Olam has started to use AI to advise smallholder farmers on how to maximize productivity and efficiency. At the same time, food and agribusiness organizations must assist smallholder farmers, who supply 80% of the world's agricultural raw materials, in improving their livelihoods beyond the average poverty line and ensuring the health and well-being of this world.