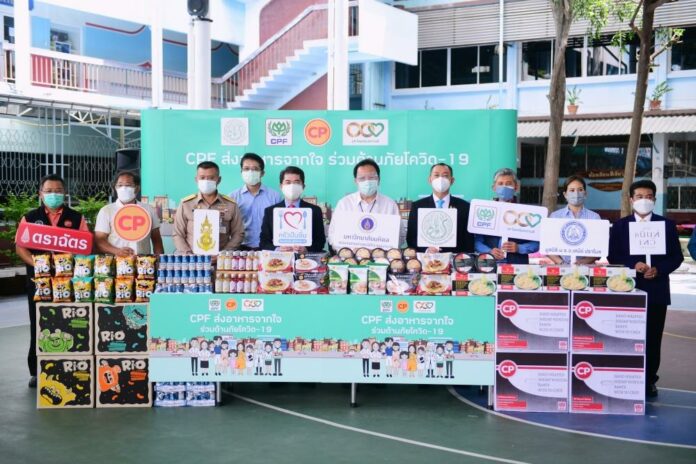 Public and private agencies, including Ministry of Agriculture, the Seni Pramoj Foundation, Siriraj Hospital, the Royal Thai Navy, Charoen Pokphand Group (CP Group) and Charoen Pokphand Foods (CP Foods), have come together to provide meal boxes, healthy drinks, snacks and other essentials to patients in Community Isolation Center at Suwannaram Wittayakhom School, Bangkok.
The relief effort is a part of CP Group's "Krua Pan Im" project and CP Foods' "Food from the Heart Against COVID-19 project, to give away a total of one million boxes of hearty ready-to-eat meals to 40 locations across Bangkok within two months.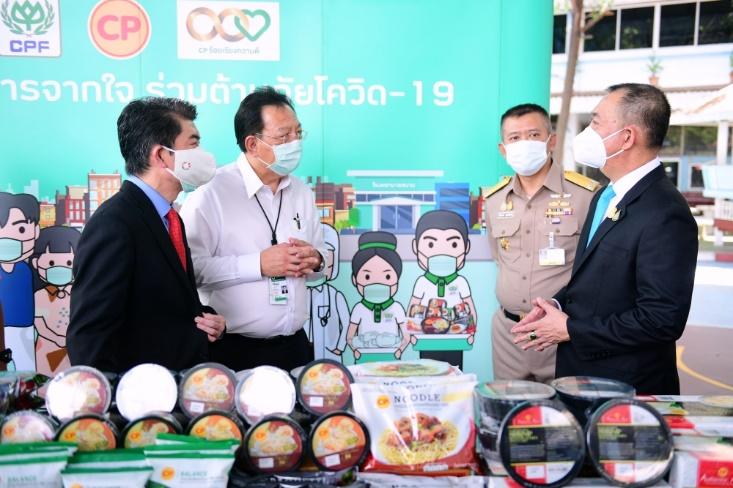 Agriculture and Cooperatives Minister Chalermchai Sri-on, who is also the Seni Pramoj Foundation committee's secretary, thanks all partners, including CP Foods, that come together in an effort to support Thai people during the surge of Covid-19 outbreak. He says: "Safe and sufficient foods are much importance to both patients and volunteers In an unprecedented outbreak of COVID-19. Therefore, many thanks to CP Foods, the company that has been supporting people in need since the beginning of the outbreak, for a helping hand that reached out to help the country and the people in this crisis,"
Assoc. Prof. Visit Vamvanij, Director of Siriraj Hospital, said the hospital staffs are currently caring asymptomatic and mild-symptom COVID-19 patients at the 120-bed community isolation center to reduce the spread of infection within their family. This will be a model for Community Isolation Centers in other areas. He added that the food supports from CP Group and CP Foods can alleviate the burden of daily food management, helping them to be fully focused on medical treatment.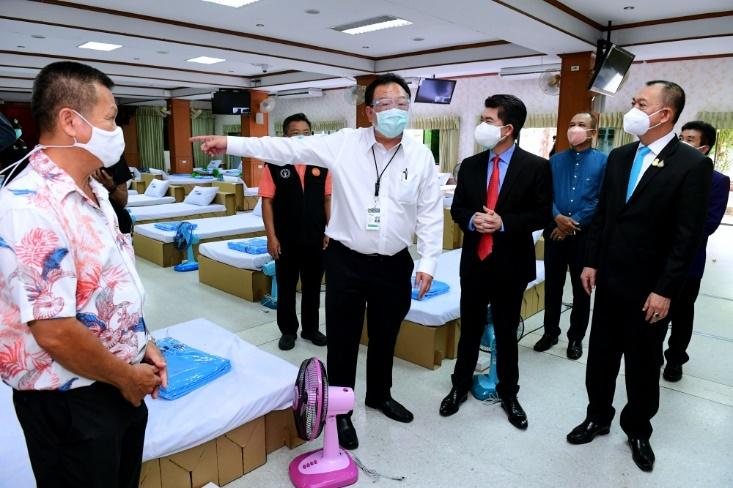 CP Foods' CEO Prasit Boonduangprasert added that the company has been using its expertise food production to help healthcare workers and people in need since the beginning of the outbreak in early 2020. As a part of "CP Hearts as One Fights COVID-19" project initiated by CP Group to fight the current outbreak, CP Foods has produced 1 million boxes of delicious, ready-to-eat meals to deliver to infected people in various isolation centers as well as community affected by the pandemic.
Since 2020, CP Foods has donated millions of beverages, raw materials, and food products as well as other essentials to over 500 places, covering hospitals. vaccination centers, test centers and vulnerable communities. The efforts aim at supporting Thailand through the crisis under a guidance of CP Group' senior chairman Dhanin Chearavanont.