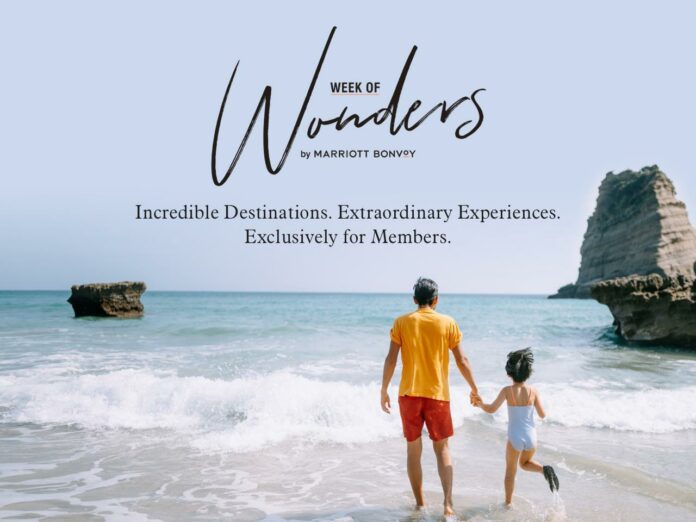 Limited-Time Deals & The Chance to Access Extraordinary Experiences in Incredible Destinations Inspire Members to Rediscover the Wonder of Travel
Bangkok, Thailand  – October 8, 2021 – Marriott Bonvoy – Marriott International's award-winning travel program – is reigniting wanderlust by introducing its second annual members' week, Week of Wonders, featuring exceptional travel offers available exclusively for Marriott Bonvoy members. 
From October 7 to October 14, members will have access to a variety of Wonders centered on themes including escape, delight, adventure, comfort, luxury, discovery and more. These offers will be available across Marriott Bonvoy's extensive portfolio of extraordinary brands in Asia Pacific. Members can participate in multiple offers, providing more opportunities for them to take advantage of everything in the Marriott Bonvoy travel program – whether that's hotel stays, bonus points, redemption offer, or member' discount. The promotions are available to all members – even those who enroll during the window of the promotion.  
As well as giving members the chance to accelerate the number of points they can earn, Week of Wonders provides them with the chance to truly reward themselves. Members can take advantage of exclusive deals on stays at luxury hotel properties and also enjoy retail opportunities with Marriott Bonvoy's online store, Marriott Bonvoy Boutiques. 
"We're excited to show appreciation for our loyal members through Week of Wonders, allowing travelers to reignite their spirit of discovery and unlock the power of travel with Marriott Bonvoy," said David Flueck, Senior Vice President, Marriott Bonvoy. "With these rich offers, members have more reasons to plan and book their long-awaited dream vacation, cross off bucket-list items with terrific experiences, or reward themselves with some much-needed luxury."
Offers available all week long include: 
Wonders of Escape: Escape With 25% Off at participating hotels across Asia Pacific (excluding Greater China)  
Members can explore through Marriott Bonvoy's expansive portfolio of hotels with 25% off at participating hotels across Asia Pacific (excluding Greater China).
Wonders of Delight: Earn 2,000 Bonus Points as a Marriott Bonvoy® Credit Card Holder
Marriott Bonvoy Credit Card holders can register from October 7 through October 14, 2021 and earn 2,000 points after booking and completing an eligible stay at hotels participating in Marriott Bonvoy by November 21, 2021. The stay must include one paid night. Terms apply.   
Wonders of Discovery: Re-ignite the Spirit of Discovery When You Redeem Points for Free Stays For Up To 33% Less
Travelers eager to discover new places, cultures, and people near and far can book their next hotel redemption stay for up to 33% fewer points during Week of Wonders. 
Wonders of More: Fast-Track Travel Plans with Bonuses on Points Purchases 
During Week of Wonders, members will receive a 50% bonus and Elite members a 55% bonus on purchases of 2,000 or more points – making it easier and quicker for them to get to that next dream vacation. 
Wonders of Luxury: Indulge in Spa, Golf, Dining and More at Some of the Most Iconic Marriott International Hotels Around the World
Members seeking to elevate their travel experiences can do so in style by booking the Week of Wonders Escape to Luxury offer. As part of this offer, guests booking a 2+ night stay will receive up to $300 in folio credit to be used on a variety of amenities during their stay at some of the most magnificent luxury hotels within the EDITION, St. Regis Hotels & Resorts and The Ritz-Carlton portfolios.
Wonders of Comfort: Bring Home Your Favorite Hotel Comforts
Members can enjoy 20% off when they shop at Marriott Bonvoy's online store Marriott Bonvoy Boutiques, making every day feel like a vacation. From the iconic Westin Heavenly® Bed, to the EDITION signature scent, to sumptuous bathrobes from The Ritz-Carlton, travelers can experience the joy of good travel from the comfort of their homes.
Wonders of Adventure: Step away from the everyday and embrace all Marriott Bonvoy's hotels have to offer with the current global promotion
Members seeking adventure can earn 1,500 bonus points on each stay now through December 21, 2021 when they register here for the global promotion, which will continue to run during Week of Wonders. 
To explore all the special offers during Week of Wonders and to view the full set of terms and conditions, please visit: http://marriottbonvoy.com/weekofwondersap.
For more information about Marriott Bonvoy or to enroll as a member for free, visit here. Join the conversation @MarriottBonvoy.