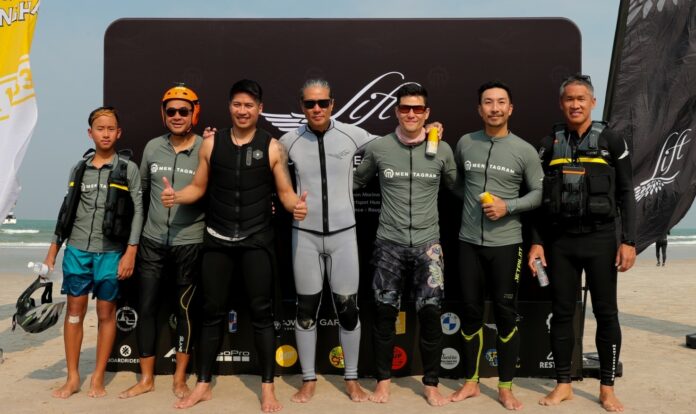 Siam Discovery The Exploratorium and Mentagram, leader in water sports products and lifestyles, co-created a global phenomenon in "Lift Foils World Record Attempt," the first flight above the water with Lift eFoil from Pattaya to Hua Hin, showcasing Thailand's world-class capability in organizing the trendiest water sports activity.
Come Play With Us and experience the Lift eFoil for yourself and other latest lifestyle products at Mentagram Lab, 2nd floor, Siam Discovery, throughout April. Do not miss this highlight of Siam Discovery The Summer Exploratorium.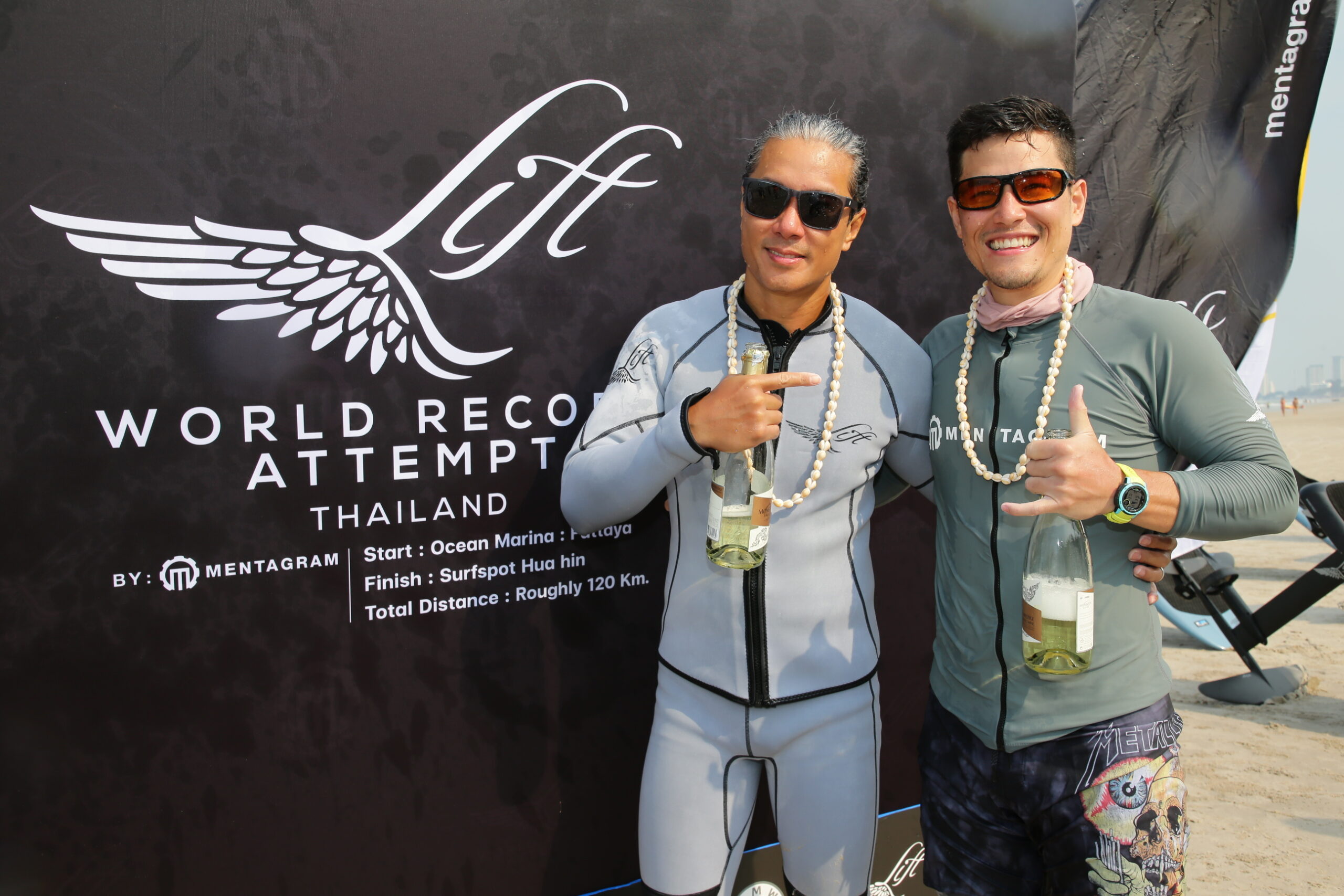 At this global event "Lift Foils World Record Attempt," a record-breaking Lift eFoil flight was made from the Pattaya beach to the Hua Hin beach, led by "Nattapon Pattamapong," Managing Director of Mentagram, and "Natthapat Sahawat" Champion of Lift Foils Thailand Challenge 2021.
The team flew over 120 kilometers on the water from the east coast of Thailand at Ocean Marina Pattaya to the upper part of the Gulf of Thailand, finishing at Surfspot Hua Hin, making a history for the water sports community in Thailand. The event was joined by two stars who are passionate about Lift eFoil – Rapper "Joey Boy" or Abhisit Opas-iamlikit and CEO of Boon Rawd Trading "Bhurit Bhirombhakdi," along with many other celebrities.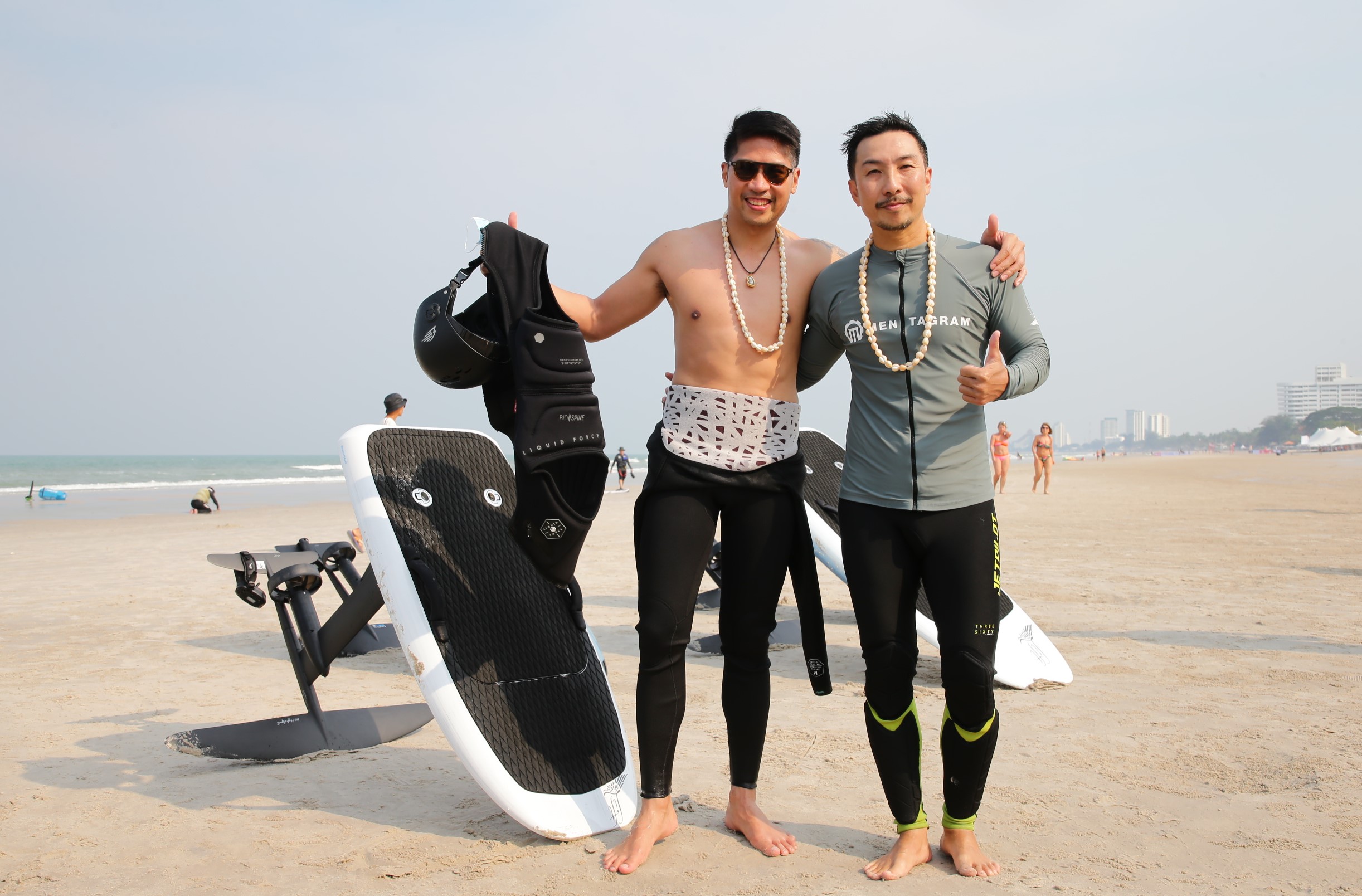 Lift Foils started off as an initiative of surfing and water sports enthusiasts who wanted to foil board in the sea without having to wait for the wind or waves. The device is excellently designed to endure any weather conditions and accommodate all surfing styles. All parts of the board can be disassembled for transport by car to any location whether sea or swamp. Thanks to its versatility and quality, the brand is recognized around the world.
Mr. Nattapon Pattamapong, Managing Director of Mentagram, was the team's captain. He traveled 120 kilometers on a Lift eFoil and turned a new page in the history of water sports in Thailand. Mentagram's Managing Director said that the mission was a success despite huge waves which prevented him from reaching the top speed. The trip ended up taking nine hours instead of six as originally planned. He was happy to set a record in water sports with Lift eFoil and grateful for all the encouragement and support from partners.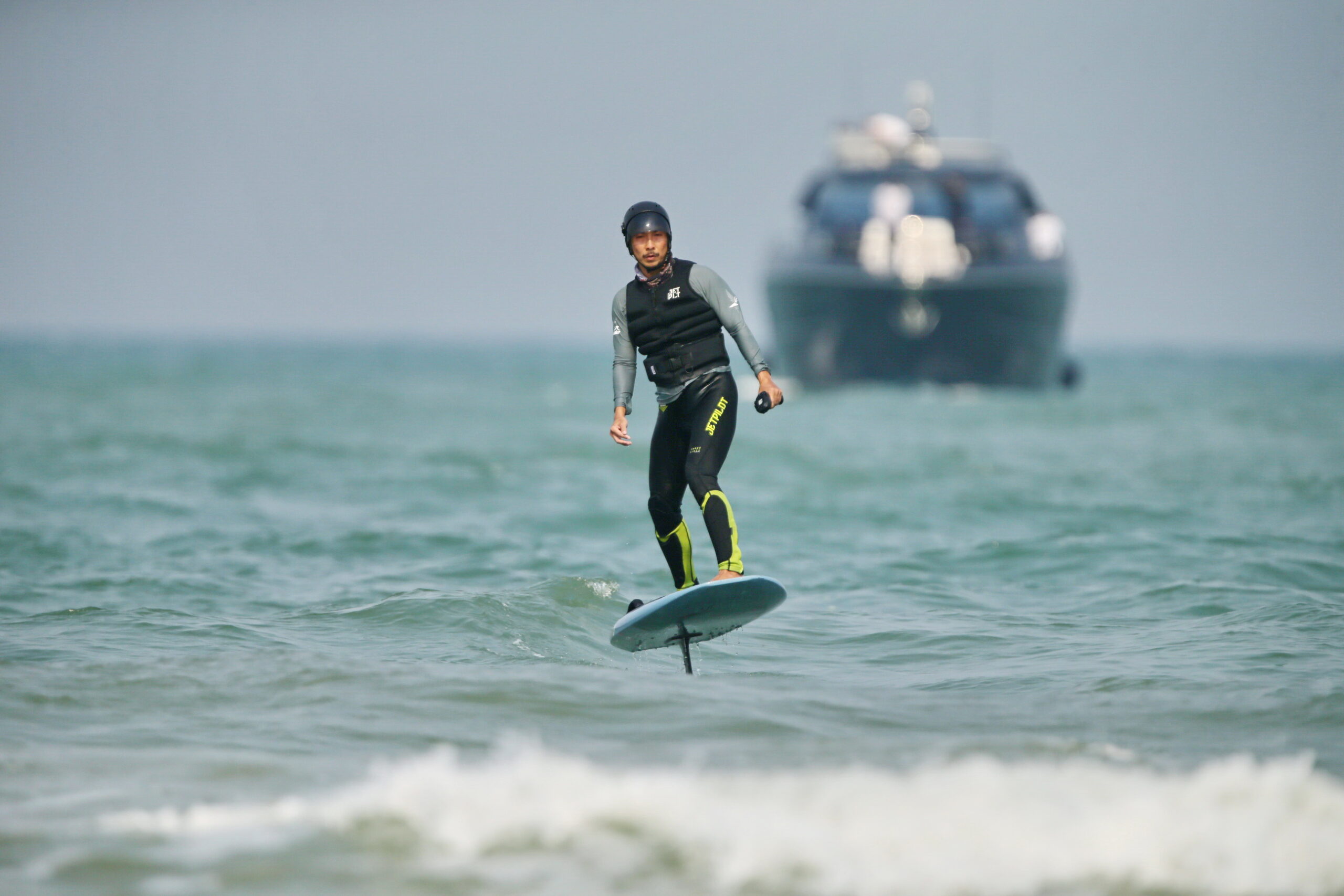 Rapper "Joey Boy" or Abhisit Opas-iamlikit talked about his participation during some stages of the journey across the sea by Lift eFoil that he was excited and even though he didn't stand up against the waves for the entire 120 kilometers, he had a blast as it was his new and important experience of water sports. He also congratulated his friend, Mr. Pattamapong, for completing this mission beautifully.
CEO of Boon Rawd Trading "Bhurit Bhirombhakdi" also participated in some stages of the voyage across the sea. For him, this Lift eFoil journey was another fun and exciting challenge which required an immense preparation for physical fitness. Anyhow, he had so much fun foil boarding because the wind was strong. He was glad that everything went well, especially for the record holder, Mr. Pattamapong. Lastly, he invited those interested in Lift eFoil to get their mind and body ready, learn about it, and start doing it.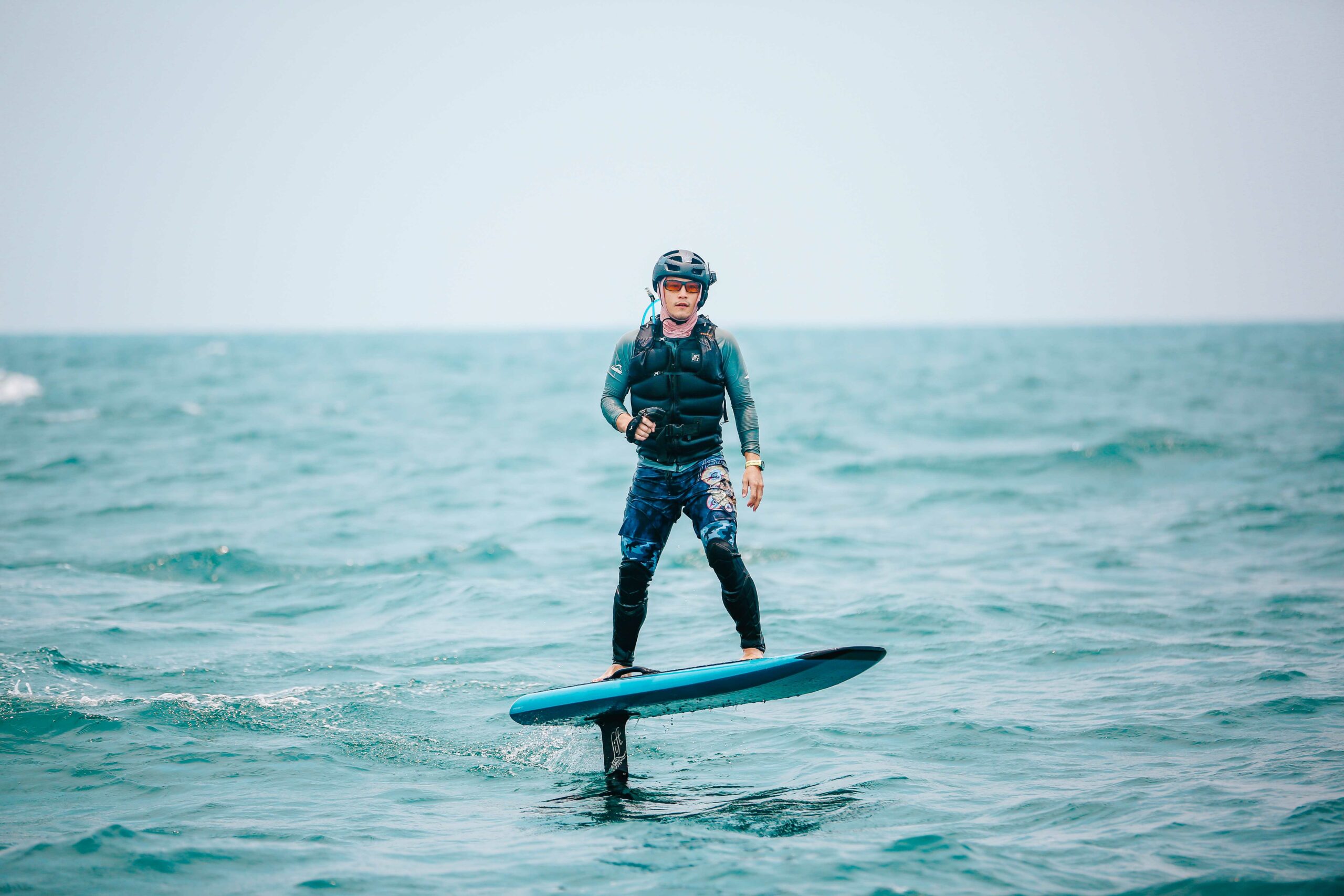 After completing the "Lift Foils World Record Attempt," all foil boarders, including influencers and celebrities who love Lift eFoil and extreme water sports, also took part in a variety of fun activities. Joey Boy volunteered to be a coach for the training workshop and helped visitors get to know Lift eFoil in all dimensions. The event was concluded with an after party with a special guest, Tata Young, as a DJ to create dance beats and non-stop fun for the Lift eFoil family.
The event was full of fun as Mentagram and Siam Discovery were committed to delivering happiness to all Lift Foils family members under strict hygiene measures at Surfspot Hua Hin, Prachuap Khiri Khan Province.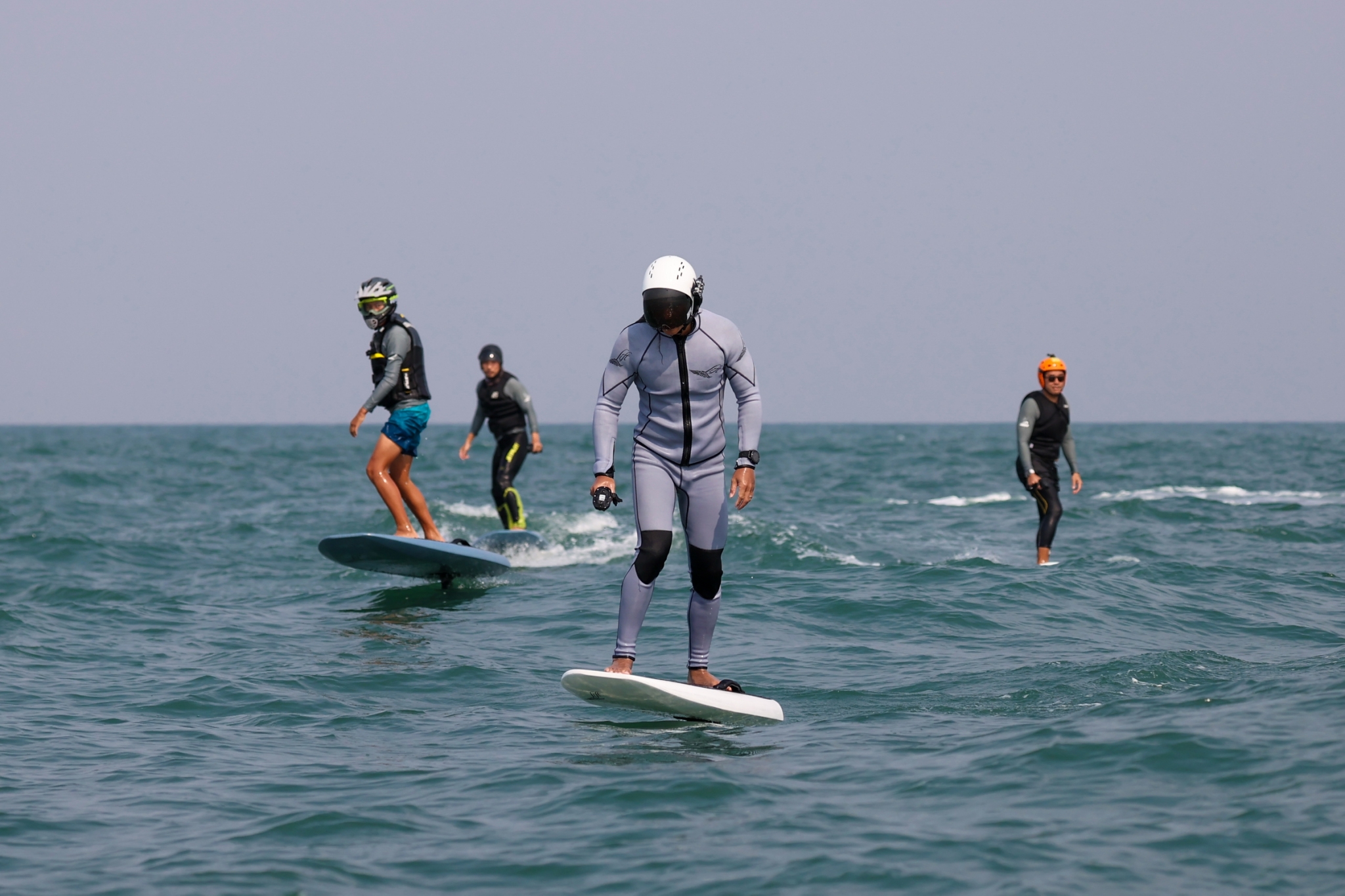 Those who are interested can experience Lift Foils up close at Mentagram Lab, 2nd floor, Siam Discovery. In addition to the hottest foil boarding products from Lift Foils, there are also products that suit the lifestyle of the new generations, such as Sunski, the coolest sunglasses from America; Skullcandy, headphones that deliver powerful bass for everyone and every lifestyle; On, premium running shoes from Switzerland, and many more. Come Play With Us throughout April and enjoy many interesting events.
More details can be found on the Mentagram Facebook page and the Facebook page of Siam Discovery.