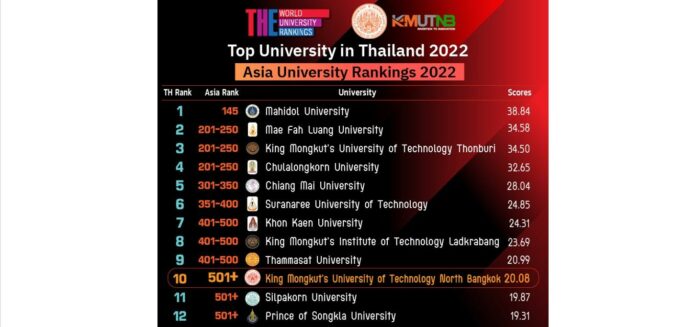 The recent 2022 Asia University Rankings published by the Times Higher Education (THE) magazine featured 23 Thai universities in the overall THE University Rankings. KMUTNB has been ranked the 10th position of  top universities in Thailand and 500+ among the top  educational institutions from Asian countries. Other 7 national universities in the same category include Kasetsart University, Naresuan University, Prince of Songkla University,  Mahasarakham University,  Silpakorn University,  Burapha University and Srinakharinwirot University.
THE Asia University Rankings 2022 recorded 616 universities across Asian territories. The performance indicators are grouped into five areas: Teaching 25%, Research 30%, Citations 30%,  Industry Income 7.5%  and International outlook 7.5% .
In spite of the decline of ranking from the previous year, the University's overall score has improved. Remarkably, the citation performance landed in the 6th national ranking. This affirms compliance with the University's policies to promote effective and quality research, in turn improving academic recognition at the  international level.
Our genuine appreciation goes to staff, faculty and students for all their efforts in carrying out their duties for the University advancement, emphasizing KMUTNB's long-range vision to be "one of the leading and internationally recognized  higher education institutions relating to sciences, technology and innovation".