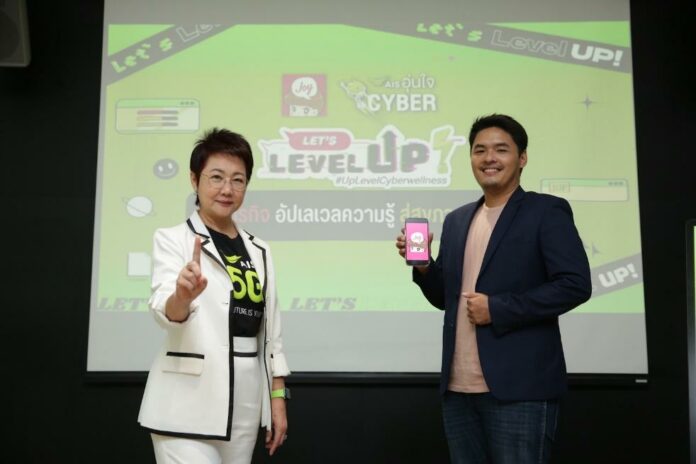 Alongside its mission of rolling out digital infrastructure for Thai people, AIS has a commitment to promote Digital Literacy among customers, public at large and society. People should be aware of the many forms of cyber threat from the Internet or social media. As a leading digital life service provider, AIS works hand in hand with a wide range of partners from both the state and private sectors, with an aim of creating a new standard index of digital skills for Thais and developing the Aunjai Cyber course on platforms giving Thais access to learn and measure their level of dealing with various kinds of cyber threat.
To expand the education content to variety of group especially the NEXT GEN under "Edutainment Strategy" to deploy a distinctive and creative new format of presentation. This is how AIS came to partner "Joylada", Thailand's leading storytelling chat platform with over 10 million downloads. The two partners have complementary strengths with know-how and tech from AIS, while Storytelling about cyber threats comes in the form of 7 chat novels emphasizing 7 key skills everyone should know in the cyber age, under the campaign, "Let's Level up our knowledge for digital happiness."
Saichon Submakudom, Head of Public Relations at AIS, noted that user safety is a matter of building cyber-immunity and preventing risks from internet usage. It is about promoting Digital Literacy, a crucial mission for AIS as a network service provider and Thailand's leading digital life service provider. The AIS Aunjai Cyber program has two main lines of action:
1.) Building know-how, stimulating awareness, and promoting the digital skills to cope with hazards and impacts from misuse of the internet and other technology. The company has formed a wide range of partnerships, such as with King Mongkut University of Technology Thonburi and the Department of Mental Health, to develop a course promoting digital literacy among Thai netizens, audited by the Ministry of Education. It is the first course in Digital Literacy of its kind in Thailand and enables us to take Thai society to the next level by creating new standards of learning and measuring digital skills.
2.) Protecting against cyber threats by developing tech tools and digital services such as AIS Secure Net, Google Family Link, and at latest, the 1185 hotline of the AIS Spam Report Center. 
As Saichon explained, "Last year, we held a contest of marketing communication plans in collaboration with the Faculty of Management at Kasetsart University's Sriracha campus. The research results revealed by the students were fascinating in relation to the young generation's consumption of media. Social media is not the only channel for this generation, as there is a range of new platforms accommodating modern lifestyles such as Joylada. This is the most popular storytelling chat platform and matches our intentions to communicate the content of this course in exciting new forms and methods, called Edutainment. Technical or academic content is easily transformed to be much more interesting. Therefore, we started collaborating with Joylada, to convert the content of our course into a chat story for the first time in Thailand. It gets across the issues of cyber threats and ways to deal with them, as well as basic digital skills for Thai people, spread over seven stories on the Joylada platform."
Sattra Viriyacharoentham, Joylada Managing Director, added, "We are extremely excited to be part of the AIS Aunjai Cyber Program, because cyber threats are having an increasing impact on a wider number of people. As a platform which is part of the younger generation's lifestyle, with over 10 million downloads, which also gives high priority to this matter, we want the Joylada community to be a creative and safe space for our users. This collaboration with AIS enables us to leverage our platform's capabilities while bringing in writers and content creators to join in creating content from the Aunjai Cyber course into 7 chats novels. These will illuminate various aspects of cyber threats, which will give readers both entertainment from the story content and awareness of how to deal with cyber threats. In the long run, we want our Joylada community to be part of addressing society's issues, and particularly taking on cyber threats with our unique capabilities."
The collaboration between AIS Aunjai Cyber and Joylada is presenting content and facts about cyber threats from the Aunjai Cyber Course. These have been created into 7 chat novels by the most popular writers on Joylada, reflecting 7 issues and 7 skills to recognize cyber threats when they arise from the use of the Internet or online media.
Cyber Balance – Skills for screen management

Cyber Security – Managing personal cyber security

Cyber Ability – Up-to-date skills and knowledge

Cyber Safety – From online cyber-bullying

Cyber Identification – Cyber citizen's ID / Cyber Empathy – Cyber manners

Cyber Rights – Managing privacy

Cyber Communication – Online footprint
All of the content is created to be fun and easy to understand in the Joylada style, with the chat novels disseminated through the Joylada app and the Microsite (joylada.com/aisxjoylada). There are also many other activities to creatively and safely promote online know-how and skills. Anytime somebody reads something, a donation is made to Childline Thailand Foundation's SaiDek 1387 hotline, the under the campaign "Let's level up".
Saichon concluded, "We never stop asking questions to find out new ways for Thai people to gain digital skills and understanding to keep up with cyber threats. We will continue to work with partners to expand the requisite know-how and tools to every segment of Thai society. As of today, AIS has enhanced its goals to promote Digital Literacy to a new standard, with a tangible index of skill levels to cope with cyber threats. This process will enable us to deliver our mission of promoting Digital Literacy sustainably."