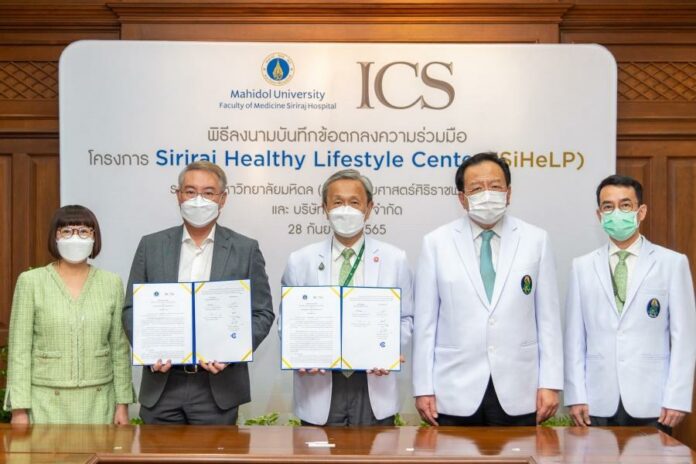 Mahidol University will set up a comprehensive health care centre outside the hospital at the new ICS Mixed–Use Lifestyle Town. Prof. Dr. Prasit Watanapa, Dean of Faculty of Medicine Siriraj Hospital, Mahidol University, signed a memorandum of understanding with Mr.Supoj Chaiwatsirikul, Managing Director of ICONSIAM Co., Ltd., to confirm the university's intention to establish the health care centre at the ICS site. The signing ceremony, held on 28 September at the Siriraj Hospital's Mahidol Bamphen Building, was witnessed by Mrs.Suma Wongphan, Executive Vice President (Marketing), ICONSIAM; Clinical Prof. Visit Vamvanij, Director of Siriraj Hospital; and Assistant Prof. Monsak Chuchotirot, Vice Director of Siriraj Hospital.
 The Siriraj Healthy Lifestyle Center (SiHeLP) will be one the prominent tenants of the ICS Mixed–Use Lifestyle Town, a major extension of the ICONSIAM, Bangkok's world–class riverside commercial landmark.  The SiHeLP will cover the entire fifth floor of the ICS building, with an area of more than 3,000 square metres.
 The centre focuses on screening, taking care, promoting health rehabilitation and anti–aging. There is a plan for it to expand to offer health care services to serve the hospital's patients and the general public of all genders and ages, especially those who want to take care of their health and preventing them before they get sick. The SiHeLP will be run by a team of health experts with modern innovative technology.