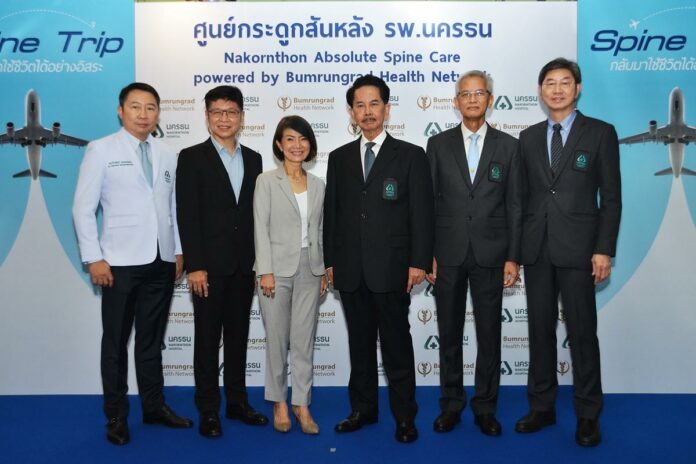 Assoc. Prof. Yandhet Thongsima, President of Nakornthon Hospital, and Ms. Artirat Charukitpipat, Chief Executive Officer of Bumrungrad International Hospital together with Mr. Somsak Vivattanasinchai, Chief Executive Officer of Bumrungrad Health Network, held a press conference to declare the success of Nakornthon Absolute Spine Care, powered by Bumrungrad Health Network under the concept of "Spine Trip". There is a health talk session "Back to the Better Life" by Dr. Verapan Kuansongtham, and the medical team of Absolute Spine Care, along with a sharing session from their patients.
At Nakornthon Absolute Spine Care, there is a multidisciplinary medical team; consisting of at least 4 specialized doctors to discuss and provide the optimal treatment for the patients. Therefore, the patients can fully trust that the service is personalized for them. They do not have to search for more information or visit many hospitals. At Nakornthon, we provided you the comprehensive services.
For more than a decade of the experiences, with the outnumbered than 10,000 patients, we treated, we cured the symptoms of back pain, and neck pain by giving medication, strengthening a muscle through physical rehabilitation, pain relief by injection, or even surgery operations. For those who are not able to cure by oral medication or have had severe symptoms since the very beginning, a doctor will suggest the procedure of "Intervention" which is a procedure with a non-surgical process with the best result. Nevertheless, a patient has the full right to judge and consider whether which is the best choice for them.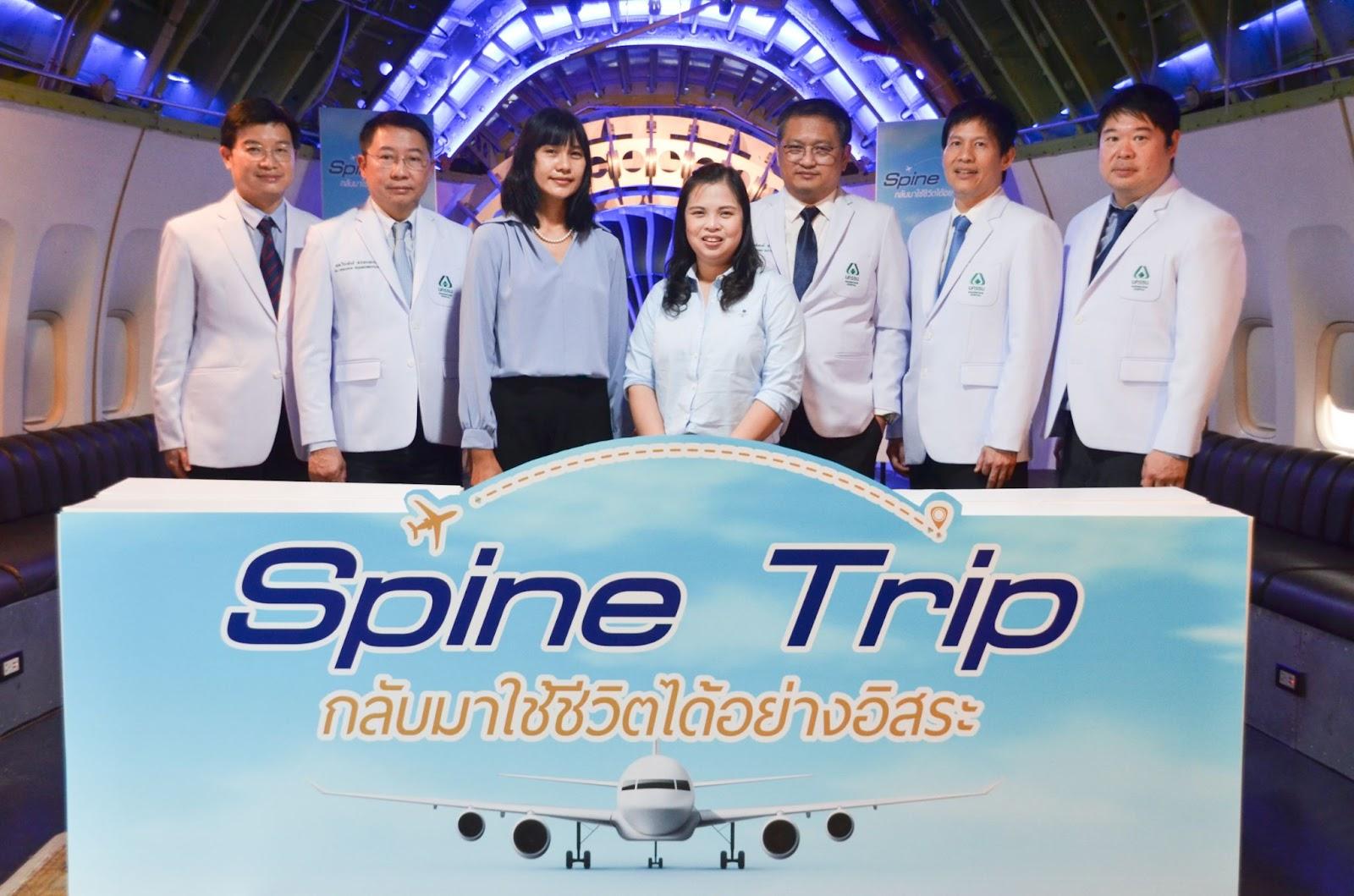 Endoscopic Spinal Surgery and Microscopic are the techniques that help to minimize the pain and are less affected by the internal organs. The endoscope is a small tube less than 1 cm in diameter with a lens attached to the tip. It is functional like a surgeon's eyes with optical fiber which make the vision clearer and makes the diagnosis more accurate. Moreover, we do have the O-Arm navigation, a 3D X-Ray as a supporting tool to get the best diagnosis and result.
Ms. Daowipa Chayangam, according to what she had the interviews, said that "the symptom starts from the pain around the hip radiating down the leg on the right size. And the pain started to get more severe day by day that she can easily describe it was affected much of her daily life". She had been given the medication together with the physical therapy before deciding to have advanced technology like the endoscopy procedure.
"I was worried that the longer pain I have, the more chance I've got the less able to walk. After I decided to be treated by endoscopic spinal surgery at Nakornthon Hospital, my life has never been better. I can walk normally with confidence and the pain never comes back as my troublemaker again. As a remarkable voice from her, she suggested to those who feel the same pain as her along with numbness and muscle weakness. They should not wait and should consult directly with a doctor for the right diagnosis and suitable treatment.
Ms. Pailin Suranatkittithorn, is another one of our patients at Nakornthon Absolute Spine care Center. She was worried and frightened about the surgery as she had had the other technique of spine surgery before.
She said that "Her previous experience was in so much pain and took a long period of recovery and that was causing her trauma and afraid of the surgery. Unlike this time, she consulted with our doctor and received a good treatment plan and the right diagnosis. A doctor said that the procedure of endoscopy is a minimally invasive surgery, with less recovery time right after the surgery. It's far from worries and it takes only one day to resume back to my normal life".
Mr. Rachanon Eamlaor told us about his own experiences regarding chronic neck pain treatment at Nakornthon Absolute Spine Center. He works as an accountant and his working posture has caused him trouble as he has to sit in the same position for a long period. The pain starts from the neck radiating down the arm and shoulder. Choking is one of the main reasons and a turning point that he considered seeing a doctor immediately. He said he feels the electricity running through his body from the head to the toes which causes his body, including the arm feel no strength. Even writing seemed to be very difficult for him. Once he has the consultation with our doctor, he received a good explanation of what should be the cause of the symptoms and also a clear diagnosis and treatment plan. With a full explanation of how the Spinal endoscopic procedures are and with less operating time and minimally invasive surgery. He can rest assured that he will be safe and had decided to receive the treatment.
He said that "After he got the surgery, without noticing he can live a normal life. He can write, do housework, and play with his kids like he was before"
If you are now having symptoms of chronic neck pain, back pain radiating down the arm or leg, or a numbness symptom on your arm and leg. These should not be ignored or overlooked, rushing up and consulting with the specialized doctor and finding the best way of treatment. Live your life freely and back to a normal life. For more information, please contact our contact center at Nakornthon Hospital.
Source: https://en.nakornthon.com/home