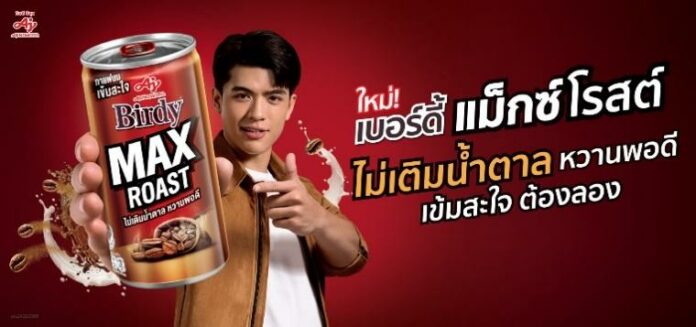 "Birdy", Thailand's market leader in ready-to-drink canned coffee, introduces "Birdy Max Roast", a no-sugar-added milk coffee with a right sweetness, and intense taste, introduced with Joss Way-Ar Sangngern, the hottest actor, as a presenter to target who love milk coffee and concern about healthiness (sugar intake), but want to drink coffee every day to wake up and get ready for work.

Ajinomoto Co., (Thailand) Ltd. has always been developing quality products to meet consumer's need by pioneering the market for no-sugar-added milk coffee as a healthier choice for health-conscious consumers who love to drink milk coffee and to drive the growth of the health product group leading to the development of the latest product, "Birdy Max Roast" under the concept "a no-sugar-added milk coffee with a right sweetness" which is the first and only one product this market segment. To emphasize the image of the intense coffee, a well-known actor Joss Way-Ar Sangngern was chosen as a presenter of "Birdy Max Roast" representing a health-concerned consumer. Moreover, we also launched the campaign for consumers to easily join and play for many rewards by these 3 ways; 1. Scan QR code on product or add line @birdyworld 2. Fill in your information for the first time 3. Input the 11 code numbers under the ring tab to collect points and redeem rewards since today onwards until March 31, 2023. Keep updating our movement of "Birdy®" via our Facebook Fan page 'Birdy World' and www.ajinomoto.co.th
This one of Ajinomoto contribution to creating a "Healthy living society" among consumers, which can be seen from the "Healthier Choice Logo" which reflects our strong intention to support consumer's good health in accordance with our Ajinomoto Group Creating Shared Value policy (ASV). Through this relentless dedication, "Birdy®" is able to win the hearts of consumers as a brand that has "No. 1 sales in the ready-to-drink canned coffee market in Thailand".