Functional drinks are beverages with added ingredients for health benefits. It's a large and important sector with a global market size of $104.2B in 2020. Thailand was the 11th largest market worth THB 47.8B in 2020 and 3rd largest in Southeast Asia after Philippines & Indonesia.There are two categories within functional beverages: functional hot drinks which include instant coffee, herbal tea, chocolate-based powder drinks and plant based hot drinks; and functional soft drinks which include energy drinks, sports drinks, juice and ready-to-drink coffee/tea. 
In 2020, functional drink sales in Thailand declined by 2% in retail value (THB 47.8 billion) and 4% in volume (1,925.5 million liters) due to a drop in soft drink sales, but hot drinks sales grew by 4% (THB 8.5 billion) as consumers sought healthier options. The COVID-19 pandemic impacted energy drinks and sports drinks, but favored hot drinks and immune-boosting soft drinks.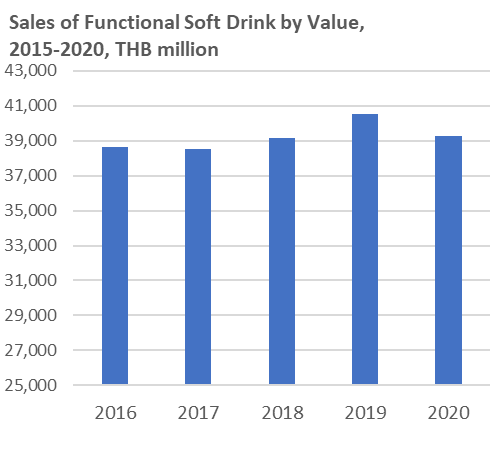 Local players dominate the functional drink market in Thailand, controlling 78% with the top 3 (Osotspa, TC Pharmaceutical, and Carabao Tawandang) accounting for 60%. Energy and sports drinks hold 60% of the market share, with brands such as M-150, Carabao Dang, and Sponsor being popular. New products with a health-focused and immunity-boosting approach have gained popularity during the pandemic, such as C-Vitt, Ovaltine Gold 5 in 1 and Carabao Group's Woody C+ Lock. Brands such as Minute Maid, Ovaltine, C-vitt, Nescafe, and Mansome also have a presence in the market.
The functional drink market in Thailand is expected to grow with a CAGR of 4% (a 2020 constant price CAGR of 2%)  in retail value and 1% in retail volume from 2021 to 2025, to reach THB 52.4 billion and 724,000 tons in 2025, according to Euromonitor. Due to increasing health consciousness and immune-boosting needs amid COVID-19 and a recovering economy. Key trends supporting growth include high-vitamin content products and increasing use of herbal extracts. Manufacturers plan to introduce more products with these features in the forecast period.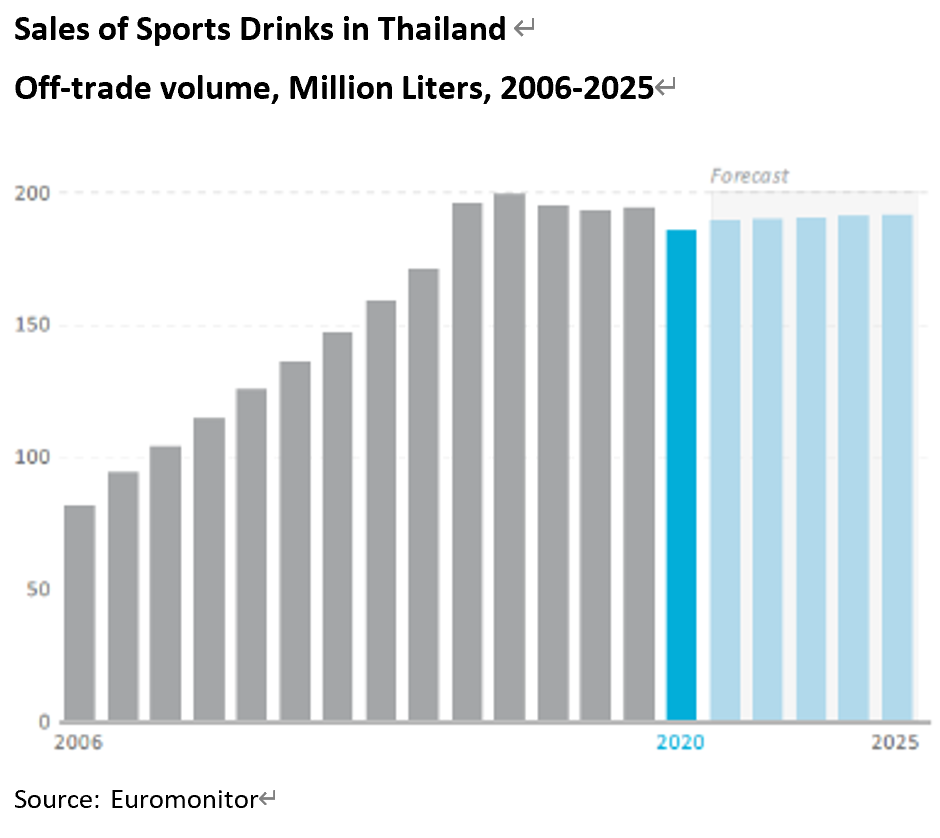 Energy drinks
Thailand's energy drink market is dominated by Osotspa, Carabao Group and TC Pharmaceutical. The top 3 brands, M-150, Carabao Dang, and Krating Daeng, account for over 90% of off-trade sales. M-150 dominates with 48.4% share, while Krating Daeng has 13.4%. Carabao Dang is popular due to strong advertising. The top 3 players compete fiercely, resulting in competitive pricing at THB 10 per unit.Energy drink market in Thailand is predicted to grow, reaching 325 million liters by 2025 with a 2% CAGR, due to resumption of infrastructure projects & post-pandemic economic recovery. Competition from subsectors with natural & healthier ingredients is expected, leading players are launching more healthy energy drinks (e.g. Osotspa's Shark & Lipo-fine). Innovative products with natural ingredients are forecasted to become more prevalent in the next 5 years.
Sports drinks
Sports drinks are popular globally with over 12.9 million liters sold globally in 2020. Thailand is the 9th largest sports drink market and 3rd largest in Southeast Asia with 184 million liters sold in 2020.Off-trade volume sales of sports drinks declined by 5% to 184 million liters in 2020, with a 4% drop in value sales to THB 7,801 million. The COVID-19 pandemic caused a 25% decline in on-trade volume sales, with the volume dropping to 17 million liters. Lockdowns and closures of sports facilities and fitness centers, as well as a sluggish economy, have impacted sales and consumers' motivation to buy sports drinks.TC Pharmaceutical's "Sponsor" dominates Thailand's sports drink market with a 73.5% share of off-trade volume sales in 2020. New, healthy and affordable products such as "Sponsor Active" and "Sponsor Go" contribute to the company's success. Other major players include "M-Electrolyte", "100 Plus", "Aquarius", "Carabao Sports", and "Gatorade". COVID-19 disrupted workouts and reduced consumer income, leading to a decrease in demand for sports drinks.The COVID-19 pandemic is expected to recede in the forecast period, leading to a rise in off-trade sales of sports drinks to reach 195 million liters by 2025 with a CAGR of 1%. TC Pharmaceutical remains dominant, but new entrants will need strong products and precise positioning to succeed in a competitive market. The health and wellness trend will continue to influence the functional drink market, with a focus on natural ingredients.