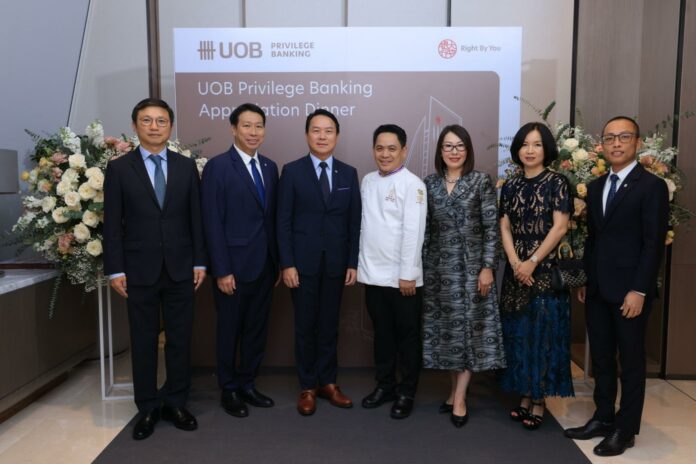 Bangkok – UOB Thailand, the exclusive bank partner of Michelin Guide, recently collaborated with two Michelin–starred chef, Chumpol Jangprai, to host an exclusive Sustainable Thai Gastronomy dinner for 60 Citi wealth segment customers. The event was designed to showcase innovative and creative dishes that highlighted the best of Thai cuisine while offering an unforgettable experience for guests.
Each of the five–course meal was crafted to align with the bank's core strategy of promoting sustainability. The dishes featured locally sourced and combined traditional Thai flavours, textures and aromas with modern cooking techniques. This private dinner was held at the UOB Plaza Bangkok penthouse, providing a luxurious and intimate atmosphere exclusively for Citi wealth segment customers.
Mr Tan Choon Hin, President and CEO of UOB Thailand, said, "At UOB, we are committed to promoting sustainability in all aspects of our business, and this event is a reflection of that. We are excited to offer this exclusive experience for Citi wealth segment customers, partnering with Chef Chumpol Jangprai to showcase the best of Thai cuisine and sustainability."
Chef Chumpol Jangprai added, "It was an honour to collaborate with UOB Thailand on this project and create a menu that not only tasted great but also had a positive impact on the environment. We hope to inspire others in the food industry to adopt more environmentally friendly practices."
Picture shown (from left to right): Mr Supachai Buristrakul, Mr Yuttachai Teyarachakul, Head of Personal Financial Services, 
Mr Tan Choon Hin, President and CEO, Mr Chumpol Jangprai, two Michelin–Star chef, Ms Vira–anong Chiranakhorn Phutrakul, Head of Retail and Brand, Ms Nida Buristrakul, Mr Nakhon Vorakanonta, Head of Sales & Distribution.