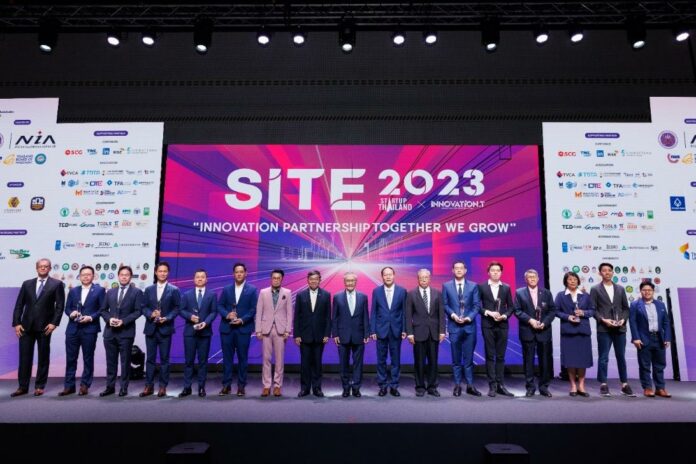 Huawei Thailand wins Prime Minister Award as the "Best of Contributor in Human Capital Development Award" for Empowering Thailand's Digital Workforce
Bangkok, Thailand, 22 June 2023 – Huawei Technologies (Thailand) Co., Ltd. has been honored with the prestigious Prime Minister Award as the "Best of Contributor in Human Capital Development Award" by the National Innovation Agency (NIA). This recognition highlights Huawei's extensive efforts in fostering digital talents and supporting the growth of Thailand's 5G, cloud, and green ecosystems.
Huawei is the only international company to receive this accolade. The award was presented to Mr. David Li, CEO of Huawei Technologies Thailand, by Mr. Don Pramudwinai, Deputy Prime Minister and Minister of Foreign Affairs of Thailand, where winning organizations and companies were celebrated for their contributions to empower Thailand as the future talent hub of ASEAN.
According to the Thailand Digital Talent Development Whitepaper — co-conducted by the Ministry of Digital Economy and Society; the Ministry of Higher Education, Science, Research and Innovation; and Huawei — Thailand is projected to face a digital talent shortage of 0.5 million people by 2030.
Recognizing this pressing social and industry need, Huawei has been providing technological innovations and digital talent programs to Thailand for over 20 years as part of their mission to harness the power of technology and unleash digital for better quality of life and to incubate and cultivate digital talents for a better Thailand. 
Towards this goal, Huawei Thailand has initiated multiple programs and initiatives, including the establishment of the "Huawei ASEAN Academy (Thailand)" platform in 2019, which focuses on four key areas: leadership, profession, vocation, and inclusion. This platform provides digital leadership courses, hands-on training, and accreditations to bridge the gap between ICT talent supply and industry needs, with the goal of cultivating over 100,000 local ICT talents in Thailand within five years. So far, it has benefitted over 73,000 participants and 40 universities with more than 100 projects in Thailand.
Mr. David Li, CEO of Huawei Technologies (Thailand), expressed his gratitude for the award and shared Huawei's vision, stating: "We are honored to receive this prestigious award. This recognition reflects our longstanding commitment to support digital transformation and contribute to Thai society in line with our mission to 'Grow in Thailand, Contribute to Thailand'. At Huawei, we aim to establish a thriving digital talent ecosystem in Thailand, forging a competitive workforce foundation for the country's 5G, Cloud, and Digital Power industries."
As part of a strategic partnership, Huawei and the NIA have sought to strengthen talent cultivation in Thailand. In 2019, Huawei signed a Memorandum of Cooperation on Capacity Development for Sustainable Innovation Society with the Ministry of Higher Education, Science, Research, and Innovation (MHESI); the National Innovation Agency (NIA); and the National Science and Technology Development Agency (NSTDA). Since then, Huawei has continuously joined hands with the NIA to further incubate university students, start-ups, and SMEs to drive the process of talent cultivation, accelerate start-up enterprises, and promote and develop digital capabilities in order to expand Thailand's future businesses and enable the country to become the future digital hub of ASEAN."
To support Thailand's journey towards becoming the ASEAN talent hub, Huawei Thailand has implemented several digital talent development programs. In 2008, Huawei launched its first global "Seeds for the Future" program in Thailand, which offers digital training and cultural tours to talented youths. In 2015, Huawei launched its first global ICT competition, aimed at connecting and inspiring young students through trainings, certifications, and job fairs. In Thailand, this competition has so far benefited over 1,000 outstanding students from 30 universities. Starting from 2022, Huawei also introduced the Digital Bus CSR program to improve awareness of ICT technologies in rural areas, which has gone on to benefit more than 3,000 students and workers.
Aligned with Huawei's goals for 2023, the company aims to cultivate 10,000 green engineers and 20,000 cloud developers in the next three years as part of their vision to empower Thailand towards becoming a fully intelligent, connected, and sustainable digital economy.
This is the third time Huawei has received Thailand's Prime Minister Awards. In 2021, Huawei was honored with the Prime Minister Award for "Digital International Corporation of the Year". In 2022, Huawei Thailand's commitment to excellence, innovation, and leadership in information security also earned them the "Prime Minister Awards – Thailand Cybersecurity Excellence Award 2022" from the Thai National Cyber Security Agency (NCSA).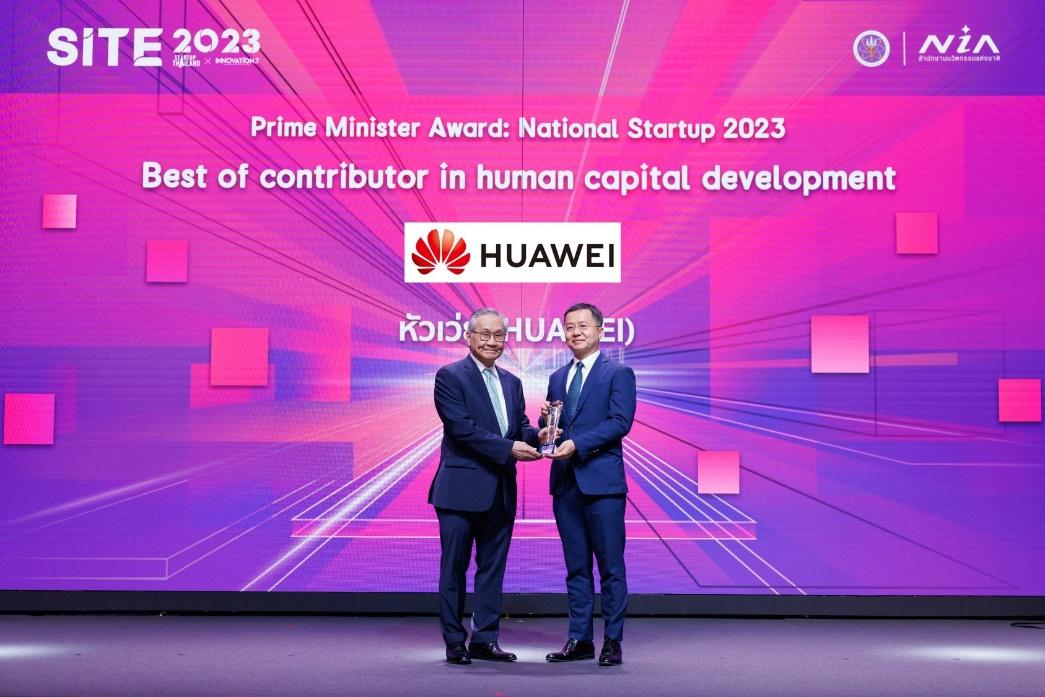 About Huawei 
Founded in 1987, Huawei is a leading global provider of information and communications technology (ICT) infrastructure and smart devices. We have 195,000 employees and we operate in more than 170 countries and regions, serving more than three billion people around the world.
Our vision and mission is to bring digital to every person, home and organization for a fully connected, intelligent world. To this end, we will work towards ubiquitous connectivity and inclusive network access, laying the foundation for an intelligent world; provide diversified computing power where you need it, when you need it, to bring cloud and intelligence to all four corners of the earth; build digital platforms to help all industries and organizations become more agile, efficient, and dynamic; and redefine user experience with AI, making it smarter and more personalized for people in all aspects of their life, whether they're at home, on the go, in the office, having fun, or working out.
For more information, please visit Huawei online at www.huawei.com or follow us on: 
http://www.linkedin.com/company/Huawei  
http://www.facebook.com/Huawei  
For media contact, please reach Carl Byoir & Associates:      
Sorawis Jumnansilp (08-1494-9339, 0-2627-3501 ext. 211)   
Treesukhon Kraiphanont (09-4328-7965, 0-2627-3536)