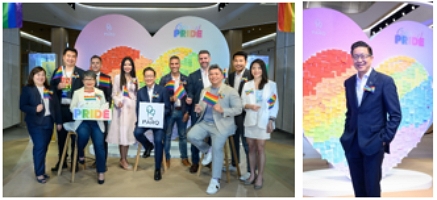 The PARQ, together with partners, celebrate Pride Month with the "Colors of Pride" Campaign Supporting the Acceptance of Gender Equality and Diversity in the Society
The PARQ, the mixed-use development integrating smart workplaces and lifestyle retail under the concept of "Life Well Balanced" unites with over 10 partners, its first-class partners, to celebrate the pride month of LGBTQIA+ creating the "Colors of Pride" campaign with the talk "Colors of the Talk", to emphasize the equality, from the executives' perspective about the gender equality and diversity in the society together with the special guests who experienced working closely with LGBTQIA+ such as Pam – Anshisa Sintrakarnpol, artist at Warner Music (Thailand) and Koko – Kavindhra Tiamsai, policy researcher driving LGBTQIA+ rights who will be sharing her experience and giving inspiration.
Moreover, there will also be the activity Heart of Pride, the space for everyone to share their encouraging message with others, including promotions, and lots of exclusive menus from retailers in The PARQ Life.
Mr. Kamolnai Chaixanien, Executive Director of TCC Assets (Thailand) Co., Ltd, said "The PARQ aims to enhance the being of the building users and visitors to continuously provide the quality of life in every aspect under the concept of "Life Well Balanced" and is the project that meets various type of usage. In Pride Month, The PARQ, therefore, hosts activities to join the celebration of the pride of gender equality, also, to carry on our mission to be the space where everyone can freely express themselves.
We want to thank our business alliances, more than 10 first-class tenants, for supporting the equality concept to be adopted in society and our special guests for creating the inspiration this time. In addition, there are more activities and promotions including exclusive menus from retail store in The PARQ Life, and to show the power, I would love to invite everyone to be a part of pushing equal diversity at the PARQ.

Fulfill your optimistic thinking in equality living with the "Colors of the Talk" from front-line executives and special guests giving their thought about gender equality, diversity, and being proud of yourself for 4 days on 13 – 16 June 2023. 

Start with our executives sharing their knowledge and experience of the topic "Do You know Diversity Equity and Inclusion (DE&I)" led by Miss Wiyada Srinaganand, Country Head of 3M Thailand Ltd., Mr. Derek Heng, CEO of Marsh McLennan, Miss Natthanicha Worawannaseth, SVP Corporate Function (Thailand & Indochina) of Suntory Beverage & Food International (Thailand) Co., Ltd, and Mr. Atul Tuli, Managing Director, Indochina of SAP Systems, Applications and Products In Data Processing (Thailand) Limited shared "Every organization should value employee diversity, whether it pertains to race, culture, socioeconomic background, gender or experience. All employees should be treated equally. Besides reducing conflict within the organization, it also increases employee happiness in the workplace."
The topic "We are Proud to be Ourselves" was chosen on June 14, 2023, to give people a sense of self-worth by Mr. Sittipong Liamsuwan, Market Access, Policy and Communication Director of Organon (Thailand) Ltd., Ms. Karnmanee Mitisubin, Policy and Government Affairs Lead, Organon Thailand Ltd., and Koko – Kavindhra Tiamsai, policy researcher driving LGBTQIA+ rights who is a transgender woman.
They shared their experiences and gave inspiration "We are all free to express ourselves fully without being looked down upon. And any difference in any way is not a fault. So be proud of yourself. Because we all have the same self-worth as everyone. And most importantly, Pride Month is not just a month of importance. But we must make every day a day of pride and help each other to be a voice to support equality in Thai society."

On June 15, 2023, our special guest Pam – Anshisa Sintrakarnpol, an artist at Warner Music (Thailand) brought us happiness and entertainment through her wonderful voice. And also shared her view of living in an equal society in the topic "Welcome to Diversity & Equity world". She said "The opportunity to interact with people of different ages, genders, and races increases both in personal and professional life. No matter how different we are, everyone can be solely responsible for their own actions. Personally, I see this as a world of equality. Diversity is like butterflies that bring color to the world"
Completed the last day with the topic "Colors of Us" by the representation of Jones Lang LaSalle (Thailand) Limited led by Mr. Michael Glancy, Country Head of Jones Lang LaSalle (Thailand) Limited came to pass on inspiration to everyone. "Because we always believe that difference is the initiative of creativity. Not only genders, but we all have dissimilar personalities. It is like our unique colors that support each other as a teamwork.
For JLL, we strive to support a culture that values diversity and emphasizes organizational unity. We are dedicated to supporting our employees in shining and being proud of their true selves. We firmly believe that the most important aspect of being ourselves is cultivating a positive working environment that fosters respectful inclusion and embraces diversity". Moreover, it also supported by Suntory Pepsico Beverage (Thailand) Company Limited and Muaythai Mania Company Limited (Head Office) (MTM).

At the event, there is the activity "Heart of Pride", a rainbow heart which is the symbol of pride surrounded with mirrors to show yourself becoming a chic photo spot for everyone to express themselves through the mirrors, upload on their social media, and share the pride in themselves on Post-it sticky note pads.
Let's be a part of the celebration of pride in beautiful diversity with the campaign "Colors of Pride" this June. Don't miss out on our limited edition "Colors of Pride" bucket hat from The PARQ for FREE when spent a minimum of 1,500 Baht (collect receipts within the same day) at participating shops and restaurants in The PARQ Life (MRT Sirikit Convention Center, Exit 2) from June 1 – 30, 2023.
For the latest news and more information on "Colors of Pride"
Facebook: The PARQ Instagram: @THEPARQBKK  Website: www.theparq.com
Tel. 02-080-5700 #COLOROFPRIDE #ThePARQ #LifeWellBalanced