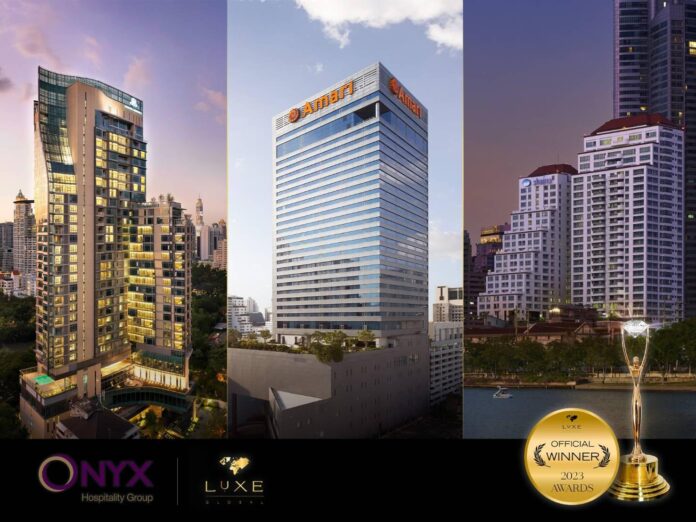 Bangkok, Thailand- – ONYX Hospitality Group, a reputable force in Southeast Asia's hospitality industry with over five decades of hospitality management experience, is thrilled to announce that its esteemed Amari Brand has been recognised with several prestigious awards at the recent Luxe Global Awards 2023, held at Amari Bangkok (formerly Amari Watergate Bangkok) in Thailand on Saturday, September 30.
These accolades celebrate Amari's unwavering dedication to excellence in the MICE (Meetings, Incentives, Conferences, and Exhibitions) industry and its commitment to conducting business with a strong focus on environmental responsibility. Simultaneously, the Shama Brand Services Apartment has also garnered awards highlighting its dominance in the service apartment sector.
The awards received by Amari Brand fall into two significant categories. Firstly, Amari has been honoured for its outstanding contributions to the MICE industry, where it has consistently set benchmarks for excellence. Additionally, the brand was lauded for its commitment to conducting business with a strong emphasis on environmental responsibility, reflecting its dedication to sustainable practices.
Not to be outdone, the Shama Brand has asserted its prominence in the competitive service apartment landscape of the APAC region. These accolades reaffirm ONYX Hospitality Group's commitment to providing exceptional service and accommodations to its valued guests.
Looking forward to the future, ONYX Hospitality Group is excited to announce ambitious plans for the Shama Portfolio. In 2024, the group is gearing up to expand its presence by adding five more locations, with a special focus on Malaysia and China. This strategic expansion reflects their confidence in the Shama Brand's growth potential and their commitment to offering top-tier service apartments in new and exciting destinations.
The remarkable achievements of Amari Brand, the Shama Brand, and Oriental Residence Bangkok were unveiled and celebrated at the prestigious ITB Asia 2023 event. The awards received by Amari Brand include:  Amari Bangkok: Best Luxury MICE Hotel (Global), Best Luxury Sustainable Hotel (Global) Amari Don Muang Airport Bangkok: Best Luxury Conference and Event Hotel (Regional), Best Luxury Eco/Green Hotel (Continent), Best Luxury Airport Hotel (Global)
Oriental Residence Bangkok has received the following awards:  Best Authentic Experience Hotel (Continent), Best Prime Location (Global), Best Luxury City Escape (Global), Best Luxury Private Residence (Global)
Meanwhile, the Shama Brand was recognised with the following awards:  Shama Lakeview Asoke Bangkok: Best Luxury City Serviced Apartments (Continent), Best Luxury Business Serviced Apartments (Global), Best Luxury Hotel Residence (Global)
These awards showcase ONYX Hospitality Group's commitment to excellence, sustainability, and delivering exceptional experiences to guests across the globe. ONYX has been the proud recipient of many prestigious awards that underscore the group's commitment to excellence and its ability to cater to diverse market segments and demands. For more information about ONYX Hospitality Group and its brands, please visit www.onyx-hospitality.com