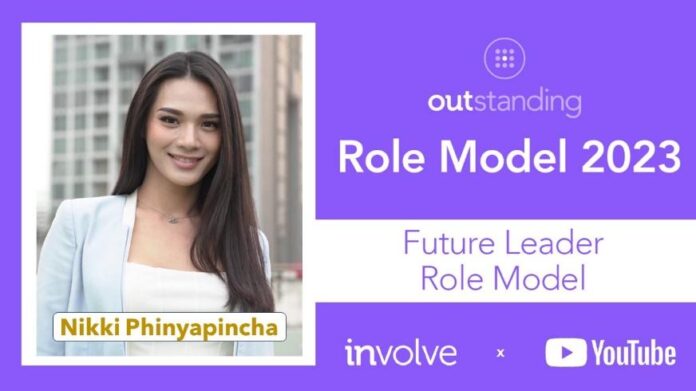 Nikki Phinyapincha, 36, is the founder of Transtalents Consulting Group, Thailand's first diversity, equity and inclusion (DE&I) consulting firm driving LGBTQ+ economic empowerment and revolutionizing business equality under SDG framework.
New York/London/Bangkok, 9th November 2023: Transgender individuals in Southeast Asia face substantial challenges in securing equal employment and leadership roles. A 2018 survey by the World Bank & APTN revealed alarming figures: 60% of Malaysians, 77% of Thais, and 85% of Vietnamese transgender individuals experienced job rejection, discrimination, and harassment. They are mostly denied leadership promotions due to systemic barriers and damaging stereotypes. The 2021 study from Williams Institute at UCLA highlighted the severity of this inequality, with transgender individuals experiencing a 2x higher unemployment rate compared to cisgender peers, particularly during the pandemic. 
"After a promising interview with the HR Director for an internal promotion to the manager role, I was told that despite my qualifications, the company had no policy for appointing a transgender individual to the manager role. My credibility was questioned, and I was advised to seek opportunities in other sectors such beauty, media, or entertainment." shared Nikki Phinyapincha, founder of Transtalents Consulting Group, Thailand's first diversity, equity and inclusion (DE&I) consulting firm driving LGBTQ+ economic empowerment and revolutionizing business equality.
Founded in 2022, Transtalents Consulting Group has partnered with over 20 companies, including global corporations such as IBM, Warner Music Group, PepsiCo, mygwork, ZIM, Marriott International, San Diego Pride and more for DE&I educational programs and strategic communication consultancy. Among over 50 initiatives executed, Nikki launched the pioneering ASEAN Transgender Professional Leadership Program, a year-long initiative addressing ASEAN transgender professionals' socio-economic inequities through mentorship and transformative seminar series, fostering inclusive policy, competency development and trans leadership representation awareness. The program was in partnership with YSEALI, Sasin School of Management, IBM and San Diego Pride and gained over 600 attendees across ASEAN and top media recognition reaching to over 33 million audience reaches.
"The call for systemic change in the organizations and society is my mission. People now seek genuine and meaningful change from their leaders, not superficial, inauthentic or tokenism activities. It's time for data-driven concrete actions for sustainable and measurable results not PR buzz words. To be a truly diverse, inclusive, and sustainable organization, inclusive leaders should reframe their vision to advance their DE&I strategies that address specific issues with an intersectionality lens in order to improve internal organization and scale impacts to the broader business community, the systemic change must be intentional, intersectional and measurable in long-term including building a diverse pool of future leaders." Nikki added.
In today's global workforce, diversity and inclusivity are pivotal. They build customer trust, establish socially responsible businesses, mitigate legal risks and ultimately enhancing business and economic competitiveness. In the ASEAN region, LGBTQ+ entrepreneurs and employees face substantial barriers, including socio-economic discrimination and exclusion, legal obstacles, limited resources, heightened mental health challenges, and constrained access to leadership opportunities to shape their own future. "This is not only hindering personal and professional growth but also robbing human capital of vital skills and knowledge essential for advancing regional economies and societies." emphasized Nikki.
Nikki's impact transcended her organization and beyond, leaving an indelible mark on the community. As a force for "trans"formation in business sector, she has been recognised on the 2023 Outstanding Role Model 100 LGBTQ+ Future Leaders list. Compiled by INvolve and supported by YouTube, the DE&I consultancy and global network, the Outstanding Role Model List celebrates and showcases LGBTQ+ business leaders and allies who are breaking down barriers and creating more inclusive workplaces across the world. 
Founder and CEO of INvolve, Suki Sandhu OBE, says: "I'm so thrilled to be celebrating our 2023 Outstanding Role Models, a global group of trailblazing Executives, Future Leaders and Allies driving change for the LGBTQ+ community in business. All the individuals within these lists are championing inclusion and leveraging their experience and knowledge to drive impactful initiatives and strategic change within their organisations. It's vital that LGBTQ+ individuals across the world can achieve career success, and these Role Models are essential drivers of change who are smashing barriers to progress."