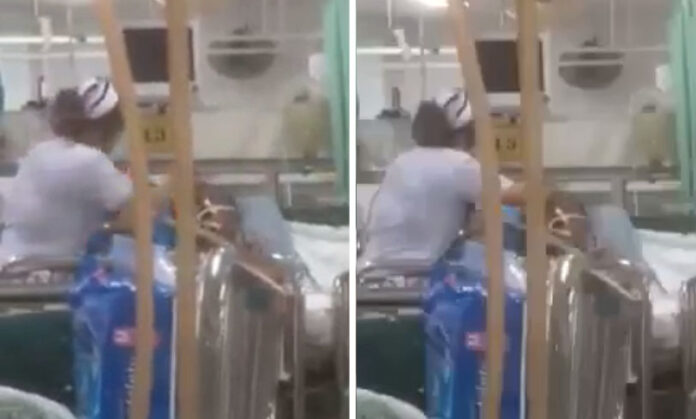 PHITSANULOK — After a clip of a nurse's rough handling of a comatose, 90-year-old man went viral, the hospital went live online to apologize Tuesday night, but few observers seemed impressed.
In its live-streamed apology, Buddhachinaraj Hospital administrators said they would launch an internal review after a clip showing a nurse there push and pull the helpless patient was surreptitiously filmed and posted online.
"We have a process of care for patients, but in this case, we think something was unusually wrong with [the nurse]," head nurse Siriporn Siriwattanapaisal said.
Hospital directors Wisit Sathianwanatee, Aree Jesadayanmetha and Tomon Tongsri described what happened action as unacceptable, but said an ethics hearing would have to be held to determine the facts of the case.
The Nursing and Midwifery Council also went live online this morning to say that nurses in general are stressed and stretched thin.
"Nurses have to stay with patients 24 hours, so it's probable that some conflicts will happen, especially if they are stressed or understaffed," council secretary-general Angkhana Sariyapong said.
Based on reactions to both videos, viewers weren't impressed.
"What kind of way to address an issue is this? Sounds like nurses making excuses for each other," Kannika Panya wrote in reply.
The original post with the video of a nurse roughly tossing medical equipment onto the 90-year-old coma patient's face, and then angrily jerking him toward her was first posted by user Paworna Ketuparn. It gained more than 8 million views since late Tuesday afternoon.
"Are these ethics of a nurse?" she wrote. "My dad was also sick with this disease, but my mom sat by him all the time. If she didn't, I wonder if this would have happened."