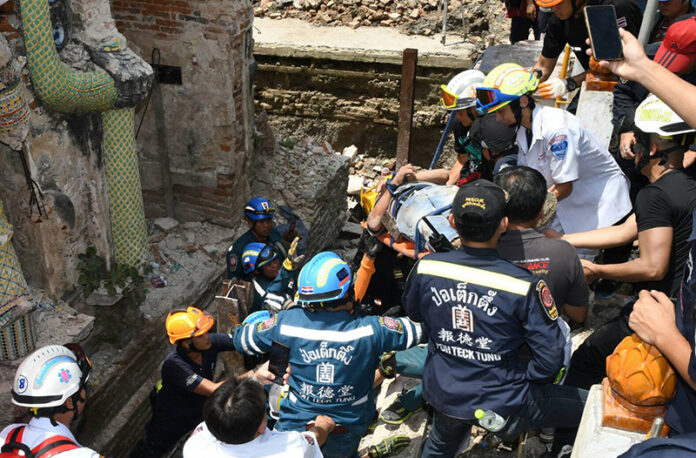 BANGKOK — A bell tower under renovation at an old Bangkok temple collapsed Tuesday, killing one and injuring 11.
Police on Wednesday said charges related to fatal negligence are being weighed against the head of construction at Wat Phraya Tham in the capital's Bangkok Noi district, where the 15-meter tower's spire fell onto workers while they were raising it at about 1:30pm.
Workers were trapped under the debris for about three hours before being taken to a hospital. Three people were seriously injured with one almost losing an arm.
The body of Suriyan Thongsai, 46, was discovered hours later after his relatives told rescue workers that he was missing. A preliminary autopsy found his neck, arms and legs broken.
According to district chief Nattapong Meephokkij, there were 20 people working at the tower when the accident happened, and those injured are being treated at a local hospital.
Capt. Peechaya Hawangju said an investigation to find out who was in charge was underway and no charges have been filed. He said results were expected within a couple of days.
Yadwana Prasertsom, the crew chief, said they were raising the base of the bell tower, which had been sinking into the ground. She said faulty equipment might have caused the tower to tilt too much to one side, toppling the top of the ornate structure and one of its statues.
Anek Siripanichgorn, an engineering expert, said the tower has been under renovation since May. He said the old structure of the tower could have made it more difficult to raise, but it was still unclear why some parts collapsed.
A team of engineers will investigate and determine if the work should continue or the tower torn down, he added.
The temple is believed to be about 300- to 400-year-old. The Fine Arts Department said the tower was added during the Rama II and has been renovated two times. The latest approved work was for fixing the foundation and raising it up where it had subsided into the ground. The contractor doing the work is Finesse Soil Testing.
Director general Anandha Chuchoti said the department would compensate families of the victims and the damage as the construction is under its authority.