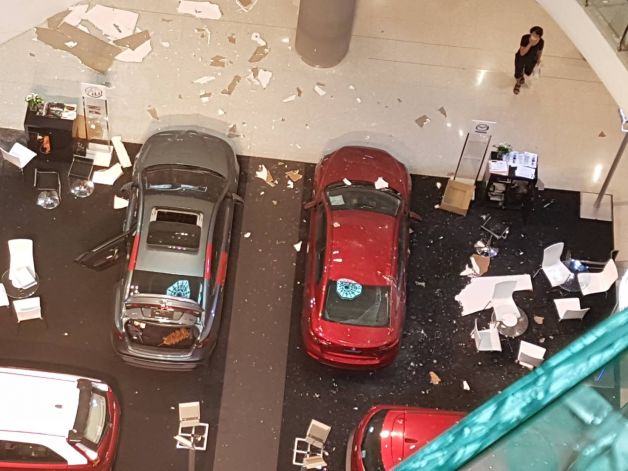 BANGKOK — Central Group may be charged with recklessness, police said Thursday after a ceiling at one of its malls came crashing down, injuring three people.
Parts of the ceiling fell from the fifth floor of CentralPlaza Pinklao to the ground level Wednesday afternoon, injuring a customer and two employees.
"The ceiling parts didn't hit the people directly, or else they would have been hurt more," police Lt. Col. Supasak Poriyanont said Thursday morning. "The area was under construction, and parts of the ceiling, but not the entire ceiling, fell."
Supasak, who was at the scene, said the falling debris hit a balcony on the fourth floor and broke into smaller pieces which rained down the people below. Some metal construction materials and ceiling supports also fell, damaging cars which were on display below.
"Central took the people to the doctor, and they will pay for all medical fees. The people got X-rays, too," Supasak said. "Central may be charged with recklessness resulting in the injury of others, but the exact fine has yet to be determined."
The mall remains open as usual.
Reached for comment Thursday morning, a Central spokeswoman who refused to give her name said management was discussing the issue in a meeting. She said that "whenever anyone gets hurt, Central usually takes care of the customers in every way."
In a statement released last night, Tipapan Pattarawikrom of Central Group's real estate investment and infrastructure department said the company was willing to take responsibility.
"We are ready and willing to take responsibility for any damages that might have been caused. Currently we are investigating what caused the ceiling to fall," she wrote.
เช็นทรัล ปิ่นเกล้า เพดาถล่ม จากชั้นบน ถึงชั้นล่าง มีผู้บาดเจ็บ @js100radio pic.twitter.com/wisaX1zYK2

— ข้อความสุดท้าย (@Dickyman96) May 17, 2017