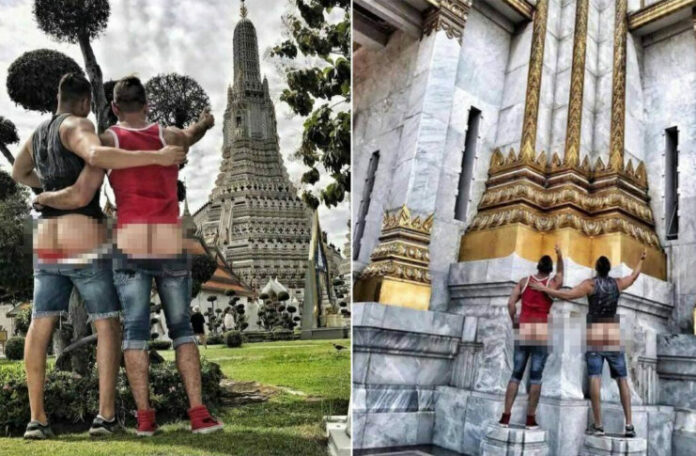 BANGKOK — Butts. Everyone's got one – but that doesn't mean everyone wants to see them.
Dropping drawers to bare one's bottom at famous tourist attractions may be a trend online – but Bangkok is having none of it. Two Americans who posed for photos of their bare backsides last week at Wat Arun and posted them online were tracked down and charged with indecency, police said Wednesday.
Col. Jarupat Thongkomol, chief of Bangkok Yai Police, said the two Americans, both 38 and identified only as Travis and Joseph, face fines of up to 5,000 baht – after the pair posed in front of Bangkok's Wat Arun with their butts exposed and posted them to their @Traveling_butts Instagram account.
The account had been deactivated by Wednesday morning.
The pair was arrested Tuesday night while departing Don Mueang Airport. Travelers exposing their rears on social media became a trend earlier this year with the notoriety of another Instagram account called @CheekyExploits. There, photos are posted of men and women – and their butts.
Capt. Kotchapan Ekkattiyakorn of immigration police said officials were alerted Tuesday by Bangkok Yai police to look out for two Americans who "behaved inappropriately" at the airport.
Jarupat said Joseph and Travis admitted to the offense.