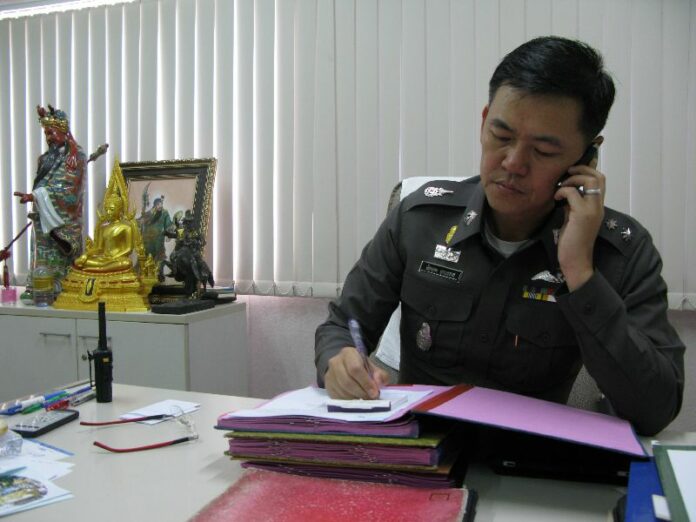 Guarding the western entrance to Khaosarn Road – the famous backpacker street of Bangkok – is Chanasongkram Police Station. Although its jurisdiction extends well beyond Khaosarn Road, the iconic street is inevitably main focus of the police force.
Seated in his office next to small statue of Guan Yu,the
Chinese god of honesty and loyalty, Pol. Col. Jakkapop Sukontaraj, Superintendant of
Chanasongkram Police Station, talked to Khaosod English correspondent
about his role in maintaining safety and order in the one of the most vibrant
foreign tourist destinations in Bangkok.
Note: The interview was conducted in Thai
language.
* *
*

Khaosod English: How long have you been stationed
here?
Jakkapop: I've been moved here in 2010 – slightly after the confrontation between the
Redshirts protesters and the military that took place right next to Khaosarn
Road that April. But I've had my share of political violence; I was stationed
at Dusit Police Station before that, which means I witnessed the Yellowshirts
protest in front of the Parliament in 2008 and the Redshirts protest in 2009.
Khaosod
English: Please tell us what sort of crimes that your force has to deal
with in Khaosarn Road.
Jakkapop: General crimes, really. Some involved
narcotics crime, but mostly it's individual consumption of illegal drugs, very
few selling or dealing.

There are also cases of theft and physical assaults.Sometimes foreign
tourists fight each other. It's fueled by alcohol and misunderstanding, you
see.

These
crimes are generally not serious so most of the time we have the grievant
parties sort it out together at the police station.

Khaosod English: Is it
difficult to oversee this area,where there are many tourists and nightclubs?
Jakkapop: Not really. I'd say that compared with other nightlife
areas of Bangkok – like Ekkamai and Ratchadapisek – Khaosarn is much better
off. Khaosarn is destination to many foreign tourists. They are like guests. These people want to
travel and have fun, not intent on making troubles or committing
crimes.
Khaosod
English: What's the most serious crime you have
handled so far in Khaosarn area?
Jakkapop: Murder following heated argument and knife-fights. It involved Thai persons, though. As I said, very, very few chance foreign tourists are victims of serious crimes. Mostly we have fistfights between drunken foreigners.

Khaosod
English: Is sexual harassment endemic here?
Jakkapop: We have had reports and complaints about sexual
harassment before, but I'd say it doesn't happen a lot. Maybe it is because
many tourists in Khaosarn are Westerners, and they have their own culture and
respect.
Khaosod
English: What about the infamous gangs that trick or
cheat tourists?
Jakkapop: We don't have much of that around here, because Khaosarn Road is residential
area where tourists stayed over, not the commercial area where tourists shop.


We do have
such problems around Sanam Luang(Royal Field), though. There are many tourists over there
each day. In that case we coordinate closely with Tourist Police and Grand Palace Police Station to solve the problems.


Khaosod English: How do
these scammers operate?
Jakkapop: They would approach unsuspecting tourists out of
nowhere, acting very friendly. Then they would convince the tourists to sightsee some temples, but
eventually they would trick the tourists into buying stuff at places like jewelry shops where they
get commissions for the purchases.
Some tuk-tuk drivers or taxi drivers also belong to the scammer network.
They know each other and have financial interest with each other.

That's why
foreign tourists should be cautious of people who try to befriend them in suspicious manner. They
should not easily be persuaded to go somewhere because strangers suggest so. If the tourists want to
go somewhere on that day, they should plan it before they leave their hotels and stick to it.


Khaosod
English: So foreign tourists shouldn't trust Thai people who make
conversation with them? That would go against the image of Thai people as friendly
bunch.
Jakkapop: No – I'm merely saying you can talk with people you met on your trip in
Khaosarn, but you shouldn't automatically take everything they said for
granted.

If they
say something you're intrigued in, it's advisable you check about it at your hotel, using the
internet or asking the reception desk, to find out whether the strangers' claim. Don't be
gullible.
Additionally, you can contact the Tourist Police when in doubt, or you can come consult with
us here at Chanasongkram Police Station.
Khaosod
English: Talk about doubt, I have some curiosity to share with you. Sometimes tourists are baffled
to see staff of the street bars where they were enjoying their buckets suddenly packing up tables
and chairs from the street. Shortly afterwards a group of police vehicles and officers follow,
making sure no one places table on the street. But just when the police are out of sight, the party
is back on street again…
Jakkapop: Yes. Just like that market near the rail track
in Mae Klong where the vendors moved away from the rail as the train approaches
and get back to business again once the train is gone.
Well, I
suppose that situation in Khaosarn happens because the vendors are not afraid
of the laws. Perhaps the fine is too low, so they keep breaking the traffic
laws like that.
Khaosod
English: Don't you think it's better to just let them
be? Tourists enjoy these street bars. You can't just shut them down
anyway.
Jakkapop: Look, we have laws to follow. We police
have to make sure things go according to the laws.
If someone wants to change the traffic laws, to make those street bars perfectly legal, they have to go through the procedure in
amending laws, and once the change is validated, we'd be happy to follow that
new laws.
Khaosod
English: Tell us about what your police force do in term of protecting
tourists around Khaosarn Road.
Jakkapop: Apart from routine crime suppression like patrols and
arrests in the vicinity, we adopt 'prevention' tactics – as in preventing potential troubles from
happening in the first place.

For example, we talk to various shops in the area – the employers, the
employees, staff, vendors and security guards – about the need to be considerate toward tourists. We
make them understand that if anything bad happens to these visiting guests to our nation, there
would be damages, both to the country and the business in the area.

We also
coordinate closely with the nightclubs in Khaosarn Road, and you know we have many of them around
here. We lay out strict rules that they have to follow: no weapons, no drugs, and no underage
party-goers.

Let me
admit it, we don't have enough police to be stationed in every nightlife establishment at all time,
so we mostly ask for their cooperation in these matters. If they follow the laws, there would not be
problem for anyone.
Furthermore, at the police station we have free internet service for foreign tourists to find
information they might need.
Khaosod English: Do your police force have
problem communicating with foreign tourists?
Jakkapop: We
try to have translators in our station as much as possible, but we don't have enough budget for
that. So, we rely on language skills of local people sometimes, people like street vendors and
tourist agency staff. They are all very helpful.

Nonetheless, we also have regular English courses or
programs to teach officers in our station to improve their English.

* *
*