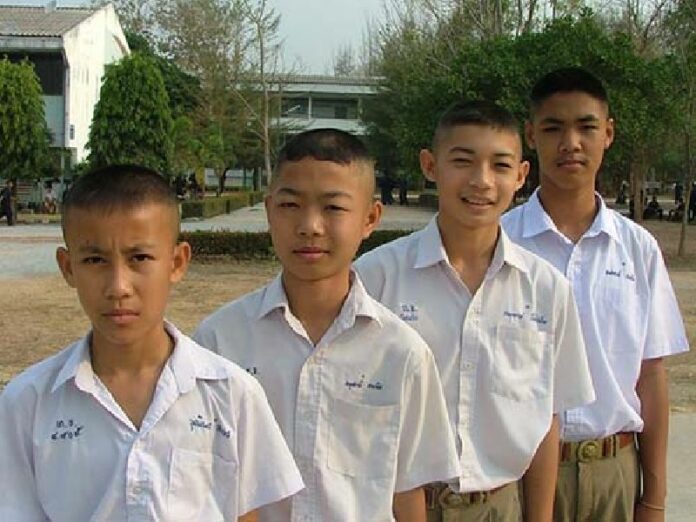 While Redshirts and so-called White Masks are feuding in the national politics scene of Thailand, another battle between progressive force and the Ancien Regime is taking place on much smaller scale at a public school in Bangkok after a student who advocated for an end to oppressive culture led his student party to landslide victory in the school election.
Netiwit "Frank" Chotpatpaisan,  an 11th grade student at Nawaminthrachinuthit School (part of Triam Udomsuksa school network), has previously launched a Facebook page called Federation of Thai Students for Education Revolution. It currently has more than 11,000 "likes".
The Facebook group criticized practices like hazing of junior students by the senior, unquestioned obedience to the teachers, and the strict hairstyle enforced by many school administrations.
In fact, it is the hairstyle code, of all the issues, that Mr. Netiwit and his group most vigorously challenged. Public schools in Thailand, with very few exception, required male students to maintain the very short haircut that closely resembles that of the military. As for female students, they have to follow mind-boggling regulations which inspect even the length of their ponytails.
Mr. Netiwit has said this kind of unnecessary rules prevented Thai students from creative thinking and individual expression. His arguments gained nationwide attention after he appeared on a popular Channel 3 talk show, in which he dismissed claims from other students that, somehow, the strict hairstyle should be cherished as national culture of Thailand.
His cause reaches the international audience, too, after New York Times published story about his group and the seemingly David-vs-Goliath battle which pitched a call for change against deeply rooted bureaucracy of Thai schools that appear intent on preserving the old ways.
Now, Mr. Netiwit might have secured the chance to wage his culture war with more vigor. On Monday, his student party, named Tertkasat (Honor the King), reaped around 50% of the votes in school election (1,371 votes out of 2,603 voters), propelling him to the position of student
presidency and head of student council.
Speaking to Khaosod English, Mr. Netiwit said he already presented the school administration with 3 policies he wants to see implemented: the reduction of school class hours (they currently study 9 hours a day); the abolition of rules on which bags the students they can and cannot carry to school; and, of course, abolition of the mandatory hairstyle.
He said the teachers flatly refused all 3 proposals, but he vowed that he would continue to campaign for them, reasoning that he was given legitimacy by the majority of students to do so.
Nevertheless, Mr. Netiwit expected it to be a rough fight. Although he finds support among his many students, as reflected on the election result, the majority of teachers hated him, Mr. Netiwit said in the phone interview.
According to Mr. Netiwit, the teachers accuse him of tarnishing the school′s reputation.
Most of the time they criticize me in front of the students in other classrooms, but sometimes they confront me face-to-face, too, the newly elected student president said.
In one episode, he told our correspondent, one of the teachers told him to take off Phra Kiew (the tiny pin in shape of a crown resting on a cushion – the symbol of Triam Udomsuksa school network) from his shirt and hand it back to the school since he acts like a traitor.
I didn't do that because I refused to wear it in the first place anyway, Mr. Netiwit said.
Apart from the crusade against restrictive hairstyle, Mr. Netiwit said he also planned to challenge other oppressive practices in the school, too, such as the requirement for students to prostrate on the ground to show respect for the teachers in some ceremonies.
Mr. Netiwit claimed that many teachers get jumpy when they heard simple words like human rights and freedom. When they hear that word, they think it means people doing whatever they are pleased, he said, before adding that it is because the teachers prefer to see the students obediently conform to their rule.
It wasn't the first week of his job yet, but he said that all this hostility made him despair of the
year ahead already. He said sometimes he wondered if he made wrong decision by signing up for the
election, and he was on the verge of quitting many times, but in the end I thought of the hope many
students place in me that I can speak on their behalf as the Student President.
He clarified
that he didn?t choose the name of his party. The school reportedly provided the names for the
candidate parties and they are all randomly selected. Among other names are Pattana Thai (Develop
Thailand) and Fai Khunnadharma (Morally-minded).
It should be noted that, officially, the
Ministry of Education already instructed all public schools to abandon the strict haircut
regulations. But many school administrations, including where Mr. Netiwit is studying, simply
decided to disobey the government orders and continued to enforce what they insist is their
radition.
These schools rely on a section of the Ministry of Education′s regulations which
permit school administrations to preserve the identity of the establishment.
However, Mr. Netiwit told our correspondent that he expected that his school, and others, would eventually relent. The pressure on the school administration to abandon the archaic culture is growing, he said, and the world is changing.
I will keep irritating them like a fishbone stuck in their throat, Mr. Netiwit concluded.