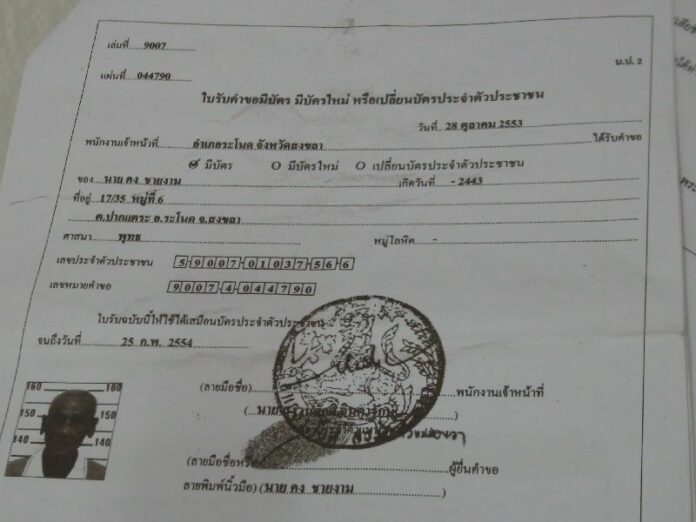 (27 June) A man in Nakorn
Ratchasrima province reported to be 114 year old offered recipe for the elixir of long life: oat
rice, homegrown vegetables, and warm water.

When our correspondent
visited Mr. Kong Chai-ngarm, or ?Grandpa Kong? as his neighbors fondly called him, at his house in
Muang Thong village, Muang District, he was just arriving at the residence with his wife Ms. Pikul
Inhiran, believed to be in her late 90s.
He said he and his wife were traveling by bus from
Rorn Pibul District – a testament to his good health despite his reported old age.
Mr. Kong
cheerfully told our correspondent that he was born on a Tuesday in First Month of the Buddhist Era
2443 according to the old Siamese calendar, which correspond to December, 1899 in Western reckoning.
He could not remember his exact birthday, and the official record did not specify it.
His age
could not be independently verified, however, due to the murky record. The only evidence he provided
to our correspondent is a document signed by local officials which announced that he was born in
B.E. 2443. If he is ever confirmed to be 114, he would have ranked among 10 oldest individuals
alive. According to Guinness World Records, the oldest person living is currently residing in Japan,
at the age of 115.
Mr. Kong said in the interview that his 4 siblings are all dead. As for
himself, he said he had 4 children with his ex-wife, but had not been in contact with any of them
for very long time now.
They must have thought I am dead already, Mr. Kong
laughed.
Asked about his tips for extraordinarily long life, Grandpa Kong said his favorite
dish has been oat rice and the vegetable he grows by himself, coupled with some dessert during the
day. He told our correspondent he avoids drinking cold and hot water, preferring to stick to warm
beverage. He also said he took shower 3 times a day, and spent much of the day
exercising.
Mr. Kong is now currently living with children of his current wife, Ms. Pikul.
However, he said he never needs their help when he and Ms. Pikul traveled around.
The buses
do not charge me for the fare because I?m so old, he said, adding that before the interview with
our correspondent he and his wife were visiting their relatives in Rorn Pibol District for 3-4
days.
Grandpa Kong said he is a follower of Por Thaan (Holy
Father) Klai Vajasit, a local monk famous for his amulet blessing. According to Mr. Kong, Father
Klai told him he would live to 121 years.