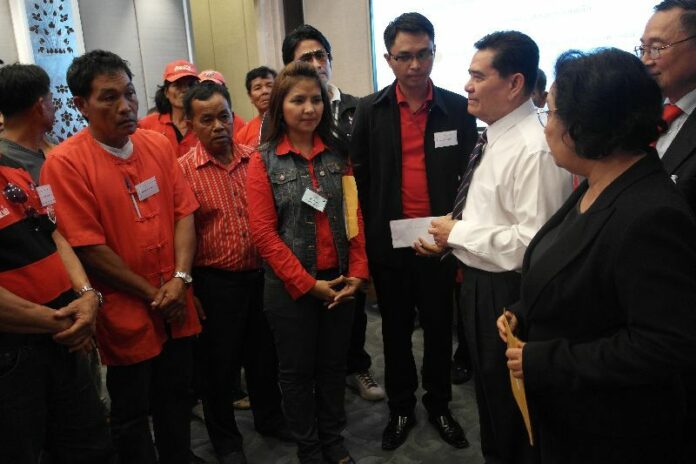 (27 June) Ministry of Justice
hands out 19 million baht worth of compensation to 77 individuals who were jailed for their alleged
roles during the Redshirts protests in 2010.

The
protests came to the violent end on 19 May 2010 when the military launched the final assault on
their encampments in financial district of Bangkok and rounded up scores of protesters, jailing them
under emergency laws.
Many of the arrestees were eventually acquitted of their charges on
terrorism and arson attacks, which were pressed against them by the government at the time, while
some spent months in jail without being properly charged of any crime.
The current
government under PM Yingluck Shinawatra has previously agreed to pay compensation money for their
time in detention. The agreement, billed as a move toward reconciliation, extends to other unlawful
detentions, injuries, and deaths caused by political incidents from 2005 to 2010 regardless of
factions.
Today, Pol.Gen. Pracha Promnork, Minister of Justice, presided over the ceremony to
hand out the money to the Redshirts who were imprisoned in 2010. 18 of them are from Ubon Ratchatani
province, 20 from Bangkok, 28 from Udon Thani, 6 from Kon Kaen, 4 from Chiang Mai, and 1 from
Mukdaharn.
Ms. Thida Tojirakarn, chairwoman of the National United Front of Democracy Against
Dictatorship (UDD), said the compensation to sufferers of unfair political charges would help heal
the country back toward peace. Nonetheless, she said she would campaign for modification of the
compensation regulation, calling the existing one unfair.
According to the regulation,
individuals who were jailed less than 90 days would receive 411 baht per day of imprisonment, while
those jailed for more than 90 days but less than 180 days would receive 750,000 baht lump sum and
those jailed more than 180 days would receive 1,500,000 baht.
Ms. Thida, who was also at the
payout ceremony, said the regulation leaves wide gap between those jailed for 91 and 89 days.
Pol.Gen. Pracha told our correspondent he has received complaint from the Redshirts about the
matter, but said that any change to the current guideline would have to be modified by the Cabinet
committee.
The 19 million baht payout today is the 4th batch of money paid out so far. The
compensation money now stands at approximately 50 million baht, paid to more than 100
individuals.