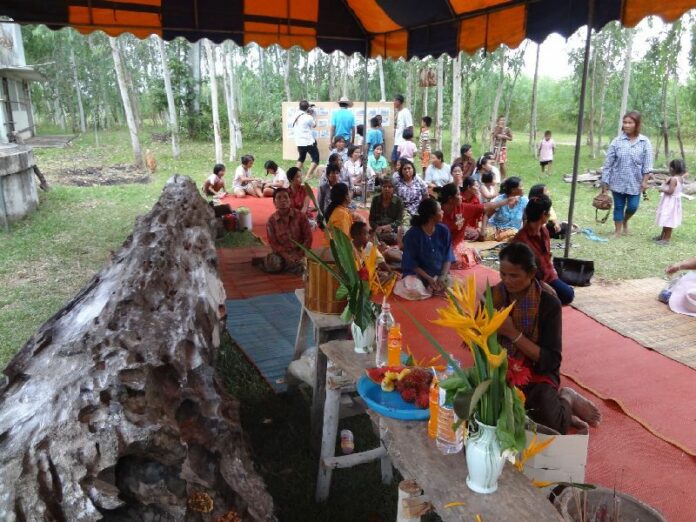 (26 June) A man in Surin province claimed he was guided by a ghost in
his dream to rescue ironwood tree trunks from the stream bed.
Mr. Preecha Nanual, 36, a
local of Arlong village in Sri Narong district, told our correspondent that Lady Takien Thong, the spirit believed to reside in Takien Thong tree (ironwood
tree) according Thai rural folklore, has visited him in his dream.
According to Mr. Preecha,
Lady Takien Thong told him that she had been drowned and suffering for many decades in a stream that
runs close to his village. She reportedly begged him to rescue her from the water, so when Mr.
Preecha woke up he told his relatives and neighbors about his dream.
The villagers hired a
medium to ?channel? with the spirit of Lady Takien Thong, and set out to investigate the Lam Huay
Sen stream which lay around 700 meter from the village. There, they said, they discovered a long,
large trunk of ironwood tree and two smaller pieces. The villagers made brief ritual asking for
permission from the spirit before hauling the trunks up from stream bed.
The trunks are now
placed at the village′s shrine to local spirits. The largest piece is measured at 9.14 meter long,
and the villagers say its bottom part looks like head of the Naga, the mythical dragon in Buddhist
cosmology. They named the trunk ?Mae (Mother) Rasmi? and prayed to it for good
luck.
Mr. Kien Boontua, chief of the village, said a necromancer has been hired for a
ceremony to hallow the magical tree trunk next week.
Apart from Lady Takien Thong, many Thais are also familiar with Lady
Tanee, believed to reside in banana trees, while boatmen and fishermen pray regularly to Lady
Yanang, the spirit tasked with protecting all ships and crafts. Tourists in Bangkok can easily spot
flowers placed at the helm of boats in Chao Praya River which are dedicated to Lady
Yanang.