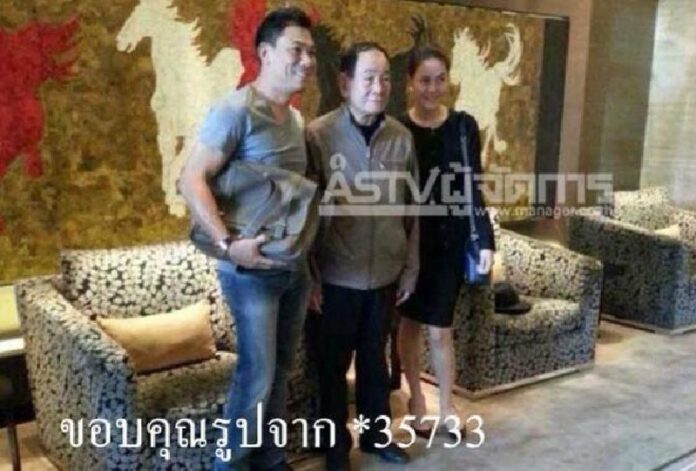 (5 August) Thailand is inundated with daily share of
gossip news about which superstar is in love with whom. But one particular piece of such
ews
manages to get the attention of the Kingdom′s law enforcement agency – the Office of Attorney
General, no less.
For some time, many netizens had been speculating about the new
relationship of Ms. Janie Tienphosuwan, after the famous actress posted series of photos with an
unidentified man bearing the mysterious messages
expressing how "happily in love" she is.
The 32-year-old star has been in the spotlight for
the last 10 years, and recently made huge success from her leading role as twins Munin and Muta in
Channel 3 soap opera "Raeng Ngao" (Reflection)
The drama featured the story about a woman,
Muta, who was engaged in a love affair with a married top bureaucrat and later committed suicide
after the bureaucrat′s wife publicly humiliated her and the man refused to take responsibility for
her pregnancy. Later, Munin, Muta′s twin sister, came back from her studies in the United States and
sought to avenge her naive twin.
Ms. Janie was praised for her ability in playing both
characters with their widely different personalities. Unsurprisingly, she commands a large fan base.
And the fans have been speculating who she had been dating recently.
As speculation widens,
rumours surfaced that the man Ms. Janie had been seeing is none other than Mr.Chonsawat Asavahame, a
son of a former top politician Mr.Wattana Asavahem who has been on the run from Thai authorities
after he was convicted of corruption 5 years ago.

In 2008, the court ruled that Mr. Wattana, who
was serving as Minister of Interior Affairs, was guilty of conspiring with 10 other defendants to
illegally buy and sell lands in Samut Prakarn province. The lands, located in Bang Bo District, were
in connection with construction of 23 billion baht wastewater treatment plant near the capital
city.
The court sentenced Mr. Wattana, prominent member of Phuea Phaen Din Party, to 10 years
in prison – but he was already out of the country by that time; he fled to an unknown destination
during his release on bail. The Thai authorities, ostensibly at least, have been trying to locate
him ever since.

The law enforcement agency′s latest lead came in a photo, leaked to
ASTV Manager news site by unknown source couple of weeks ago, which appears to show Ms. Janie, Mr.
Chonsawat, and Mr. Wattana together at an unidentified place.
The photo seems to confirm the
relationship between Ms. Janie and Mr. Chonsawat (who is already married), and sparks much
discussion over the internet about the ability of Thai authorities in their dealing with corrupt
politicians.
Indeed, the story struck many netizens as similar to the case about former Prime
Minister Thaksin Shinawatra, the former leader deposed in a 2006 military coup and had been avoiding
corruption charges convicted by the Thai court.
Many opinions from the internet criticised
the Thai police for not putting enough effort to arrest "powerful people" convicted by the court.
One commentator referred to how top-ranking police officers met with Mr. Thaksin to celebrate his
new position in Hong Kong, where the former leader had residence, without enforcing any legal
prosecution or showing any attempt to arrest the man.
Some netizens – ever renowned for their
investigative skill – suggest that the photo of Ms. Janie and Mr. Wattana was taken at Crown Tower
Hotel's Presidential Suite in Macao. They raised questions why the police did not show any interest
in pursuing the lead.
At least, couldn?t they summon Janie and Chonsawat to be questioned?
asked one commentator.
Eventually, the authorities responded to the debate. Mr. Amnat
Chotchai, Executive Director Office of International Affairs, which operates under the Office of
Attorney General, encouraged the police to question Ms. Janie in order to glean more information
about Mr. Wattana′s whereabouts.
Once we have definite information about where he might be,
the Office will cooperate with the Ministry of Foreign Affairs to contact the country Mr. Wattana
is residing, Mr. Amnat told the reporters earlier this week
Mr. Amnat insisted that the
mission to have Mr. Wattana extradited is still going on, and that if he ever enters the country
that has an extradition treaty with the Kingdom of Thailand, he will certainly be brought back to
Thailand to face his jail sentence.
However, the Executive Director said he had not been
contacted by the police about the Macau photo, and it was not in the power of the Office of
Attorney General to summon anyone for questioning.
It′s the duty of the police to
investigate this matter, Mr. Amnat said.