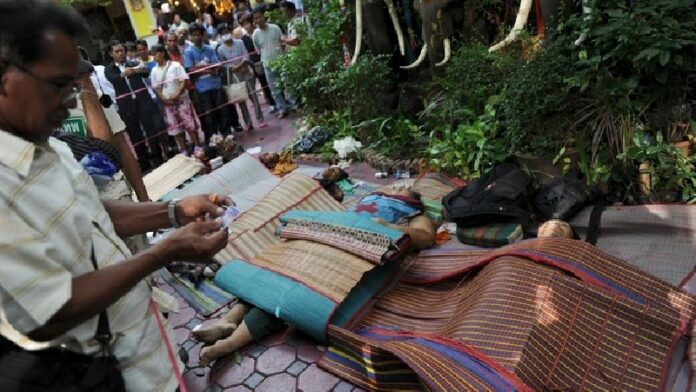 (5 August) The court is due to deliver an inquest detailing who was responsible for deaths of 6 civilians, including a volunteer nurse, at Wat Pathumwanararm Temple in the last day of the 2010 Redshirts protests.
As the military moved in to crush the months-long protest in central Bangkok on 19 May 2010, hundreds of protesters fled into the tranquil temple, known locally as Wat Pathum, which sits between Siam Paragon and Central World shopping malls.
The temple was designated as "safe zone" by the authorities at the time. Yet, gunfire erupted near the temple in the evening. 6 people were discovered dead, killed by gunshot wounds.
One of them is Ms. Kamonkate Akhard, a volunteer nurse who was tending at the wounded when the shooting started.
Numerous witnesses said they had seen soldiers firing at the temple from the overlooking Skytrain track. Video footage also showed group of soldiers on the track at the time of the shooting. However, the military has always denied any involvement, blaming the incident on group of shadowy armed militants instead.
Tomorrow (6 August) at 09.00, the Southern Bangkok Criminal Court will read out its inquest concerning the 6 victims at Wat Pathum. The case is closely followed as the shooting of Wat Pathum is often described as one of the most poignant violations of human rights in the violent month of May 2010.
One can only guess what the court will say. Previously, the same court ruled that military-issued ammunition fired from the direction of the military position killed the Italian photographer Fabio Polenghi near Lumpini Park just hours before the tragedy at Wat Pathum.