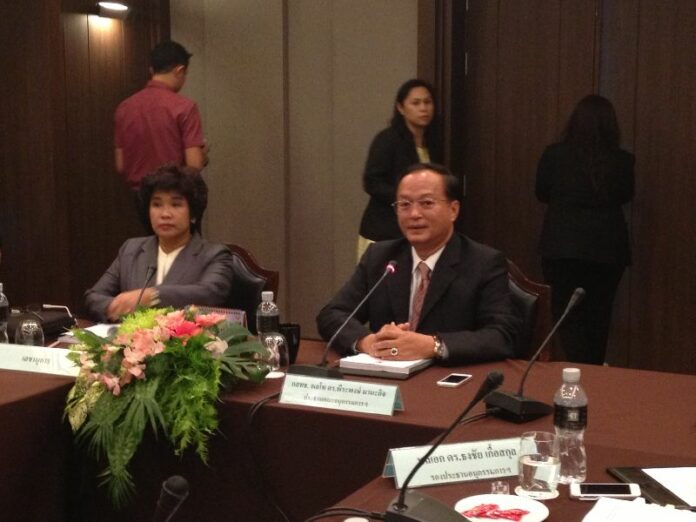 (5 August) It appears
that the popular TV series about teens being teens gets to live for another day, after a top
official said he had no plans to axe the show as many have feared.
The comment came after the
members of Office of National Broadcasting and Telecommunication Commission (NBTC) met with
producers of Hormones at Century Park Hotel. The meeting was arranged by NBTC so that the
producers can discuss the much-debated series.
Hormones featured stories about characters who are students facing various issues in their adolescence. Some scenes hint at (but never
explicitly show) sexual intercourse of the characters – and such frank portrayal of teenage life has
distinguished the series from the rest of a largely-conservative media landscape in
Thailand.
Each episode was aired on a cable channel and later uploaded onto Youtube website.
The producers had claimed Hormones has been watched by over 1 million people.
Nevertheless,
NBTC says it has received a number of complaints about the sexually suggestive contents of the TV
show, so its members had deemed it necessary that the producers explained their motives about the
series to the Commission.
The meeting was attended by Ms. Somsri Rittipan, General Manager of GMM One
Channel – which airs the show – and Mr.Songyot 'Yong' Sukmak-anant, the director and producer of the
series from the company GMM Thai Hub.

Lt.Gen. Peerapong Manakit, director of the NBTC,
told Khaosod that the Commission will always use he right procedures to handle the issue before
resorting to any hard power to decide the fate of the series.
He stressed that the
Commission is still on its early stage to resolve the issue, and there has been no intention to ban
the series so far, contrary to reports that the NBTC will simply axe Hormones, especially after
one of its starlets was photographed taking methamphetamine with her friend.
Lt.Gen.
Peerapong said the series had riggered misunderstanding and discussion in the society, so he will
allow the producers to state their points of views. He said the NBTC will give fairness to every
side, and encouraged the society to discuss the show.
"We are calling the society to
act like a jury", said Lt.Gen. Peerapong

He also explained that the banning process is not
common to censorship, "the producer needs to evaluate themselves first, and the NBTC will evaluate
the content aired to the public".

However, he confirmed that the investigation into
whether the Hormones series has violated the section of broadcasting law about public morality is
ongoing. He said it would take around 2 months before the Commission deliver its
judgement.
Previously, Lt.Gen. Peerapong had expressedhis
wish to invoke the law to censor the show in order to preserve public morality.