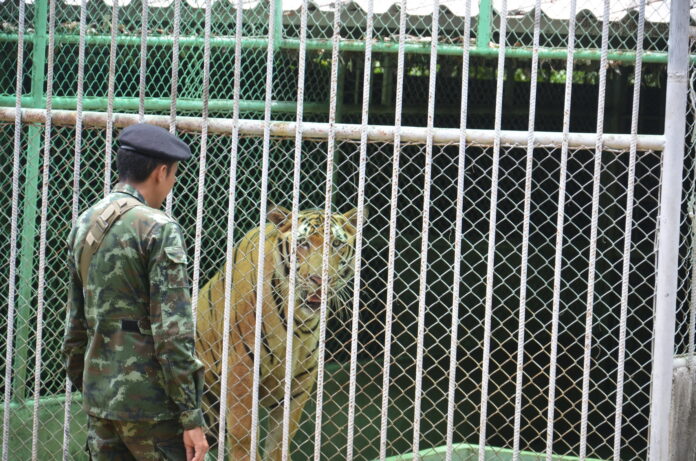 KANCHANABURI — A widening investigation into the Tiger Temple's role in animal trafficking led officers today to their most alarming discovery yet – a home they believe was used as a tiger slaughterhouse.
Four tigers were found locked in cages Thursday at a home located not far from the now shuttered tourist attraction in a residence officials think was used to keep and kill tigers before their meat, skins and parts were sold.
Two workers were found inside the home about 50 kilometers away from the Tiger Temple, according to an officer with the Natural Resources and Environmental Crime Suppression Division. The owner's whereabouts are unknown.
"[The two employees] didn't really cooperate with us," Pol. Col. Montri Pancharoen said by phone Tuesday afternoon. "But we believe that this is part of a big trafficking network which we will continue to investigate and expand into other provinces."
The four tigers were reported to be all adults, according to Montri, who said their ages would be confirmed by veterinarians. They would also be examined to confirm their relation to the temple's tigers, all 137 of which were removed during the past week in a raid by wildlife officials.
"[The tigers'] DNA will be tested to compare with those tigers moved out from the [Tiger Temple]," Montri said.
Police said they believe the home is owned by Thawat Kajornchaikul. Thawat is also known as Sia Tong, a kind of nickname used to describe someone wealthy and well connected. Police said he's a Bangkok man married to a Kanchanaburi woman.
Related stories:
Officials Hunt for Abbot of Tiger Temple
Conservation Rhetoric Falls Apart as 1,000 Magic Tiger Amulets Seized From Monk (Photos)
Lion, Tiger Pelt, More Wildlife Discovered Inside 'Tiger Temple'
Horrible Discovery in Tiger Temple: Dozens of Dead Tiger Kittens (Photos)
Officers Enter Tiger Temple to Begin Removing Tigers
Another Showdown as Tiger Temple Blocks 1,000 Wildlife Officers
Activist to Sue Over Tiger Temple Zoo Permit
'Tiger Temple' to Sue NatGeo Over Damning Report