BANGKOK — At least three underage girls and a dozen more suspected of being minors were found rescued in a raid on a brothel in a prominent Bangkok red-light district along with more than 100 sex workers and what appeared to be a list detailing bribes paid to police.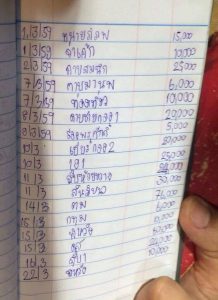 Tipped about possible human trafficking, a combined force of more than 100 officers from the Ministry of Interior Affairs raided Nataree Entertainment, one of many, massive Ratchadapisek Road massage parlors, at about 4pm on Tuesday. There officers said they found 121 sex workers, including three confirmed to be minors and another 12 they believe are also underage. Almost all were believed to be in the country illegally.
Worayuth Naowarat, the official in charge of the operation, said the raid followed a report three months ago from a foreign NGO alleging some of the sex workers at Nataree were trafficked. Local police were not involved in the raid.
Also found during the raid was what appeared to be a ledger of names of different police units and individuals and how much they were bribed by the brothel.
"Tourism Police, 10,000; 191 Emergency Police, 25,000; Special Branch Police, 30,000; Huai Khwang Detective Police, 24,000; Immigration, 76,000," read a portion of the list.
While a police spokesman said it was too soon to tell whether the list is genuine, the local police commander and his deputies were already transferred to inactive posts soon after the raid.
Other names mentioned on the paper included the Bangkok Metropolitan Administration (6,000 baht), "Lawyer Pipop," "Sgt. Cake," "Cpl. Somnuek," and "Beer 2nd Division."
Police are widely associated with endemic corruption and bribe-taking from illicit businesses in exchange for turning a blind eye. Police spokesman Dechnarong Suticharnbancha said an investigation is needed to say whether the list is authentic before any further action can be taken.
"Please wait first. We must investigate this first," Gen. Dechnarong said by telephone. "We have to see first whether it's true or false. There are procedures for this."
But the raid already cost Col. Kittipong Wisetsanguan his job as the commander of Huai Khwang Police Station, which has jurisdiction over Nataree Entertainment and other massage parlors in the area. According to Thairath, Kittipong and his deputies have been transferred to inactive posts while the investigation is conducted.
Related stories:
Thailand Wins 'Ig Nobel' Distinction for Bribing Cops not to Take Bribes
Corruption Catch-22: Report a Bribe and Go to Jail?